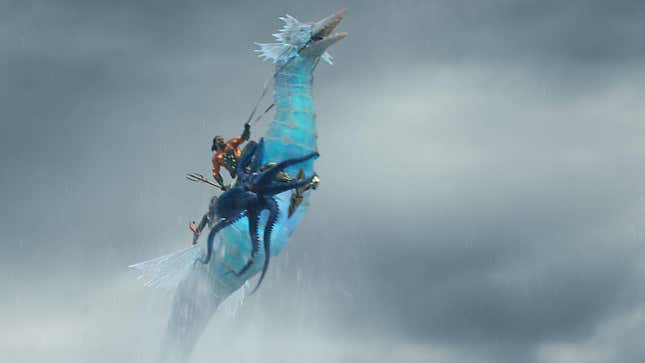 When the trailer for Aquaman and the Lost Kingdom finally graces your eyeballs later this week, maybe the conversation around the film will change. Until that happens though, when most fans discuss the long-awaited sequel, they have many, many questions about its production, its secrets, and its place in the DC Universe.
In a new interview, the film's director James Wan addresses most of those things, to the best of his ability. Speaking to Entertainment Weekly, the man behind Saw, Insidious, and the billion-dollar first Aquaman film explains that the ever-shifting release date for Aquaman 2 did become a bit of a problem. In particular, there was a question about whether or not he shot scenes with both Ben Affleck and Michael Keaton as Batman, as per reports. "The tricky thing early on was not knowing whether Aquaman would come out first or come out after [The Flash]. So, we just had to be prepared," Wan said. "At the end of the day, the best thing I would say about this movie is that it is not connected in any way to any of those films. That's the bottom line."
Not connected to the other DC Batman films all? That seems... odd, right? Mostly because Momoa himself said he filmed with multiple Batmen. Wan's quote about "being prepared" makes it seem like that's accurate but he wouldn't say whether or not Batman, in any form, is still in the movie. "That's a 'no comment,' right now," the director says. "You're going to have to wait for the movie to come out."
Another big issue Wan talks about in the interview is Amber Heard. Heard's role in Aquaman and the Lost Kingdom was a huge issue in her mega-publicized defamation trial versus Johnny Depp. She claimed that her role was cut after her and Depp's breakup became worldwide news, and while Wan doesn't confirm or deny that, he did offer some perspective. "I always pitched this to everyone from the get-go. The first Aquaman was Arthur and Mera's journey. The second movie was always going to be Arthur and Orm. So, the first was a romance action-adventure movie, the second one is a bromance action-adventure movie. We'll leave it at that," he said.
Most pre-Aquaman 2 discussions are also likely to be left on Thursday when the first trailer is released. That's when fans will finally get a full look at what Wan has been working on since the 2018 original. Head over to EW for much more on the film though, and check back here on io9 Thursday for the trailer and more.
Aquaman and the Lost Kingdom opens December 20.
---
Want more io9 news? Check out when to expect the latest Marvel, Star Wars, and Star Trek releases, what's next for the DC Universe on film and TV, and everything you need to know about the future of Doctor Who.