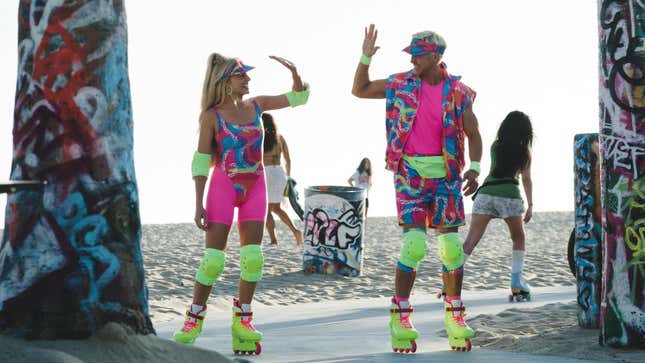 Over a century of making and releasing movies, Warner Bros. has put out some of the best and most popular movies of all time. Films like Casablanca, A Streetcar Named Desire, The Searchers, 2001: A Space Odyssey, The Exorcist, Superman, Batman, Goodfellas, The Matrix, Lord of the Rings, and Justice League, just to name a few. However, as of today, one movie will stand on top of all of those. And that movie is Barbie.
Will We See More of Uhura's Relationship with Spock? | io9 Interview
Since 2011, Warner Bros.' highest-grossing film ever has been Harry Potter and the Deathly Hallows Part 2, which made over $1.3 billion worldwide. Well, Barbie is going to pass it today with no end in sight. Domestically, it was already the highest-grossing film of 2023 (passing The Super Mario Bros. Movie's $575 million) which happened after it passed The Dark Knight ($533 million) as Warner Bros.' highest-grossing film of all time domestically.
You might be wondering, how is this possible? Barbie really made more money than Batman? The Lord of the Rings? The Flash? The answer, technically, is yes. Things change radically when the numbers are adjusted for inflation of course, but that's not how Hollywood works. A dollar is a dollar, even if takes $15 to see a movie now and $5 a few decades ago. And that's mostly so articles like this one can be written.
So what's next for Barbie after conquering every other film ever released at its studio and every other movie released this year? The all-time, all-studio (unadjusted for inflation) lists of course! As of this past weekend, Barbie cracked the top 15 all-time domestically and it has a really good shot at cracking the top 10 in the coming months, especially with re-releases already planned. Internationally, it just cracked the top 20 of all-time (18 to be exact) with a realistic shot of maybe moving up to 12 or 13. So while there are still some big milestones to hit, few are as important to the studio as this one.
---
Want more io9 news? Check out when to expect the latest Marvel, Star Wars, and Star Trek releases, what's next for the DC Universe on film and TV, and everything you need to know about the future of Doctor Who.