The re-incarceration of Barrett Brown has drawn considerable attention since it happened on Thursday, with startled friends and supporters openly accusing the Federal Bureau of Prisons (BOP) of retaliation over the award-winning journalist's often entertaining essays about his life behind bars. [Brown has been released from custody and in an interview with Gizmodo details the ordeal. Please see below the original story.]

D Magazine editor Tim Rogers, who employs Brown as a columnist, reported last week that Brown was remanded into custody by the US Marshals Service during a "routine check-in" with his case manager. He was then transferred back to FCI Seagoville, the low-security prison from which he was released late last year. The prison's custody of Brown, 35, was confirmed by a BOP spokesperson on Friday.
The former Anonymous "agitator" was dealt a 63-month prison sentence in January 2015, after signing a plea bargain that reduced his potential prison time by more than 62 years. (At one point in early 2014, Brown faced up to 105 years in prison.) After more than four years in federal custody, Brown was released in November to a halfway house in the city of Hutchins, a few miles southeast of Dallas and transitioned to home confinement two months later. In a statement to D Magazine, Brown's mother, Karen Lancaster, said that he had not missed any of his scheduled check-ins with the BOP, nor failed any of the randomly administered drug tests.

During his first two years in prison, Brown faced a litany of charges, including the notorious "linking charge" dropped by the Justice Department in early 2014. The three-count indictment to which he ultimately plead guilty includes a (highly dubious) charge stemming from his after-the-fact involvement in the 2011 Stratfor hack; a second for "transmitting a threat," because of a YouTube video in which he vowed to "destroy" an FBI field agent; and a third for obstruction, for failing surrender his laptops to the FBI.
Brown's hard drives were found to contain tens of thousands of pages of chat logs detailing his conversations with Anonymous hackers and other journalistic sources. Some of the files wound up in the US District Court for the Southern District of New York, where they were presented as evidence against outlaw hacker Jeremy Hammond.
G/O Media may get a commission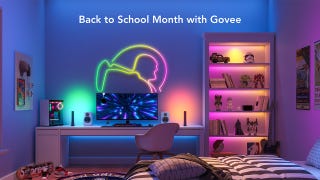 Back to School
Back to School Month with Govee Sale
Brown's home confinement period—during which inmates are still considered to be under an "incarcerated status"—was overseen by a program review team comprised of representatives from the BOP, the US Probation Department, and Volunteers of America, a national faith-based nonprofit that runs the Hutchins halfway home. According to Kevin Gallagher, a longtime advocate who crowdfunded tens of thousands of dollars for Brown's defense, his sentence is set to conclude on May 25.
On Sunday, April 30, Brown issued a statement posted via support group, Free Barrett Brown:
Last week I was re-arrested by the U.S. Marshals Service on the orders of the Bureau of Prisons, which still technically holds sway over my life until May 25th when my sentence officially ends. Contrary to BOP policy, and indeed federal law, I was not provided a written infraction report, much less given the disciplinary hearing that normally precedes punishment. When one is taken back to prison or put in the hole, the institution has 24 hours to give you the infraction sheet detailing your offense. After 72 hours, I have still received nothing.
Brown Attorney David Siegal (retained last week by D Magazine's publisher) confirmed Monday morning that his firm had not yet heard the BOP's justification for Brown's transfer. "We have not yet gotten an explanation," Siegal said.
As of Friday, the BOP would offer only this: "Barrett Lancaster Brown transferred from home confinement to Federal Correction Institute (FCI) Seagoville in Texas yesterday, April 27, 2017, but we can not disclose the reason(s) for a specific inmate's transfer of locations."
According to his released statement, Brown believes that the BOP took action against him after he failed to get permission before speaking to the press—a requirement, he asserts, that doesn't apply to inmates on home confinement. Brown made audio records of a BOP representative, as well as two halfway house employees, threatening to charge him with "refusing an order" if he "did any further media interviews without seeking" the BOP's approval.
Less than two weeks ago, VICE News filmed Brown at D Magazine's office; PBS was preparing to conduct an interview last Friday, but Brown was detained the day before.
If Brown is being penalized for speaking to the press without the BOP's permission, his abrupt arrest comes after months of him doing so without incident. In fact, Brown's release from FCI Seagoville was documented by cyber-crime filmmaker Alex Winter for Field of Vision—a film unit founded by Oscar-winning documentarian Laura Poitras. As noted by Lancaster: "He has had many interviews since his early release, on November 29, both by phone and in person."
While the handbook given to Brown upon his arrival at the Hutchins home makes no reference to inmate contact with the news media, it does outline some "informal" procedures for disciplinary action. To Brown's point, that he was "not provided a written infarction report, much less given the disciplinary hearing that normally precedes punishment," the handbook says this: "All clients are given the opportunity to discuss all disciplinary reporters prior to disciplinary action being imposed."
The handbook also states that during the disciplinary process, inmates "may be transferred to a more secure facility." Once that's done, the rules say, the inmate "may not return" to the halfway house, though it does not indicate whether or not one could return to home confinement. (The statutory interpretation of "may"—as opposed to "shall"—customarily implies some administrative discretion.) The handbook also states that disciplinary actions require a formal hearing, a process that "must not" exceed a 72-hour period (excluding weekends). As he was taken into custody on Thursday, Brown's 72 hours would expire at some point Tuesday.
Brown also says that there is "nothing in the BOP media program statements that requires even actual inmates to seek permission to communicate with press." (Here, Brown is presumably differentiating between himself, an inmate in a "residential reentry program," and those who are still incarcerated inside a federal facility.) Visitations between incarcerated inmates and journalists are heavily regulated, however, principally under Title 28, Chapter 5 of the Code of Federal Regulation (CFR).
For instance, reporters seeking interviews with prisoners must agree to a multitude of conditions, including, but not limited to, the written consent of the subject and the submission of a "formal request" to the warden. Additionally, inmates must authorize the release of otherwise restricted personal information by staff in response to what's said during an interview, and must consent to allow the prison to comment on any claims made to a reporter.
This is all ultimately beside the point: As Brown asserts correctly, these rules do not apply to individuals who, like himself, "have already been released to home confinement." The purpose and scope of BOP's policies regarding contact between reporters and inmates is very clear: The rules were created to apply solely to visitations that take place inside a BOP "institution," a term defined under the administrative law as "a US Penitentiary, a Federal Correctional Institution, a Federal Prison Camp, a Federal Detention Center, a Metropolitan Correctional Center, a Metropolitan Detention Center, a US Medical Center for Federal Prisoners, a Federal Medical Center, or a Federal Transportation Center."
The definition does not extend to inmates restricted to home confinement, nor does it refer in any way to those in the custody of a residential reentry program. According to Lancaster, Brown asked more than two weeks ago to see documentation to support the BOP's demand for prior approval over interviews; "The forms that they finally came up," she said, "are forms offered to media when requesting a visit with an inmate in a federal prison setting."
A BOP spokesperson was asked by email on Friday if the agency had any written policy about home-confined inmates speaking to reporters. There was still no response by Monday afternoon.
While the BOP remains silent, if Brown's version of the events is verified, it would only lend further credence to the now pervasive allegation that his arrest was an unnecessary act of retribution by the federal government.
Update: May 1st, 4:23pm ET
Barrett Brown was released from custody on Monday after spending four days at Federal Corrections Institute Seagoville.
"It was about the media," he said. "They were trying to claim that I had to get permission from [Bureau of Prisons] to do interviews. That's just not true. And they were trying to get me to sign these forms which are not forms applying to that. One of them was to get authorization to get into a prison to interview an inmate. Even when you're an inmate, even if you're in [solitary confinement], you don't need permission to talk to the press. They can send you letters, you can call them—obviously I did it over and over again for years without any official objection."

The US Marshals who arrested Brown had no warrant or paperwork, he said. "You're supposed to get an infraction report, or go through a disciplinary process before they just throw you back in jail. That's just how it works. They didn't do that." Brown added that wasn't provided with any documentation revealing why he was re-incarcerated. "Because there is none," he said.

Brown said that he was released soon after his attorneys got in contact with the BOP; a lawsuit would've followed in a day or two. "Just the very act of having the US Marshals arrest me without any due process, without any papers, that's extraordinarily problematic for them. It's beyond anything they've done to me over the past four years."
Brown's lawyer, David M. Siegal (Haynes and Boone, LLP) provided Gizmodo with the following statement:
The treatment of Barrett Brown by the Bureau of Prisons was unjustified and in violation of his First Amendment Free Speech rights. Unfortunately, Barrett was forced to spend four days in a federal penitentiary when he should have been out living his life. We are happy we were able to work with Barrett and his family to achieve his return home today.