FORGOTTEN MARS | A vision of the Soviet Mars colony by Green Forest. One of 20 retro-futuristic visions of the Red Planet, from our stargazing past, including nefarious automobiles. See more here.
---
G/O Media may get a commission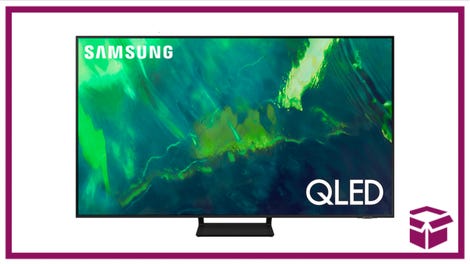 35% off
Samsung Q70A QLED 4K TV
Save big with this Samsung sale
If you're ready to drop some cash on a TV, now's a great time to do it. You can score the 75-inch Samsung Q70A QLED 4K TV for a whopping $800 off. That knocks the price down to $1,500 from $2,300, which is 35% off. This is a lot of TV for the money, and it also happens to be one of the best 4K TVs you can buy right now, according to Gizmodo.
DC Comics is really going forward with the Watchmen tie-in project that everybody's calling Watchmen 2, as we warned a while back. More »
---
Inbreeding is where cousins and other close relatives have children together. Most cultures have strong taboos against it, primarily because of the increased risk of birth defects. More »
---
In his principal philosophical work, Being and Nothingness, Jean-Paul Sartre identified the power of the human gaze as one of existential affirmation. More »
---
We've all been there: your first meeting with a member of another culture, or your first attempt at real communication in a foreign language. More often than not, disaster results. More »
---
Sanity-destroying cosmic horror can be hard to wrap your head around, so Deviant Artist DrFaustusAu has begun rejiggering H.P. Lovecraft's classic short story as Dr. Seuss book. Now, children of all ages can learn about he who slumbers in his house at R'lyeh. More »
---
The half-suppressed terror of death that has generated most of our religious myths has also generated the myth that we can create a second machine body into which we'll supposedly project a copy of ourselves and - puzzlingly - this recording in a three dimensional form is regarded as immortality. More »
---
Photoshop is a reality in the world of photography, but it gets out of hand when advertisers and fashion directors completely transmogrify the original image, creating an unrealistic and impossible result. More »
---
The masters of wrong comedy, the Farrelly Brothers, are making all your weirdest superhero fantasies come true. They've cast a slew of movie stars as a band of "fucked up superheroes" from DC Comics. More »
---
We humans are builders. One of the ways we leave a mark on the universe is by creating massive structures that show that some opposable digits have been here. More »
---
Don't look away from the mighty Giant Weta Bug! With a wing span of seven inches and the weight of three mice, this this New Zealand discovery is pure, unfiltered nightmare fuel. More »
---
Plasma is what's responsible for St Elmo's Fire. It's the solar wind that whips through our planetary system. It's part of the ionosphere. It's part of the sun. More »
---
You've seen the mayhem-filled new trailer for Disney's John Carter - now let's pick it apart and study all the awesome details. More »
---
---
This is excellent. Back in 2010, an out-of-character Stephen Colbert sat down with astrophysicist Neil deGrasse Tyson at Montclair Kimberly Academy to talk for 90 minutes about science, society and the universe. Yesterday, the Hayden Planetarium posted the interview on its website for all to watch. More »
---
All life on Earth is related, which means we all must share a single common evolutionary ancestor. And now it appears that this ancestor might have been a single, planet-spanning organism that lived in a time that predates the development of survival of the fittest. More »
---