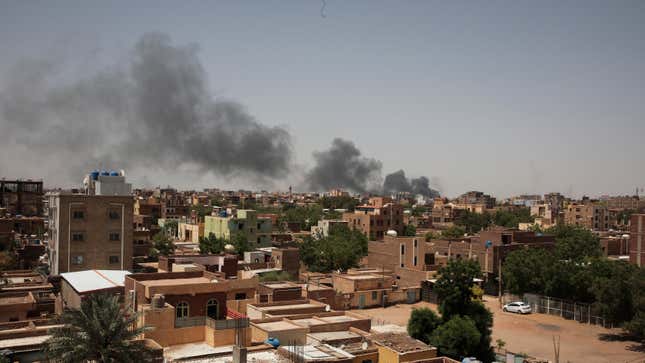 A military-occupied laboratory in Sudan poses a "high risk of biological hazard" and a "huge biological risk," according to the World Health Organization's representative in the East African country, Nima Saaed Abid. The medical doctor and WHO rep expressed big concerns surrounding Sudan's National Public Health Lab in Khartoum—the nation's capital city, where violence continues to mount between two opposing, internal military factions—in a United Nations press briefing on Tuesday. 

The Boogeyman's Sophie Thatcher Reveals What Draws Her to Dark Characters | io9 Interview
The occupying military force "kicked out all of the technicians from the lab," Saaed Abid explained. "Now it is completely under the control of one of the fighting parties as a military base, and that is extremely, extremely dangerous." Inside the lab are samples of polio, measles, and cholera, according to Saaed Abid. The laboratory's website also notes that it houses reference samples related to tuberculosis, malaria, and AIDS. 
"With the electricity shut down and with no technician taking care of all these [specimen], the risk of biological hazard is high," especially under military control, the WHO doctor said. "It is not possible to properly manage the biological materials that are stored in the lab for medical purposes," he added. The intergovernmental agency said it is in communication with both of the fighting factions, but declined to say which side had seized control of the laboratory.
The ongoing, violent conflict in Sudan arose last week between the country's national army and a paramilitary force called the Rapid Support Forces (RSF). Abdel Fattah al-Burhan leads the Sudanese armed forces. Mohamed Hamdan Dagalo (A.K.A. Hemedti) leads the RSF. Previously, Hemedti had functioned essentially as a second in command to Burhan who has been leading the country after a coup in 2021 ousted Omar al-Bashir. But now Hemedti is angling to take power himself. Significant international interests beyond Sudan's borders are also involved.
So far, there've been 4,072 confirmed injuries and 459 deaths, according to WHO counts. However, Saaed Abid warned these numbers are likely a significant undercount. He described personally seeing two bodies in the span of less than a kilometer of travel, while shuttling between compounds.
On top of the occupied laboratory, the burgeoning civil war also poses other threats to public health. Many hospitals are shut down amid the fighting. There've been 14 confirmed attacks on healthcare facilities, a UN official noted. Multiple hospitals have been seized by military forces. Only about one quarter of health facilities are operational, at present, according to Saaed Abid. Then, there's the lack of electricity and available clean water brought on by the fighting, which on its own carries a significant risk of causing or amplifying disease outbreaks. Already before the fighting, Khartoum was in the throes of its first dengue outbreak.