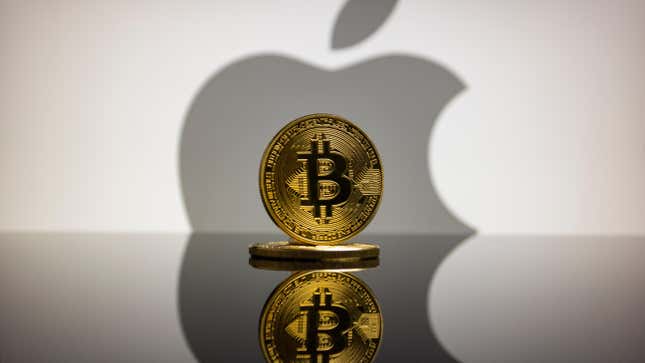 An Apple developer left one of the strangest Easter eggs hidden in the macOS, offering a surprising and baffling connection between the Cupertino tech company's mainline operating system to everybody's (least) favorite cryptographic digital currency.
The Biggest Crypto Heists of 2022…So Far
On his Waxy.org blog, tech dev Andy Baio reported Thursday he made a surprise discovery, finding the original bitcoin whitepaper written by the presumed pseudonym Satoshi Nakamoto had been shoved inside every single copy of macOS since 2018. The document, titled Bitcoin: A Peer-to-Peer Electronic Cash System, was first published in 2008 and described how to set up access to and mine the blockchain-based cryptocurrency. Just a year later, the person under the Nakamoto name launched the first version of the bitcoin network.
Any device running macOS Mojave 10.18 or later can access the document. Users who want to access the document only need to open a macOS terminal and enter:
open /System/Library/Image\ Capture/Devices/VirtualScanner.app/Contents/Resources/simpledoc.pdf
Gizmodo confirmed the document popped up on preview on a MacBook Air running macOS 12.5.1 as well as more modern versions of the OS. The document is stuffed deep in the operating system's resources, requiring the image capture Virtual Scanner II Device. MacRumors suggested it could be a sample document for the system that could power Mac's feature letting users transfer photos from iPhone or iPads to Macs, though iCloud is a much easier option for data transfer.
The entire thing is a greater mystery, as back in 2020 Joshua Dickens, a former product designer at Apple, tweeted about the whitepaper. He also found a strange photo in the resources folder, which California-based photographer Thomas Hawk claimed was a sign from Treasure Island in San Francisco he took back in 2018. 
Gizmodo reached out to Apple for comment, but we did not immediately hear back. Users on Apple's own forums were pointing out the irregularities of the Virtual Scanner II Device back in 2021, though no Apple representative ever commented on it.
Baio further claimed based on an anonymous source that somebody at Apple had filed the document as an issue close to a year ago, but that the issue was assigned to the same engineer who originally installed the document into the OS. As is plain by the white paper's continuing existence, nothing's really changed in that time.
It certainly makes sense that there could be a developer at Apple who used the bitcoin white paper as a test for one of macOS backend scanning systems, and then just left it in the code where nobody was looking for it. Still, the political environment surrounding cryptocurrencies is not exactly stable, especially as crypto hacks, robberies, and other crimes have expanded even as bitcoin prices dropped precipitously last year compared to 2021 highs.
There's still quite a lot of speculation about if Nakamoto was a real person or, more likely, a pseudonym. Past investigations by Gizmodo and others have pointed to Australian academic and entrepreneur Craig Wright as involved in bitcoin's creation. Still, some remain highly skeptical that he was behind it all, and instead claim other early bitcoin developers as the real minds behind crypto's nascent beginnings. And making such proclamations haven't helped Wright's wallet either, as he's had to pay $100 million in compensatory damages to the family of Dave Kleiman, one of bitcoin's supposed original founders. Kleiman's brother claimed Wright cheated the developer out of intellectual property rights for bitcoin.