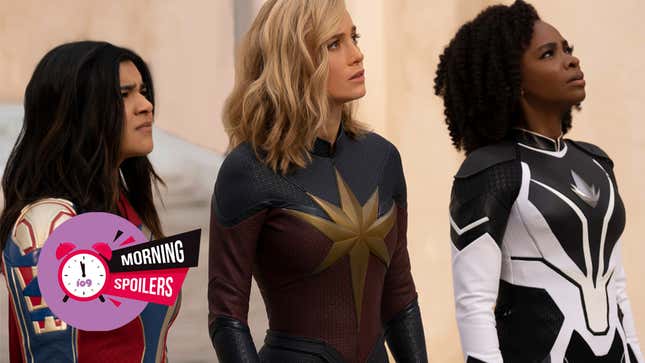 There is somehow a Barbenheimer movie in the works. Could Hammer Studios make a return? Star Trek: Prodigy producer Aaron J. Waltke talks about bringing Voyager's Doctor aboard the show. Plus, more clips from the next Futurama. Spoilers, away!


The Marvels
A new featurette includes some new footage alongside material from Captain Marvel, WandaVision, and Ms. Marvel to set the stage for the new movie.
---
Untitled DC Project
During a recent appearance at Comic Con Panama, Giancarlo Esposito stated he's "been talking" to James Gunn about the possibility of starring in an upcoming DC movie.
I had been talking to James Gunn about the possibility about being in a movie, so who knows? It could happen soon.
---
Universe's Most Wanted
During a recent interview with Deadline, producer Stuart Ford revealed Dave Bautista's Universe's Most Wanted — in which a sheriff must apprehend the escaped convicts aboard a crashed an alien prison ship — is "dead" and no longer moving forward at AGC Studios.
It has stalled due to casting and creative issues. That's all I'll say. No one is in right now. It's dead.
---
Scream 7
As detailed by Screen Rant, the news Neve Campbell will not return for a third season of The Lincoln Lawyer has lead many outlets to speculate she's struck a deal with Paramount and will return for Scream 7.
---
Barbenheimer: The Movie
According to JoBlo, Full Moon Features is producing Barbenheimer, a film inspired by the recent internet phenomenon in which a group of killer dolls assemble a deadly atomic weapon. Set "deep within Dollsville," the story is said to follow" a group of fed-up female dolls – led by the brilliant Dr. Barbenheimer – [who] build an atomic bomb. Their mission? To bring down the patriarchy once and for all! But as the battle of the sexes swells, will Barbenheimer and her bevy of beauties end up blowing up more than they bargained for?"
---
Hammer Studios
Variety reports the newly-restored Hammer Studios has been acquired by award-winning theater producer, John Gore. Under Gore's management, "the plan is to invest significantly in Hammer Films to breathe new life into the studio, blending the nostalgic charm of Hammer with modern cinematic style and innovation, while preserving its heritage and library. A new slate of films and projects will be unveiled imminently."
---
Bodies
The body of the same London murder victim reappears in 1890, 1941, 2023 and 2053 in the trailer for Bodies, Netflix's upcoming film adaptation of Si Spencer's comic book series. Shira Haas, Stephen Graham, Jacob Fortune-Lloyd, Amaka Okafor and Kyle Soller star.
---
Star Trek: Prodigy
During a recent interview with Trek Movie, executive producer Aaron J. Waltke confirmed Robert Picardo's Doctor will fill in for Admiral Janeway if a second season of Star Trek: Prodigy ever sees the light of day.
Yes, as I've said elsewhere, when we bring a legacy character onto Star Trek, it's not just for pure nostalgia or a fun "Hey, look at that guy." Because of both financially and because of how our story unfolds, we want their relationship to be an integral part of both our young cadets' journey and hopefully have an influence on those characters' story as we get this sort of coda to what happened after Voyager returned to Earth. So Picardo as The Doctor is in it for the long haul. And he certainly has his fair share of teaching young people about how the warp core of the cell works. I think he fancies himself as something of a mentor to them, even if they still don't quite know what to make of him.
---
Star Wars: Ahsoka
Jacen Syndulla enjoys his own character poster courtesy of the official Star Wars Twitter page.
---
Futurama
Finally, the Planet Express crew are forced to work remotely in a clip from "Rage Against the Vaccine" — this week's episode of Futurama.
---
Want more io9 news? Check out when to expect the latest Marvel, Star Wars, and Star Trek releases, what's next for the DC Universe on film and TV, and everything you need to know about the future of Doctor Who.