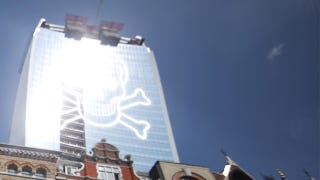 Rather than feeling embarrassed, the architect of the "Walkie Talkie" skyscraper at 20 Fenchurch street, London, seems completely flippant and amused by his car- and human-melting building. Check out this quote from an interview with The Guardian:
"When it was spotted on a second design iteration, we judged the temperature was going to be about 96.8 F (36 C). But it's turned out to be more like 161.6 F (72 C.) They are calling it the 'death ray', because if you go there you might die. It is phenomenal, this thing."
How neat is that? 'The death ray I made, it's phenomenal! Huh?' He then added that he "knew this was going to happen." Which is phenomenal too, because it's absolutely true: He had the same experience with his first people-burning hotel in Las Vegas.
This guy is not an architect. He's a frustrated supervillain.
Photo by Getty Images