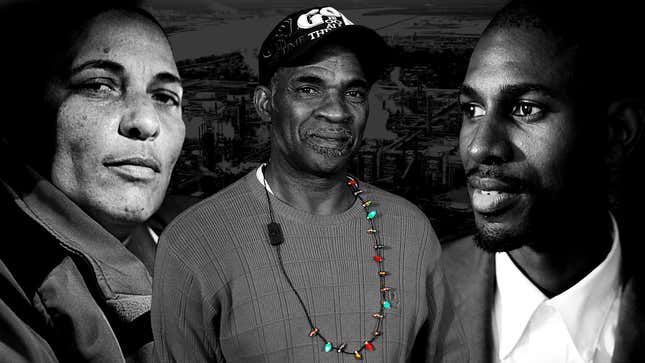 ST. JAMES PARISH, LA.— The murmur of voices and stampede of children's feet is unmistakable even across the street. But walk up the four wooden steps and open the doors to the St. James community center and the muted sounds become a cacophonous roar of holiday spirit.

Vizio's Latest TVs Go All Quantum
Children wearing construction paper antlers twirl, run and weave between card tables and adults eating gumbo made by a pastor across the river in Ascension Parish. Later, door prizes will be given out, faces will be painted, and ugly Christmas sweater cookies will be decorated and quickly devoured. An hour later with the sugar high wearing off, parents will carry their half asleep kids out into the surprisingly chilly Louisiana night.
It looks like a holiday party scene playing out in countless towns across the U.S., but look between the cookies and empty gumbo bowls on the tables and you'll find postcard-sized signs emblazoned with "I am a water protector #nobayoubridge."
The next year will be a crucial one in the history of St. James Parish, a sprawling community of 21,500 along the banks of the Mississippi River. If fossil fuel company Energy Transfer Partners has its way, it will add yet another pipeline to a landscape already crisscrossed by them, stretching from Lake Charles, La. and ending in St. James.
Resisting the Bayou Bridge Pipeline
The Bayou Bridge Pipeline—the conclusion of a pipeline network that includes the highly contested Dakota Access Pipeline—is the latest reminder of the inequality that has pervaded this part of the world. The settlement of Freetown within St. James was founded by freed slaves. The community center was built by one of those slaves in 1900, and a nearby plaque stands as a testament to the deep history of challenges residents past and present have faced.
What used to be a landscape and economy ruled by sugarcane is now ruled by fossil fuels and chemicals. Smokestacks and oil tanks rise between the fields and swamps. Climbing the levees that line the Mississippi River reveals a parade of tanker ships transporting oil and gas out to the Gulf of Mexico, and ultimately the global market.
While the method of generating wealth has changed, the unequal treatment of African American community members has not. St. James Parish sits square in the middle of Cancer Alley, a stretch of impoverished communities between Baton Rouge and New Orleans containing some of the highest densities of petrochemical industry sites in the U.S. The region is also home to the community with the highest cancer risk from airborne toxins in the country.

"We're fighting the emissions already here," Pastor Harry Joseph told Earther. "Our community is dying because of what they're bringing in."
That's why some community members have said enough, and are holding the line to protest construction of the Bayou Bridge pipeline along with a diverse group of outside activists that include Native Americans, local climate groups, and crawfishers.
Activists have already filed complaints in court, staged protests in front of the Louisiana Capitol, and bought land in the path of the proposed pipeline route. But they know they'll have to do more if they want to stop the pipeline's construction, which Energy Transfer Partners plans to complete in the first half of 2018. The party was a chance to connect ahead of what comes next.
"This party is about helping trying to bring people together and see what we're up against," Joseph said. "It's for people to come together and show love for one another, be there for one another and talk about what's going on."

Joseph tends to the Mount Triumph Baptist Church, a simple white church with a rusted roof separated by a mile of road and an oil refinery from the community center. He's one of the local leaders helping bring people together to prepare for a protracted legal battle with help from Tulane's Environmental Law Clinic.
Cherri Foytlin, the head of Bold Louisiana, led the activist contingent at the party. For her, being there was important to show solidarity with and serve the people who are living in what's essentially an environmental sacrifice zone.
"They need to feel like people give a shit," Foytlin told Earther as she helped Joseph pack up leftovers.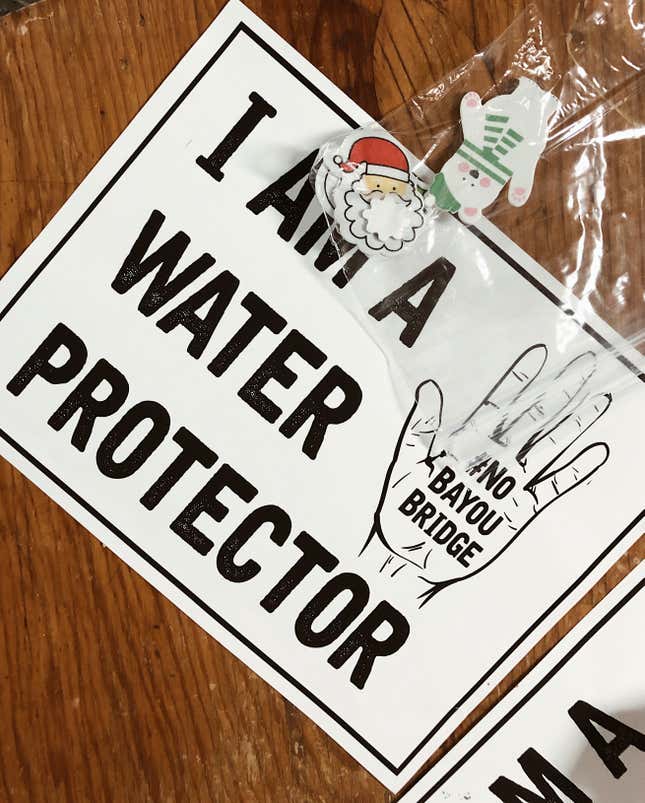 It's easy to see how people feel forgotten in St. James, particularly with regards to the Bayou Bridge project. An analysis shows it would only create 12 full-time jobs, little help in a parish with a 10.5 percent unemployment rate and a 19.9 percent poverty rate, both well above the national average.

Despite local opposition, the pipeline battle has so far has mostly tilted in favor of Energy Transfer Partners. The governor has come out in support of it, and powerful state figures like Mary Landrieu, Louisiana's former Democratic senator, are pushing for it to be built as well.
The Army Corps of Engineers approved permits for the pipeline last week as did Louisiana's Department of Environmental Quality. Political leaders in St. James also approved it by a tight vote of 4-3 in August.
Despite the headwinds, the holiday party was a boost to spirits. But Joseph, Foytlin and others know there's more to be done in the new year.
"I don't mind standing up for what's right," Joseph said. "You can break one stick but if you throw a bunch together, you cant break them."

And with that, he flipped out the lights, locked the door and went home to prepare for what's next.