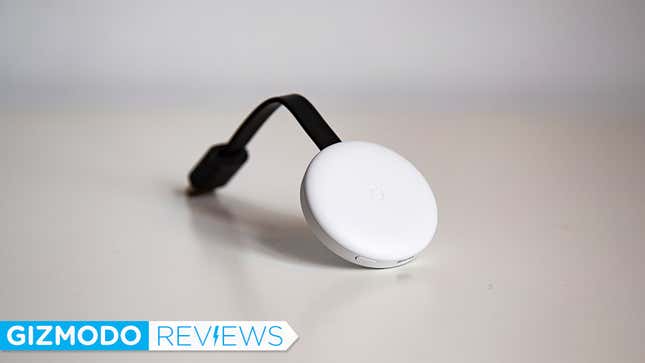 Google quietly released a new Chromecast device at its big event this week. And by quietly, I mean the company didn't mention it at all. It was just sitting in the bottom of the bag that someone gave me when I left the venue. But hey, it's new and it's nice-looking. It's just a bummer Google still hasn't made Chromecast more useful.
The Boogeyman's Sophie Thatcher Reveals What Draws Her to Dark Characters | io9 Interview
The new third-generation Chromecast is just like the old second-generation Chromecast except for a design upgrade and a couple of new software features. It's also still $35.
The hardware itself maintains the same puck-plus-HDMI-cable as before, except instead of the glossy plastic shell with the Chromecast logo carved into it, there's now a matte case with a little Google "G" on the front. The HDMI plug also no longer clings to the puck magnetically for easier storage, which is something you probably never noticed anyways. The new Chromecast also comes in white and charcoal.
On the software side of things, the Chromecast now supports 1080p video at 60fps. This is remarkable for a couple of reasons. The first is the reminder that older Chromecasts supported 1080p at 30fps and 720p at 60fps. The very slight spec bump is tough in a world, where 4K video is the standard on set-top boxes these days. Google has been selling a 4K-capable device called the Chromecast Ultra for a couple years, but that little dongle will cost you $70.
The second remarkable thing is that the addition of 1080p at 60fps won't matter to the vast majority of people, because casting video at 60fps is mostly just useful if you want to watch YouTube videos of gameplay on your TV. You can also find 60fps stuff on sites like Netflix, but it's typically limited to 4K HDR videos, so you might as well go ahead and get a Chromecast Ultra if you want the full experience.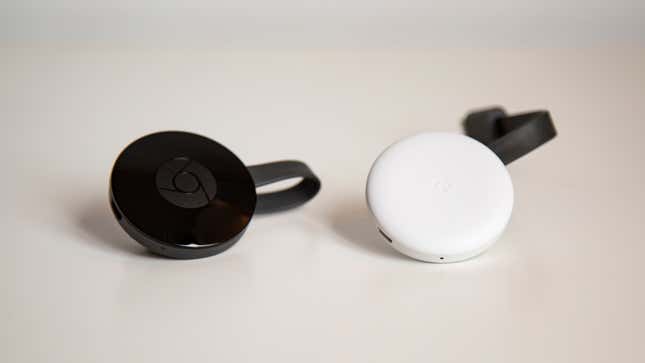 There are some other tiny things. The new Chromecast offers multi-room audio support but only on Google Home speakers and speakers equipped with Chromecast Audio support, which seems extremely limiting. With the new Chromecast, you can sort of turn your TV into a picture frame with Google's new Live Photos feature, which seems like puny addition to the standard pretty picture screensaver option. Google also says there's "a 15-percent improvement in hardware speed," which I didn't really notice when I was using it.
What all of this adds up to is… not much. The Chromecast still falls short of doing what a full-fledged set top box or streaming stick could do. You still have to pull up content on a computer or a phone and cast it to your TV. You still can't turn the thing on and access apps directly on your TV. In other words, you can basically just do the things that the very first Chromecast could do, only a little faster. Casting seemed really cool in 2013, when Google released the first generation of the device. The new Chromecast works just fine, but I feel bummed that Google didn't do more.
It's not like the company hasn't considered it. Earlier this year, Google made an Android TV dongle that looked an awful lot like a Chromecast, but turned any TV into an Android TV, complete with 4K 60fps support as well as 2GB of RAM and 8GB of storage. That's basically what the latest Roku Streaming Stick and Amazon Fire TV dongle can do. It's not far off from a Google version of Apple TV, a more expensive streaming device that lets you dependably cast video to your TV using AirPlay. The only problem is that the Android TV dongle is only available to developers.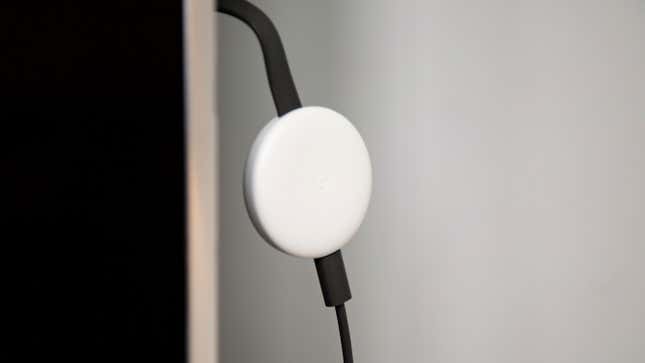 Then again, Chromecast's big selling point was always that it's cheap. For $35, you don't need to buy a whole set-top box, since a Chromecast would let your phone do the heavy-lifting and just cast your videos to a bigger screen. But in the past month or so, that do-less for less money idea has gone out the window. Roku released the Roku Premiere, a full-featured streaming device that supports 4K video and costs just $40. Amazon now sells a 4K-ready Fire TV stick for $50, while the non-4K version is $40. You can also spend some more coin and get a Nvidia Shield, which comes with gaming and casting abilities as well as Google Assistant, for $180.
I'm not trying to say that the new Chromecast sucks. By objective standards, it is better than the old Chromecast. It just seems like Google missed an opportunity to make itself more useful, especially now that it's leaning extra hard into the smart home hardware market with the new Home Hub. But for all I know, Google makes a butt ton of money by selling $35 Chromecasts that aren't as useful as they could be. Probably tricks a few customers into thinking it works like a set top box, too.
Correction: An earlier version of this post said that the second gen Chromecast could not cast video with 1080p resolution. In fact, it could cast 1080p video but only at 30fps, and at 60fps, it was limited to 720p. The new Chromecast does 1080p at 60fps.
README
New design looks nice
Offers 1080p at 60fps and multi-room audio (but only with Google Home and Chromecast-enabled devices)
Still cheap at $35
Still useless for anything besides casting