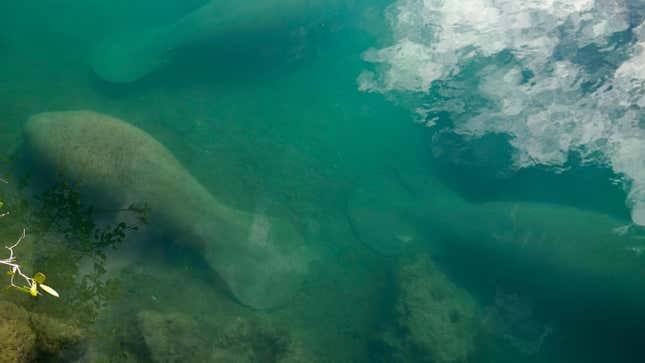 Multiple conservation groups joined forces and announced their intent to sue a federal agency over what they say is a failure to protect West Indian manatees, large marine mammals that live near Florida and across the Caribbean. The manatees' population has declined in recent years as they run out of food and lose habitat.
Rare Polar Bear Attack in Canada | Extreme Earth
The Harvard Animal Law & Policy Clinic, Center for Biological Diversity, Miami Waterkeeper, and engineer Frank S. González García filed a notice outlining their intention to sue the U.S. Fish and Wildlife Service. The notice is required before suing a federal agency, the Associated Press reported.
Conservationists previously petitioned the FWS to reclassify the species from threatened to endangered under the Endangered Species Act, according to a statement from the Center for Biological Diversity. In last year's petitions, groups argued that the gentle sea cows should not have been taken off the endangered species list in 2017. Since manatees have lost their status as endangered, their population has rapidly declined. Around 1,100 manatees died in Florida in 2021, according to data from the Florida Fish and Wildlife Conservation Commission, and at least 800 died in Florida last year, the Tampa Bay Times reported.
In the new notice, the conservation groups say the FWS was required to respond to the earlier petition within 90 days and investigate if the reclassification to endangered is warranted. However, it has been more than 150 since the original petition, and the FWS has not responded.
The conservation groups argue that the manatees' population decline should be a priority for the FWS. "We initially hoped that the Service would respond to our petition quickly, given the overwhelming scientific evidence showing that manatees need increased protection," Savannah Bergeron, a student attorney at the Harvard Animal Law & Policy Clinic, said in a statement. "But as no response came, and manatee populations continued to decline, it became clear that more must be done to protect these beloved gentle giants."
And they're not wrong—things have been dire for the manatees. Algae blooms fueled by pollution kill off sea grass that manatees eat. Some areas have lost so much sea grass that, in 2021, state officials announced a lettuce-feeding program to keep starving manatees alive. But tossing lettuce into the water for manatees to eat doesn't solve the root problems behind their dwindling numbers. The marine animals are also killed by boat strikes and habitat loss, according to Center for Biological Diversity.
Establishing their status as endangered once again would push federal agencies to prioritize the safety of West Indian manatees. "This cherished species badly needs protection from the federal government, and it shouldn't take a lawsuit to get the Fish and Wildlife Service to perform its legal duties," Ben Rankin, a student attorney at the Harvard Animal Law & Policy Clinic, said in a statement.
Want more climate and environment stories? Check out Earther's guides to decarbonizing your home, divesting from fossil fuels, packing a disaster go bag, and overcoming climate dread. And don't miss our coverage of the latest IPCC climate report, the future of carbon dioxide removal, and the un-greenwashed facts on bioplastics and plastic recycling.