Startled Canadians witnessed a bright fireball on Sunday afternoon, a daytime arrival from the annual Eta Aquarid meteor shower. Even better, it was caught on video by dashboard cameras, and photographed by quick-reflexed observers.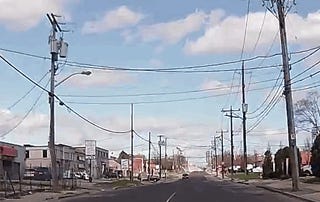 Extracted from a video posted by Sam Singh of a fireball near Toronto at 4:17 pm on Sunday.
The CBC reports that a meteor researcher at a local university confirms this is a plausible sighting, while the Peterborough Examiner reported on simultaneous observations of a loud blast. Like the recent fireball in Russia, the atmospheric impact of the explosion was picked up by an infrasound network, further confirming that this is a fireball. This is about as sure as we can get until actually finding the rock, so may you be lucky in your hunting, people near Toronto! You're looking for a rock that was originally around a half-meter to a meter big. Based on reported observations, the American Meteor Society has produced a projection of the probable trajectory:
Twitter user iVeronica caught the fireball in a photograph she posted to Twitter:
Here's the full video — the fireball travels almost perfectly vertically just to the left of the road.
Check out a bunch more footage and photographs on PTB Canada, theWeather Network, or the American Meteor Society website.
If you missed it, northern Canada had a spectacular fireball last month, that while not caught on video, was satisfyingly dramatic in the night sky.