Thor's Chris Hemsworth explains how the movie mashes up the Odinson's comics portrayals. There are four new Doctor Who clips. Primeval is back! There are Lost/V clips! Piranha 3-D's director talks boobs and blood. Plus Toy Story, Fringe and SGU.

Thor:
Star Chris Hemsworth talks up this movie on the red carpet for his brother Liam's new movie, The Last Song:
Thor will satisfy fanboys and girls hoping to see the hammer-wielding superhero they've come to love from the Marvel comic book. I have the hammer, it's pretty true to the comics. I have a long blond wig and a nice big red cape and all sorts of armor and interesting bits and pieces... There's so many different versions of the comic books, they've sort of bonded quite a few of them to form this particular story, but it's all very true to the original stuff.
[Comic Book Movie via Slashfilm]
Toy Story 3:
Director Lee Unkrich talks about one of the new toys, a Ken doll voiced by Michael Keaton:
He's maybe not the brightest guy, very into clothes, and we're creating this conceit of a Ken that had never met a Barbie, and a Barbie that had never met a Ken or known of their existence, which we thought was very funny. We pitched our take on Ken to Mattel, as well as this particular Ken from the '80s we wanted to use. They were on board completely. We also shared with them an early pitch of the movie so they could see how Ken was being used in the film. I can't speak to whether they were nervous in any way at all, but at the end of the day I think we did a good job respecting the character but making him very funny and particular as well.
G/O Media may get a commission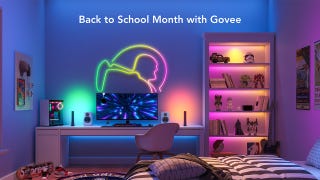 Back to School
Back to School Month with Govee Sale
Piranha 3-D:
Director Alexandre Aja promises "3-D Double-D boobs" in this movie, and more blood than Kill Bill:
The biggest thing for the fans is going to be the big spring-break wet T-shirt contest, where we have thousands of spring-break groups on the water. And the party has its climax when the piranhas come and start attacking everyone. It's almost 25 minutes of a huge massacre, and it's really insane.
[MTV]
Doctor Who:
Steven Moffat explains the arc of the new season:
Getting to know Amy and all the contradictions about her and the decisions she has to make at the particular time of her life… are the story of this series... Doctor Who is always really more the story of the companion than it is of the Doctor himself... There will be things that you think you understood at the time but then you'll discover later on that they meant something else entirely. It's a proper rollercoaster ride; you don't get to sit still for a minute.
Here are four new clips from the season opener, "The Eleventh Hour" (one of these videos is two clips):

Here are some new promo pics from "The Eleventh Hour" and "Victory Of The Daleks". [Den Of Geek and Den Of Geek]


Fringe:
Here are a bunch of photos from next week's "Olivia, In The Lab, With A Revolver." [FringeSpoilers]


Primeval:
This show is about to film its fourth and fifth seasons back to back. The fourth season will pick up where the third season cliffhanger left off — with Connor, Abby and Danny Quinn trapped in the prehistoric past — but will actually pick up the storyline three months later. Also returning will be Ben Miller (James Lester) and Ben Mansfield (Captain Becker), plus new additions Matt (Ciarán McMenamin) and Jess (Ruth Kearney). [SciFiPulse]
V:
Here's a sneak peek from Tuesday's "Pound Of Flesh." Start your countdown clocks... [SpoilerTV]

Elizabeth Mitchell answers your questions! [http://www.thevfiles.info/v-the-new-series-ask-erica-behind-the-scenes/http://www.thevfiles.info/v-the-new-seri…]

Stargate Universe:
In tomorrow night's episode:
Using the communication stones, Col. Everett Young (LOUIS FERREIRA) prepares to file a report to Earth regarding the recent untimely deaths on board the Destiny. But upon initiating the device, his consciousness is diverted into an unknown being. Worried about the repercussions of the connection, Young puts the communication stones temporarily off limits.

Soon after the malfunction, an alien vessel appears in Destiny's path and demands surrender. The standoff doesn't last long. The alien vessel launches an attack and captures Chloe (ELYSE LEVESQUE). Realizing this is more than a coincidence; Col. Young must use the stones again to get aboard the ship and try to rescue Chloe. He quickly realizes, however, Chloe isn't the only prisoner aboard the ship.
Here's another look at those new aliens. Two more pics at the link. [Collider]


True Blood:
Episode 3x06 contains an "intense" Sookie/Eric moment. And it turns out there's another reason Eric's drawn to Sookie, that we don't know about yet. Also, Eric's hair is darker because Alexander Skarsgård
was making a movie, not any other reason. [EW]
I think we already posted this poster, but just in case... [Slashfilm]


Lost:
Daniel Dae Kim says the candidate named "Kwon" may be Sun and Jin's child, rather than Sun or Jin. And he talks about the "flash sideways":
I think we're going to discover that each character has something that is unexpected in their lives off the island and we're trying to figure out the source of it.
Also, the fact that Jin used to be sterile but now Sun is pregnant will be addressed, and there's more to their off-island life than we've already seen. And Ji Yeon will be a "factor" in upcoming episodes. [TV Guide]
Also, Kim has read a huge chunk of the finale script, and he says:
It's pretty amazing. If you think about how many pieces the writers had to put together in order to make it fall into place, it's mind-boggling, and they did such a great job. Some of the twists and turns are just so clever. For me it was very satisfying. After I read it, I had to sit for five or 10 minutes, just reflecting and digesting, because it definitely makes an impact.
[People]
Also, Kim says he was shooting a huge sequence that involves swimming underwater, and tore his hand. And he says that you may be surprised by what happens with Sun, Jin and their baby. [E! Online]
Next week's Desmond episode includes some more surprising characters popping up in the L.A.-verse. And someone will see "the truth." And the four-letter word that sums up what Lost is all about has an "E" in it, and it's a "good thing." (METH!) [E! Online]
Did you already figure next week's Desmond episode is like another "The Constant"? Well, it is. And the bloodbath is coming soon. [EW]
There's a bunch of spoilers for the finale, 12 of which are false and three of which are true. I hate this kind of thing, honestly... but if I had to guess, I'd say alt-Jack's ex-wife is either Juliet or Ana-Lucia. And either L.A. Sawyer or Kate dies. Another plane crash sounds plausible. And an alien connection would be awesome but I doubt it'll happen. What do you think? [SpoilersLost]
Here are some promo pics from Tuesday's big Desmond outing. [Lyly Ford]


And some sneak peeks from the episode. [Lyly Ford]

Additional reporting by Kelly Faircloth.