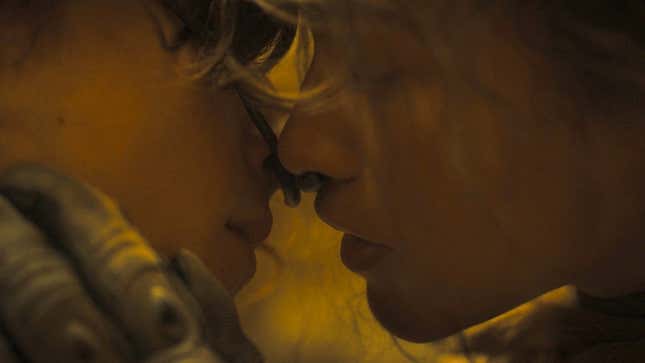 Sure, audiences are going to see a galaxy-spanning war, centuries of prophetic witch-women, and spice, but Dune 2 is also going to have a storyline that the first Dune installment only hinted at; romance.
We knew it was coming–Timothee Chalamet's Paul Atreides and Zendaya's Chani are destined to be together. Chani is Paul's "literal dream woman," says Zendaya. But when it came to figuring out how to create a love story in between invasions, sandworms, and assassins, director Denis Villeneuve had his work cut out for him.
He knew he had to get this romance right. "If we don't capture that," Villeneuve told Vanity Fair in a new interview, "if we don't have that onscreen, there's no movie. The epicenter of the story is this relationship." Villeneuve set a lot of Chani and Paul's more intimate scenes during the "magic hour" near sunset when the light becomes softer and yellow, giving everything a romantic glow. Zendaya and Chalamet were filming in Jordan, and with such a limited window to film, in addition to the extreme heat of the region, the two actors had to be judicious with their on-camera takes. But because they weren't able to shoot all their scenes in just a few days, they were able to "revisit" their performances every day. "We kind of got to sleep on it," Zendaya says, "and think about it, and come up with a new set of ideas."
Figuring out how to get these two characters to fall in love was tough. Figuring out how to flirt in this "futurist space" was difficult, says Zendaya. "How do they show that they like each other? What does that even sound like? We were definitely trying to navigate that, which was funny because all of us were stumped. I think it's just as foreign to us as it probably is to the characters."
They played around with awkwardness, clumsiness, the kind of mis-steps that everyone goes through when trying to figure out if the person they like likes them back. Sure, Paul is an invader/savior and Chani is a rebel princess, but their romance Chalamet says "humanizes" the "messianic prophecy that looms around [Paul]." Zendaya says that, "I think something we can all relate to is just love." In the article Villeneuve gives a lot of credit to his two leads for "figuring it out," saying that Chani is "a fierce warrior… but there's something about that young man that cracks her heart. And Timothée did a beautiful job to bring that sincerity onscreen."
Dune Part Two comes out November 3, 2023.
---
Want more io9 news? Check out when to expect the latest Marvel, Star Wars, and Star Trek releases, what's next for the DC Universe on film and TV, and everything you need to know about the future of Doctor Who.