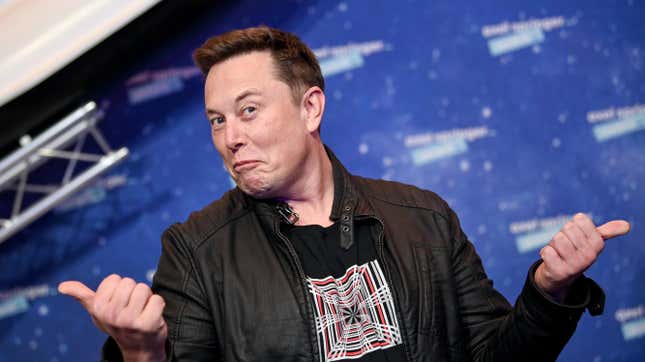 Twitter CEO and supreme overlord Elon Musk apologized to former employee Haraldur Thorleifsson for mocking his disability, proving that even tech's biggest villain has a heart, or at the very least the sense to smell a huge incoming lawsuit.
NPR Is Going Dark on Twitter | Future Tech
In a tweet on Tuesday afternoon, Musk stated that he had spoken with Thorleifsson—who goes by "Halli"—in a video call "to figure out what's real vs what I was told," admitting that it was better to actually talk to people face to face than to communicate via tweet. The billionaire went on to say that he had misunderstood the situation Thorleifsson, who suffers from muscular dystrophy and uses a wheelchair, was in and added that he had offered the former employee his job back.
"I would like to apologize to Halli for my misunderstanding of his situation. It was based on things I was told that were untrue or, in some cases, true, but not meaningful," Musk tweeted. "He is considering remaining at Twitter."
Musk's apology came after he had publicly called Thorleifsson "the worst" in a tweet on Monday and said he "did no actual work," which he deleted afterwards. Gizmodo was able to view a cached version of the tweet on Google.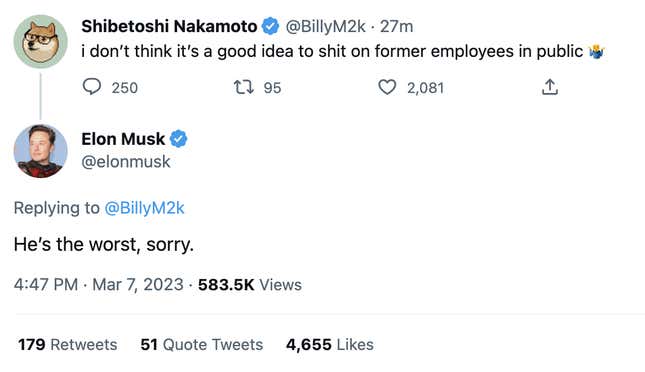 The Twitter CEO quickly became the vilest person on his social media network for his interaction with Thorleifsson, a genuinely lovely human being who has won multiple "Person of the Year" awards in Iceland, his home country. Thorleifsson sold his company, Ueno, to Twitter in 2021 and chose to be paid in wages so that he could pay a higher tax rate to benefit Iceland's social system.
Musk and Thorleifsson started their back and forth on Monday after the former employee reached out to the Twitter CEO to ask if he still had a job. Thorleifsson had lost access to his work computer in recent weeks and suspected he was one of the 200 Twitter employees who been laid off. He had reached out to Twitter HR and Musk himself to ask if he still had a job but had not received answer. As a last resort, he decided to tweet at his mercurial boss.
"Dear @elonmusk 👋 9 days ago the access to my work computer was cut, along with about 200 other Twitter employees," Thorleifsson said on Monday. "However your head of HR is not able to confirm if I am an employee or not. You've not answered my emails. Maybe if enough people retweet you'll answer me here?"
His idea worked and, after receiving tens of thousands of likes and retweets, he got his boss on the line. After asking what Thorleifsson was working on and demanding pictures as proof, Musk laughed at the Ueno founder. Throughout their exchange, Thorleifsson revealed that Twitter HR had finally gotten back to him and told him he had been laid off.
The Twitter CEO later laughed at Thorleifsson for his disability and said the employee couldn't have been laid off since he didn't work in the first place.
"The reality is that this guy (who is independently wealthy) did no actual work, claimed as his excuse that he had a disability that prevented him from typing, yet was simultaneously tweeting up a storm. Can't say I have a lot of respect for that," Musk tweeted on Tuesday. "But was he fired? No, you can't be fired if you weren't working in the first place!
Musk added that Thorleifsson had confronted him on Twitter in order to get a big payout and claimed the employee had "done almost no work for the past four months, middle-management or otherwise."
Thorleifsson pushed back against Musk's comments about wanting a big payout and said he resorted to tweeting in public because neither Musk nor anyone else at Twitter had responded to his private messages.
He also responded to Musk's cruel tweet and explained the effects that muscular dystrophy had on his body. The Ueno founder stated that he had been in a wheelchair for 20 years since he was 25 years old and needed help getting in and out of bed and going to the toilet. As for his hands, which Musk showed "great concern" for, Thorleifsson said that he had told HR he wasn't able to do manual work for long periods of time because he hands start to cramp.
"I can however write for an hour or two at a time. This wasn't a problem in Twitter 1.0 since I was a senior director and my job was mostly to help teams move forward, give them strategic and tactical guidance," Thorleifsson stated. "I'm typing this on my phone btw. It's easier for because I only need to use one finger."
Like other founders whose companies Twitter's previous management had acquired, Thorleifsson was reportedly on a "do not fire" list because it would be too expensive to pay him out.
Thorleifsson maintains that Musk had every right to lay him off, but was unhappy with how the company proceeded. It's unclear whether he will accept Musk's offer to stay on. Thorleifsson previously stated that the next thing he was working on finding out was whether Twitter would pay him what he's owed per his contract.
"You had every right to lay me off. But it would have been nice to let me know!" Thorleifsson said on Tuesday.