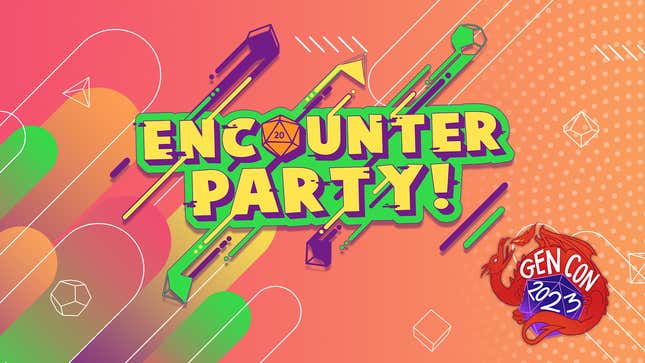 It's the first real day of Gen Con and I'm meeting up with Ned Donovan and Brian David Judkins in the labyrinthine upper suites of Lukas Oil Stadium. We can't go into the Wizards of the Coast press suite, as apparently someone else louder than us called dibs, but we sneak into a suite reserved for someone named "Thor." He never showed up, which was good for us, as we almost immediately started making a lot of noise talking about Donovan and Judkins' newest project, Encounter Party–one of three shows that Wizards of the Coast has invested in to lead their first forays into television—the FAST channel called D&D Adventures.

Gillian Jacobs Reacting to Her D&D Character Sheet From Community | io9 Interview
Encounter Party began as a popular actual play podcast DM'd by Judkins. Its first episode dropped in March of 2019, and over the course of nearly three years has followed a cast of characters through multiple incredible arcs, chronicling the passage of time six heroes in the Magic: The Gathering meets D&D setting of Ravnica. And now they're about to enter a new campaign, on a bigger stage than ever before.
Tell me about the show, I ask. "It rocks," Donvan said. "End of interview," Judkins interrupted, miming getting up from the table. We all laugh, but even after a bit of prying, it's clear that these guys are keeping everything–literally everything, from plot to characters—under a tight lid. The TV version of Encounter Party will star the same cast, and it'll be the same kind of "cut the dead air" one-hour format as the podcast, but other than that, anything about the show except that it's coming to streaming sometime soon is off the table. But just that fact, is enough to get me interested.
When asked how they got on Wizard of the Coasts' radar ahead of D&D Adventures' announcement, Donovan says that he just went for it. He sent some emails, was lucky enough to have some fans of Encounter Party vouch for them, and Wizards took a chance (if any of the fans of the show working at Wizards are reading this interview, Donovan wants to take you out for a drink to thank you). "Wizards took the call from us, a small indie show, and we went into the meeting, and at the end of it they told us, quite openly, that this was the idea they wanted to run with," Donovan said. Wizards of the Coast had been looking for an AP to take to the streaming service, and Encounter Party fit the bill. "Wizards has always been in our corner," clarified Judkins "they took us to eOne [the former Entertainment division of Hasbro, now sold to Lionsgate ahead of a new brand taking its place] and pitched us. So it's clear that [they're] not trying to tell D&D fans what they are going to like; they're producing content based on what they have learned fans already like."
The other two shows that Hasbro have invested in for D&D Adventures are reality shows primarily focusing in on people that the TTRPG community are already familiar with. The first is a celebrity forward live-audience variety encounter comedy show with Matthew Lilliard of Beadle & Grimm, called Faster Purple Worm, Kill! Kill!. The other is a cooking show called Heroes Feast, using the recipes of Dungeons & Dragons' cookbook of the same name, featuring chef Mike Haracz. But Encounter Party is the first Actual Play television show to make it to streaming television in this manner, perhaps. It's also very likely the first fully SAG-AFTRA covered actual play production, meaning that everyone on the cast is employed via the union-supported Electronic Media Contract, a derivative of a New Media Contract. To that end, Donovan and Judkins are here in their capacity as producers—the cast members were not available for interview, as they were withholding promotional work in solidarity with the strikes against the AMPTP.
Judkins described Encounter Party as a "story forward Dungeons & Dragons experience that can be consumed within an hour," without losing any of the experience of listening to talented players playing a Dungeons & Dragons game. Encounter Party is a three hour actual play session that cuts out "anything that doesn't matter to the listener." The goal has always been to create a show that was short enough to sit alongside the longer shows of other popular series–like the four-hour Critical Role sessions, or two-hour Children of Éarte streams. For the past four years, Encounter Party has really been preparing (without really knowing it) for the opportunity presented by the Dungeons & Dragons Adventure channel; the jump to network television.
To that end, Donovan and Judkins have taken notes from what's popular on television right now. It's not a short arc or an anthology; Encounter Party is a 22 episode, one hour long, fiction-forward season. Creating it as a TV show, Judkins wanted to make sure that "they designed a show that was more fun to watch than it was to play." Donovan explained that they wanted to give the audience "the best version of a home game."
I butt in with a question (these boys can talk); how do you balance story versus combat in a series like this then? There is barely a pause before Judkins answers "very well," and Donovan laughs, adding "with a deft hand." They're teasing me, writing the marketing copy before I get a chance to even figure out what Encounter Party (the TV show) is actually going to be all about. I did try at least two more times to get something out of Judkins and Donovan–a plot summary, characters, anything. The most that they would give me is that this campaign takes place on the Sword Coast of Faerûn, and it is not a continuation of, or expansion to, the podcast series.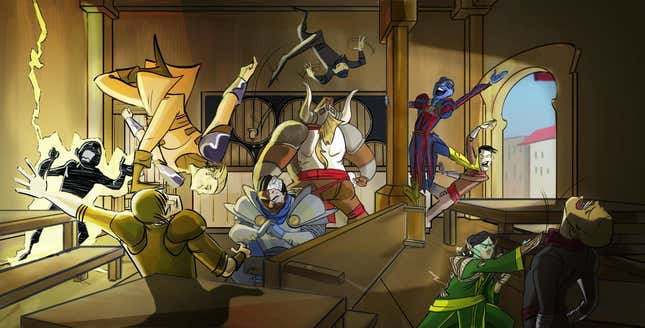 We did come back to the question about fighting, though. "Story and combat are never separate," Judkins said, "combat is always an opportunity for more character growth." It's a chance for players, as well as characters, to figure out where they sit at the table. "Every combat needs to be new and it needs to be justified and it needs to be story related. There has to be a reason that you come to blows." Surprise encounters just for the sake of surprise attacks and gaining experience points usually don't matter to the story. They might be fun to play at your own table–this is Dungeons & Dragons, after all, most of the rulebooks are centered around what you can and can't do in combat–but it might not be right when you are attempting to tell an episodic story.
Most other actual play shows are independently produced, which means that if they go over their typical run time, or their story ends up taking a few extra episodes, it's not really a big deal. But Encounter Party has to, for the most part, stick to a script. Not a literal script—but a kind of elevator pitch. A loose outline of what scenes Judkins thinks the story needs to have in order to come to an ending. "You have to call Wizards," Judkins said, "And you say, 'Here's the crazy thing I want to do. Are you okay with me doing this with this with your things? And before you say no, here's the section in the book that says I can do it.'"
Judkins would send along giant proposals for each episode, for the overarching plot, for the multi-season plan, to Wizards. Along the top of each page of these proposals is the disclaimer "Due to the improvisational nature of our game, I cannot guarantee that everything here is going to happen the way that it is written." Judkins does a lot of story prep, but he gets to play with story structure in a way that isn't typical of an actual play series or even a casual home game. "The cast is so strong that I don't have to worry too much," Judkins explained. "And if a major change needs to be made to the prep work I've done, you know, we take a third lunch, I go prep, we come back to the table."
Donovan added to that. "Our cast deserves all the credit in the world for something I think is unbelievably difficult in this medium, which is knowing when the story isn't theirs and knowing who to support when. It is so vital because otherwise you get people who step on other people's moments or people get in the way and in order to tell a story that feels scripted when it's not you have to know not just whose story is it, but which player's character at the table is the proper person to support in this moment."
Judkins is confident that Encounter Party is going to find its audience. It's already done it once, and independently. "I think [Encounter Party] is truly going to be an evolution in gaming entertainment. I think it's going to showcase story-focused entertainment rather than personality and gameplay-focused gaming entertainment." Donovan agreed, but added that while editing, it was clear that it wasn't just the actors who were a part of the story. By the time each episode of Encounter Party had gone through cutting, editing, and post production, "the camera really feels like the eighth player at the table." When Encounter Party finally releases, we'll see if the audience feels the same way. Until then, the podcast is available to stream now.
No date has been set for when Encounter Party will be released on D&D Adventures.
This piece was written during the 2023 WGA and SAG-AFTRA strikes. Without the labor of the writers and actors currently on strike, the show being covered here wouldn't exist.
---
Want more io9 news? Check out when to expect the latest Marvel, Star Wars, and Star Trek releases, what's next for the DC Universe on film and TV, and everything you need to know about the future of Doctor Who.