Pixar celebrated its 25th anniversary at D23 yesterday by previewing its next four movies. There's Brave, which takes place in ancient Scotland and features Pixar's first female hero, followed by Monsters, Inc. prequel Monsters University, plus two newly announced projects!
Disney animation chief and longtime Pixar head John Lasseter took the stage yesterday to the upcoming slate of Pixar movies. Perhaps implicitly responding to the heavy criticism of Cars 2 - generally considered the studio's first outright flop - Lasseter and the various creative teams were quick to stress that Brave and the two previously unannounced projects are all "entirely original" films, and that Monsters University is being made because they found a story worth telling that was as good or better than that of Monsters, Inc. And, to be fair, there's some precedent for this - whatever cynical, commercial calculation might underpin the existence of the two Toy Story sequels, they both stand up as superlative films in their own right.
Still, for the first time in its 15 years of making movies, Pixar is arguably not playing from a position of strength. The question then is whether all the new footage could show Cars 2 was the unfortunate aberration, rather than the new rule. And, generally speaking, what I saw looked like the Pixar of Wall-E and Toy Story 3 rather than that of Cars 2.
Let's start with Brave. Lasseter reeled off all the firsts that Brave represents for them - it's their first period film, the first with a a female main character, and it's the first to venture into mystical, fairy tale territory. Set in the highlands of ancient Scotland, the movie follows Merida (Boardwalk Empire's Kelly MacDonald), a skilled archer and daughter of King Fergus (Billy Connolly) and Queen Elinor (Emma Thompson).
Fergus is maybe a bit past his prime these days, but he still commands respect as the most fearsome warrior in Scottish history, and he has the missing leg - which he lost in a legendary battle with a demon bear - to prove it. For all his apparent toughness, he's a complete sweetheart when it comes to his daughter. Not so for Queen Elinor, who has no patience for Merida's headstrong ways and demands she prepare for a marriage with one of the sons of the three most powerful nobles: Lords Macintosh (Craig Ferguson), Dingwall (Robbie Coltrane), and MacGuffin (Rome's Kevin McKidd).
G/O Media may get a commission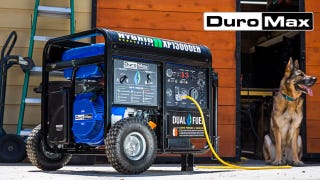 Black Friday Sale
DuroMax Generator Sale
Both the previously released trailer and the footage shown at D23 offers some pretty strong hint that there are mythological beasts lurking on the edge of the movie - Fergus's demon bear seems like a safe enough bet for an appearance in the movie - but we still don't quite know what we're in store for.
Director Mark Andrews did explain one key aspect of Brave's mythology: the will-o'-the-wisps. These are strange blue lights with the power to change a person's fate and lead to treasure...or to doom. Merida follows the wisps to the cottage of a mysterious witch (Harry Potter's Julie Walters). Merida asks the witch to cast a spell that will get her out of her upcoming arranged marriage, but the spell goes horribly wrong, and the forest becomes a dangerous place. It's then up to Merida to go on a quest and save the day, which Andrews noted also becomes a way to heal the relationship with her family.
We got to see a bunch of footage, including a big bar fight, a spooky moment in the forest that recalled the teaser trailer, and an archery contest in which the three dullard noble sons compete for the right to court Merida. The sequences all seemed to find a nice mix between the magic of the medieval setting and appropriately bawdy, raucous humor. I was actually reminded quite a bit of How to Train Your Dragon, the one DreamWorks movie that can actually go toe to toe with Pixar - the presence of Craig Ferguson in both films only strengthens the connection - and the question of whether Brave can properly set itself apart is probably my one major concern. Otherwise, this very much looks like a return to form for Pixar.
Next up is Monsters University, which features the return of Billy Crystal and John Goodman as their Monsters, Inc. characters Mike Wazowski and James "Sulley" Sullivan. Lasseter explained that the original film was driven so much by the friendship between the two characters, and so they wanted to head back and examine just how that friendship came about. To do that, Lasseter proclaimed that they got to make the first animated college movie.
Monsters University director Dan Scanlon explained the basic premise. Mike and Sulley have known each other since grade school, but they've always been bitter rivals because they both want to be scarers, which is pretty much the monster equivalent of wanting to be an astronaut. They both attend the same college, and much to their mutual consternation become freshman roommates.
Scanlon explained that the animators went on several research trips to colleges like Harvard and Princeton to get the right look for the Monsters University campus - a necessity, he explained, because they were a bunch of art school grads who had no idea what actual colleges looked like. Another key to the movie's look is the new, younger designs for Mike and Sulley - Mike has picked up a set of braces that are either meant to make teeth straighter or more crooked (Scanlon wasn't sure how braces would work for monsters) and Sulley is shaggier and thinner than he was in Monsters, Inc.
We got to see some concept art for the various denizens of the university, which includes your standard assortment of cool monsters, nerds, goths, as well as professors of every type, from stuffy English lit professors to artsy theater types to sports-obsessed coaches. If watching the "Homer Goes to College" episode of The Simpsons has taught me anything - and I'd like to think it's taught me everything, then there better be a crusty dean somewhere around here.
According to Scanlon, part of the point of taking the characters back to college is to examine them at one of the most crucial points in their life, since this is an age when many people question who they are and often come up with unexpected answers. A big focus for Mike and Sulley will be gaining entrance to the Scaring School, which is the most elite program at the university.
John Goodman and Billy Crystal aren't the only returning voices from Monsters, Inc. - Steve Buscemi is also back as their nemesis Randall, and the brief footage we saw seemed to tease a few other return appearances as well. Joining the voice cast are Dave Foley, Julia Sweeney, Joel Murray (Mad Men's Fred Rumsen), and Pixar animator Peter Sohn, who served as the visual model for young Russell in Up and provided the voice of Emile in Ratatouille.
Finally, Pixar revealed the two projects it's working on after Brave and Monsters University, which takes their schedule all the way to May 2014. The first, directed by Peter Sohn and Up co-director Bob Peterson, was introduced as The Untitled Pixar Movie About Dinosaurs. The movie imagines what would have happened if the asteroid that killed the dinosaurs 65 million years ago had actually missed Earth, and the one still of concept art appeared to reveal a human child riding an Apatosaurus in the savanna.
The second film is being headed up by Up's other co-director Pete Docter and longtime Pixar story supervisor Ronnie del Carmen. Docter introduced it as The Untitled Pixar Movie That Takes You Inside the Mind, which will examine what really goes on inside people's brains. They didn't offer too many concrete details, but it sounds like they'll be anthropomorphizing thought processes - my immediate point of comparison would be the final segment of Woody Allen's Everything You Always Wanted to Know About Sex* (*But Were Afraid to Ask), though presumably featuring less intercourse, random digs at NYU, and Burt Reynolds.
Here's a complete set of official descriptions for the various upcoming Pixar projects, including one thing not mentioned at the D23 presentation: Small Fry, another short set in the Toy Story universe.
Brave

Since ancient times, stories of epic battles and mystical legends have been passed through the generations across the rugged and mysterious Highlands of Scotland. In "Brave," a new tale joins the lore when the courageous Merida (voice of Kelly Macdonald) confronts tradition, destiny and the fiercest of beasts.

Merida is a skilled archer and impetuous daughter of King Fergus (voice of Billy Connolly) and Queen Elinor (voice of Emma Thompson). Determined to carve her own path in life, Merida defies an age-old custom sacred to the uproarious lords of the land: massive Lord MacGuffin (voice of Kevin McKidd), surly Lord Macintosh (voice of Craig Ferguson) and cantankerous Lord Dingwall (voice of Robbie Coltrane). Merida's actions inadvertently unleash chaos and fury in the kingdom, and when she turns to an eccentric old Witch (voice of Julie Walters) for help, she is granted an ill-fated wish. The ensuing peril forces Merida to discover the meaning of true bravery in order to undo a beastly curse before it's too late.

Monsters University

Mike Wazowski and James P. Sullivan are an inseparable pair, but that wasn't always the case. From the moment these two mismatched monsters met they couldn't stand each other. "Monsters University" unlocks the door to how Mike and Sulley overcame their differences and became the best of friends.

The Untitled Pixar Film About Dinosaurs

What if the cataclysmic asteroid that forever changed life on Earth actually missed the planet completely and giant dinosaurs never became extinct? This hilarious, heartfelt and original tale is directed by Bob Peterson (co-director/writer, "Up;" writer, "Finding Nemo") and produced by John Walker ("The Incredibles," "The Iron Giant").

The Untitled Pixar Movie That Takes You Inside the Mind

Pixar takes audiences on incredible journeys into extraordinary worlds: from the darkest depths of the ocean to the top of the tepui mountains in South America; from the fictional metropolis of Monstropolis to a futuristic fantasy of outer space. From director Pete Docter ("Up," "Monsters, Inc.") and producer Jonas Rivera ("Up"), the inventive new film will take you to a place that everyone knows, but no one has ever seen: the world inside the human mind.

"Small Fry" (Working Title)
In the latest Toy Story Toon, Buzz Lightyear is left behind at a fast food restaurant when a kids' meal toy version of Buzz takes his place. While Bonnie's toys are stuck with the annoying 3-inch-tall Buzz impersonator, the real Buzz is trapped in the restaurant at a support group for discarded toys. As Woody and the gang devise a way to rescue their friend, Buzz tries to escape the toy psychotherapy meeting.