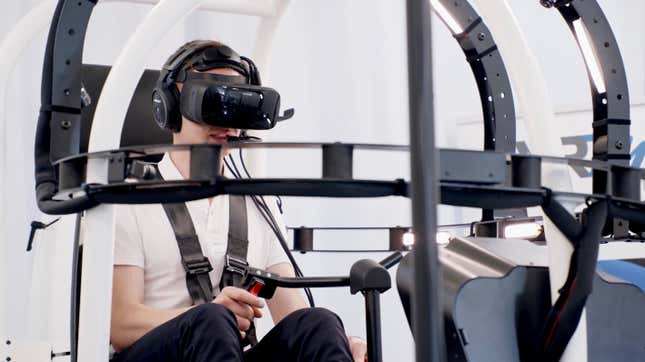 The top aircraft regulator in the US says it's experimenting with a pair of virtual reality helicopter training simulators to conduct safety research. While Mark Zuckerberg's dream of a semi-dystopian metaverse VR-enabled future may have hit a snag or two, the adoption of VR for less flashy, but almost surely more consequential training simulators continues to quietly gain altitude.
A Federal Aviation Administration spokesperson told Gizmodo it recently installed two simulators developed by the Swiss startup Loft Dynamics in the William J. Hughes Technical Center in Atlantic City, New Jersey. The simulators are designed to mimic the experience and conditions pilots feel in an Airbus H125 and Robinson R22. Safety experts using the simulators, the spokesperson added, will use them to virtually explore a variety of dangerous helicopter hazards that frequently lead to real-world accidents.
"The Airbus H125 and Robinson R22 simulators use virtual reality technology to conduct crucial safety research using situations that cause frequent helicopter accidents," the FAA spokesperson told Gizmodo. "These include loss of control in flight and during takeoff, abrupt maneuvers, entry into low visibility and nighttime conditions, spatial disorientation, wire strikes, and bird strikes."
The partnership with Loft Dynamics marks the first time the FAA has introduced VR simulators for safety training. Loft commented on the partnership in its own blog post where it said the simulators would be used to help advance aviation efficiency, capacity, and environmental sustainability goals. The original version of the company's blog post said the FAA would use the VR simulators to train pilots, however, the FAA spokesperson speaking with Gizmodo corrected that description and said the partnership isn't intended for training at all. In fact, the FAA's Technical Center does not engage in any pilot training, VR or otherwise. The emphasis of the partnership, the spokesperson said, was on critical safety research.
"The unique features and capabilities of Loft Dynamics' simulators allow the FAA to perform the research and development required to enhance vertical flight safety," Loft Dynamics wrote in a blog post. Loft Dynamics did not immediately respond to Gizmodo's requests for comment.
VR training advocates hope it can get pilots up to speed faster
Loft Dynamics' simulators are noteworthy for their relatively small, compact size, which they estimate is around 10 times smaller than traditional full-motion simulators. Each simulator is reportedly equipped with a 3D high-resolution panoramic view in a full-sized replica cockpit on a six-degrees of motion platform. The company says the simulators are capable of replicating a number of haptic, physical sensations a real-life pilot may need to familiarize themselves with, such as a course runaway texture and feedback from flight controls. Trainers can customize the software to replicate different sets of world way scenarios a pilot may come across during a trip.

Virtual training has stood out as one of the clearest, most practical use cases for VR headsets outside of gaming. Proponents of the tech in everything from virtual classrooms to police VR empathy training simulators argue VR affords trainees an opportunity to get far more time practicing a skill at a lower cost than they could with physical training alone. In his blog post, Loft Dynamics founder and CEO Fabi Riesen said he believes the benefits of VR training could play a role in solving an expected shortage of professional pilots in the coming years. Airline pilot shortages were one of several variables that collided last year to cause a surge in travel delays across the country. An expected uptick in pilot retirements in the coming years could make those gaps even more pronounced.
"The world needs more than 600,000 new pilots in the next 20 years, and the emergence of electric vertical takeoff and landing vehicles (eVTOL) will significantly add to that demand," Riesen said. "Traditional training options absolutely cannot keep up. We need innovation to solve this quickly, and that's what we're on a mission to do."