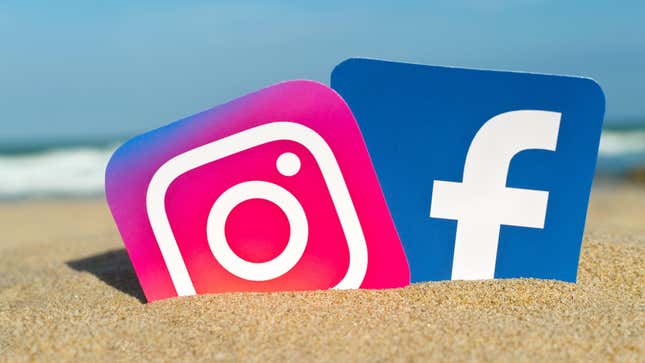 With Elon Musk's Twitter making an absolute mess with paid verification and Twitter Blue, rival Meta has stepped up to the plate with a similarly ludicrous plan to have users pay for the privilege of proving they are who they say they are on Facebook and Instagram. More than that, Meta is advertising those who pay will get access to a real-life customer service rep.
Taking advantage of the long weekend to drop the news, on Sunday Meta CEO Mark Zuckerberg first announced the new "Meta Verified" paid subscription service in his Instagram broadcast channel. Those users who pay $11.99 on web or $14.99 through the iOS store and give Meta a government ID can get a "blue badge" and extra impersonation protection against other accounts. The feature is rolling out first to Australia and New Zealand, but it should become available to more countries "soon," according to a company blog post.
Meta said the paid feature is specifically targeted to content creators, and the paid feature should be shared between both Facebook and Instagram. Those users who have previously verified themselves with an ID should not see any change to their accounts. Alongside a blue verified "badge," Meta promised users they'd receive more "proactive" account monitoring for impersonators as well as access to "a real person for common account issues.'

Those who cough up the $12 every month will also become more favorable on Meta's algorithms, including in search and recommendations. There's also a hint at new exclusive features to "express yourself," which includes stickers on Facebook and Instagram Stories and Facebook Reels.
"Long term, we want to build a subscription offering that's valuable to everyone, including creators, businesses and our community at large," the company wrote in its blog.
While other apps like Telegram and Snapchat have also introduced a subscription service, most of these other service give access to new features or exclusive badges or games. So why should users have to pay for the opportunity to prove their legitimacy, or even to get access to talk to a real life customer service representative? Such features were once considered a no-brainer and were free to everyone, though of course the main feature Meta is selling is the ability to get even more attention through the apps' algorithms.
In a comment on his Facebook page, Zuckerberg said that while they already provide some account verification services, "verifying government IDs and providing direct access to customer support for millions or billions of people costs a significant amount of money. Subscription fees will cover this and will also pace how many people sign up."
There's also the question of if any accounts will be restricted from getting verified. There's a "minimum activity requirement" to become verified, but that likely refers to whether the user's page is real or is a dummy account. There are plenty of far-right figures or malicious accounts who would be chomping at the bit to become more prominent on users' feeds.
In an email statement, a Meta spokesperson said (links theirs):
Like any Facebook or Instagram user, all Meta Verified subscribers and their content must meet our Instagram and Facebook Terms of Use, Instagram Community Guidelines, Facebook Community Standards, and Meta Advertising Standards. If a Meta Verified subscriber's content violates our policies, we will take action accordingly.
Twitter's own Twitter Blue paid verification has proved to be much less of a gravy train than Musk had hoped. Leaked documents showed less than 200,000 users signed up for the $8 Twitter Blue up until mid-January. Of course, Twitter's system has been marketed at the entire Twitter user base, with Musk's paid verification supposed to disrupt the vague "lords and peasants" dichotomy of the previous blue checkmark. That really didn't work out as expected, and the blue checkmark has been incredibly buggy. Some accounts with paid verification may not have been paying anything at all.
Update 2/21/22 at 11:16 a.m. ET: This post was updated to include an additional comment from Zuckerberg's Facebook and a statement from Meta.