You know the first week of April 2018 was a weird one when it began with a horrific shooting at YouTube's headquarters and ended with President Donald Trump's New York City skyscraper catching fire, tragically killing one person, and somehow Facebook's ongoing screw-up continued to top the headlines. It's enough to make anyone want to just lock themselves in a room and do anything else—like, say, uncovering a new shade of blue.
In the early 18th century, German chemist Johann Jacob Diesbach was at work in a laboratory trying to make a red pigment out of cochineal insects, the tiny bugs whose extract dyes everything from food to lipstick. Diesbach hypothesized that he could combine the carmine extract with alum, iron sulfate, and potash to make the pale red hue he desired. There was a problem, though. The potash Diesbach used had been contaminated, which altered the chemical makeup of his pigment. Instead of red, Diesbach had unwittingly created something far more valuable: a deep ocean-like blue.
For centuries, blue was considered one of the rarest of pigments, found only in small quantities in nature. Pigments like lapus lazuli, made from a metamorphic rock of the same name, was said to have a value akin to precious metals like gold. But thanks to Diesbach's chemical mishap, the pigment could now be made synthetically; faster, cheaper, and in greater quantities than ever before. Diesbach's blue, called Prussian Blue, is considered one of the first synthetic colors to ever have been made. Since then, we've found many more.
G/O Media may get a commission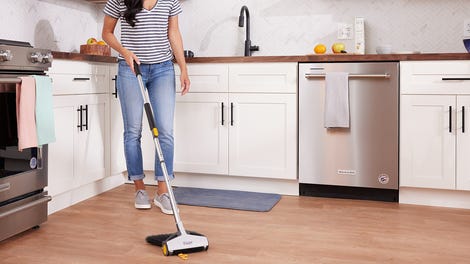 BOGO 50% Off
Flippr - BOGO 50% Off
When the Vive and the Oculus Rift came out in the spring of 2016, they did something incredible: they made VR actually worth caring about. Previously, the closest thing people had come to virtual reality were weird sci-fi movies or half-baked products like the Virtual Boy. Yet even now, nearly two years later to the day since the original Vive arrived, VR headsets still aren't a household commodity. While that might be a bit depressing for some of us, it's not really that surprising, because the release of those original head-mounted displays was only just the beginning of a much bigger three-step cycle.
On Tuesday, at approximately 12:46pm local time, multiple 911 calls were made from 901 Cherry Ave in San Bruno, California, the headquarters of YouTube. Police arrived, responding to an active shooter who we now know to be Nasim Najafi Aghdam, a 39-year-old from San Diego.
Early reports made a variety of inaccurate claims about the incidents: that the shooting had caused over three dozen casualties, that the shooter's target was her boyfriend, and that the shooter was a Muslim. We now know none of that is true.
In the late 1990s, as Esteban Burchard was finishing up his medical training at Harvard's Brigham and Women's Hospital, newspaper headlines blared warnings about what appeared to be a growing asthma epidemic.
Since the 1980s, incidence of asthma had steadily soared. For Burchard, the headlines were no mere abstraction. One day, a black teenager died next to the Harvard hospital where he worked, clutching an inhaler that had failed to save his life.
Sequencing the human genome has shown us that we are mostly all made up of the same stuff, but it's the tiny variations in our coding that account for huge variations among people. In his most recent study, published earlier this month, Burchard's team at UCSF sequenced the entire genomes of 1,441 African American and Latino children with asthma and found a genetic variant that may be responsible for why the most popular asthma medication on the market, albuterol, often does not work for black and Latino children. Knowing whether someone has that genetic variant could determine how well they respond to a drug, which could in turn mean life or death.
Since the Cambridge Analytica privacy scandal first broke last month, Facebook has tried out a number of PR strategies to address the growing outcry. At this point, the social media company is just going for broke, telling the public it should just assume that "most" of the 2.2 billion Facebook users have probably had their public data scraped by "malicious actors." That's huge news. But it doesn't feel huge—if you managed to pick up that detail at all.
Stan Lee, the legendary comics figure who helped bring many of Marvel's most iconic characters to life, has been in the news lately for reasons beyond his comics legacy. Over the last month, several reports about Lee's personal lifehave uncovered bizarre attempts to capitalize on the 95-year-old's fortunes... and a new twist in the tale makes the saga even stranger.

Ride-sharing services have been implicated in all sorts of fraudulent schemes from clean-up fees for fake vomit and credit card theft to elaborate foreign dark money networks. But one of the oldest and hardest-to-kill scams hurting drivers uses little more than old fashioned social engineering to steal their earnings.

Earlier this year, smack in the middle of a typical Monday afternoon, my vision started to blur and cloud like someone had thrown an exposure slider for my eyes all the way to the right. I tried to blink my way through it, but it was no use. So I shut my laptop, briefly panicked, and then walked away and slept for an hour.

When I woke up, my eyes seemed fine, like nothing had ever happened.
Praise Intel for its CPUs all you want, but for my money the coolest thing Intel is doing right now is in the storage space. I know. What a yawn, storage. But upgrading your storage is one of the absolutely best ways to improve the performance of your computer, and Intel providing support for its super cool storage tech in laptops is a big and exciting deal.

The self-proclaimed "space kingdom" of Asgardia is currently limited to a glitchy website and a satellite orbiting the Earth about the size of a loaf of bread. But Asgardia wants to be much more than just another micronation: It aims to join the United Nations and eventually send its citizens to lower Earth orbit where they will live on habitable platforms and defend the planet from "space threats" like asteroids and solar flares. All of this is supposed to happen after Asgardia establishes a parliament from the more than 180,000 people who have registered online as Asgardian citizens, a lax process that in practice requires little more than filling out basic personal details and accepting Asgardia's constitution.
I've spent most of my professional career writing about comics (and video games), putting forth what I understand about the art form's mechanics and creators in essays, reviews, and interviews. I thought I got comics, at the very least the superhero genre aspect of the medium. They've always been part of my life. But then I started writing a superhero comic book myself, and suddenly I realized how much I didn't know.
Authorities have identified the suspect in the mass shooting at YouTube's headquarters, which ended in four injuries and the death of the shooter, as YouTuber Nasim Aghdam, who made videos about topics ranging from animal rights and veganism to bodybuilding.

Police have not named any motive in the attack, but Aghdam has now been widely reported to have been very, very angry about the same issue as a lot of YouTubers: content moderation, and specifically a wave of demonetization incidents that have killed ad revenue for many of the site's small creators. Initially, this news resulted in random bad faith internet weirdos celebrating Aghdam as some kind of martyr. What's troubling is that the shooting is now being framed by many media outlets as part of the greater backlash by small creators against YouTube, as though the attack provides a meaningful takeaway about the site's relationship with its community.
Tuesday marked the 50th anniversary of Stanley Kubrick's landmark masterpiece 2001: A Space Odyssey, and to celebrate the iconic scifi film we have an exclusive excerpt from author Michael Benson's deep dive into the making of the film, Space Odyssey: Stanley Kubrick, Arthur C. Clarke, and the Making of a Masterpiece. It not only involves some dangerous chemistry but "an abandoned brassiere factory." Intrigued yet?

On Monday Bloomberg News dropped a bombshell report. By 2020, it claimed Apple will stop using Intel CPUs in its computers. Just picture it: The third-largest PC maker in the world might one day leave behind the biggest computer chip maker.
Quickly, Intel's stock dropped following the news, and while much of Twitter was aflutter with gleeful takes, others were more wary—and even worried. It would be relatively unprecedented for Apple to make its own CPU chips, and the move could mean a variety of things. So let's dive into what is actually happening and what it all could mean.
Grizzly bears, dogs, and even cockroaches fart. Do sea anemones? Nope. As for spiders, no one knows.

Daniella Rabaiotti and Nick Caruso's new book, Does It Fart?, is illustrated by Ethan Kocak and debuted on Tuesday in the United States. The book lists a number of animals, answers the titular question, and offers some insight into animal digestion. Like many silly ideas, it all started with a tweet—but it's all real science, we promise!