Leica has a well-earned reputation for making some of the best camera gear in the world, so it was a pretty big deal when it announced a partnership with Chinese phone manufacturer Huawei, and their first jointly developed phone camera in Huawei's flagship P9. While Leica isn't new to partnerships—its splashy name has been stamped on Panasonic gear for years—this did mark the first time its name appeared on an affordable mainstream smartphone.

The claims and potential sounded good! The P9 is equipped with a unique dual-camera design that marketing wants us to believe will take the most glorious photos in the world. Given how much we use our phone cameras, getting some Leica expertise in the mix is a legitimately exciting idea.
Unfortunately, earlier this week it became clear that at least some of the partnership was marketing junk with no substance. The camera guts shipping in the P9 weren't made in some legendary factory in Germany by Leica, but in China by mass-market producer Sunny Optical.
That isn't necessarily a bad thing. Leica never claimed to actually manufacture the camera on the P9—it just claimed to work on the design in a quest to develop a camera that "raises smartphone photography to an entirely new level," as the press materials boldly claim.
G/O Media may get a commission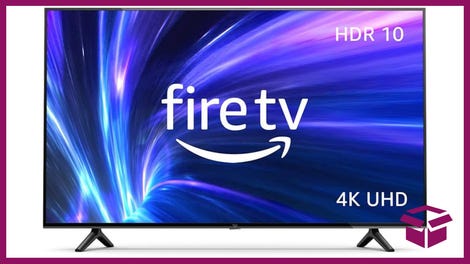 42% Off
Amazon Fire TV 50" 4K Smart TV
The quest appears to have failed.
YouTuber SuperSaf did a side-by-side comparison of the P9 and Samsung Galaxy S7, and found that it fared miserably in low light conditions.
Tom's Guide reported similar lackluster low-light performance. The reviewer there also noted that the S7 was much, much sharper. The photo comparison to the left illustrates this point: The woman's hair looks like it fell out of an 80s rock video when shot on the P9.
In a fresh press release responding to the revelation that Sunny Optical had manufactured the camera guts, Huawei and Leica outlined some key areas where Leica had helped.
Definition of imaging quality in terms of color rendition/color fidelity, white balance, stray light reduction ("ghost & flare effects"), exposure precision, dynamic range, sharpness and noise characteristics.

Processing of image data with the aid of long-standing Leica optical and signal processing expertise

Our bolding above emphasizes the specific areas in which reviewers find the P9 really dropped the ball. In other words, Leica is owning its role in developing what are ultimately failed features.
While Leica's name may be slapped onto Huawei's newest phone, it's clear that the branding, and theoretical partnership it implies, did nothing to improve actual performance. Distinguished companies sticking their names on products isn't new. Just about every major speaker company has somehow wound up with their name attached to a laptop with also-ran audio. The takeaway, if it's not obvious, is that just because a prestigious name is slapped on a piece of tech doesn't mean it's going to be good. Don't believe the hype.