Dearest io9ers, this is it: After many years and almost as many job titles, it is time for me to say goodbye.
Vizio's Latest TVs Go All Quantum
I started here as an intern in 2010, just out of college and with no idea what I wanted to do. The job market was bad, so after a while toiling in the writing fields and retail, I gave up and went to law school. My idealism prompted me to think that if I couldn't write on the internet for a living, I could maybe help fight for the rights of people who did. I, in fact, went to law school with dreams of one day working at the Electronic Frontier Foundation.
And then, while I was in law school, something amazing happened: io9 had some money to hire a researcher, which is what I did while also trying to graduate. Staring down the barrel of a truly miserable career in law, Annalee Newitz saved me by offering me a job as the night editor here.
I owe Annalee and Charlie Jane Anders a lot for everything they've taught me. I owe Rob Bricken a lot for being the most understanding boss I've ever had. To Lauren Davies and Meredith Woerner, the backbone of the culture end of the site when I worked here, whom I emulated whenever possible. To Robbie, Cyriaque, Graeme, Kaila, Robbie, Ria, Alasdair, Evan, Cheryl, Germain, Beth, Charles, and Julie, io9ers past and present, thank you.
I want to also thank everyone else at this company, and I'm going to forget names, but to the lovely people at Gizmodo who welcomed me when I was the only io9er in the New York office, thanks for everything. To Alex Cranz and Christina Warren, who were like my coven in the Gizmodo pod. And to the rest of the writers and editors here who tirelessly made it one of the best places to work: Tommy, Marchman, Patrick, Mike, Raph, Riley—and so many more. I will miss you all.
But especially, thanks to James Whitbrook, the Zan to my Jayna, for literally being my best friend at this place for years and years, when everyone else left us.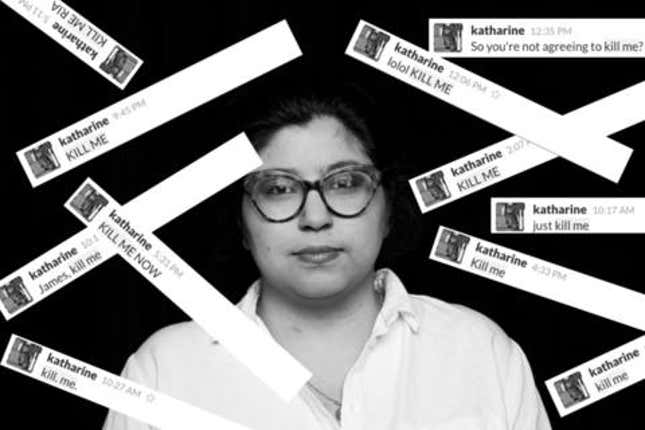 I have done some amazing work here, protected by people who believed that saying things was worth whatever blowback we got from studios. I once spent an entire week heaping praise on Star Trek, still my favorite franchise, and also pointed out the many flaws in the studio's handling of it. I have the scars from CBS' PR team to prove it.

To the commenters, especially those of you night owls from my first full-time job as night editor: thank you. You made some lonely work nights a pleasure.
I'll still be around these parts, in the comments if nowhere else, but I'll also be on Twitter, if you want screencaps of Anthony Rapp's face in Star Trek: Discovery. I'm leaving to work at the Electronic Frontier Foundation, so in a way, life has come full circle.
LLAP.