Every month, the io9 book club meets to discuss a book we've read, often with the author joining in too. This month we're reading Windup Girl - and you can get a free electronic copy from the publisher!
This month's io9 book club meeting begins Feb. 23.
Here's what we said about Windup Girl when we reviewed it:
Set in Thailand's future, the book follows scientist spies hunting good genomes in a world ruined by GMO diseases.

In the tradition of politically-minded hard SF writers like Iain M. Banks and Ian McDonald, Bacigalupi follows the interconnected stories of several people caught up in great social shifts. In the case of The Windup Girl, they're all caught in the genome industry's web: We have a covert "calorie man" called Anderson who tries to sniff out uncontaminated genomes for a Monsanto-esque multinational called AgriGen; a "yellow card" Chinese refugee named Hock Seng who is trying to climb to the top of the energy-generator black market in Thailand; Environment Ministry shock troops Jaidee and Kanya, whose job is to protect Thailand from contaminated genomes, foreign imports, and dirty energy; and the mysterious whore Emiko, a genetically-engineered "windup" person abandoned by her former owner in Thailand, where GMO people are illegal.

We follow these characters through every eschelon of Thai society, from backroom meetings between government officials to backroom performances at the strip club where Emiko is fetishistically degraded every night.
Since then, Windup Girl has been included on many "best books of 2009" lists, including Time magazine's.
Thanks to Windup Girl publisher Night Shade Books, people participating in this month's book club can write in to get a free epub file of the novel, which you can read on your computer and most eBook readers. (Fine print: You will be signed up for Night Shade Books' email newsletter when you get the free ebook - you can unsubscribe later if you don't like it.)
G/O Media may get a commission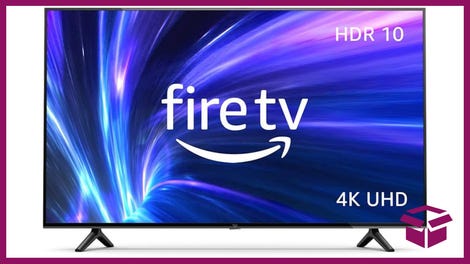 42% Off
Amazon Fire TV 50" 4K Smart TV
To get your free ebook, write to Night Shade Books. (Click the link for the address.) If you want a hard copy with the gorgeous cover, you can order that here. Or buy it from your nice local bookseller.
Remember: Get the book read by Tuesday, Feb. 23, and we'll start our meeting that day. The meeting will continue until the end of that week.
And if you want to get started on the next book, we'll be discussing Kage Baker's Sky Coyote for the meeting of the book club on March 23.
UPDATE: A few people are reporting problems with the epub file, and the kind folks at Night Shade Books are looking into it. (Publisher Jeremy Lassen explains the problem in comments below.)