Quite possibly the most exciting movie panel at Comic-Con yesterday didn't involve Spider-Man or Tintin. Legendary Pictures gave a select few fans a sneak peek of four long-awaited film projects, and we were there.
Guillermo Del Toro talked about his kaiju movie Pacific Rim. Jeff Bridges talked about his supernatural film Seventh Son. Alex Proyas explained why he chose Bradley Cooper to play Satan. And we got our first hints about the Mass Effect movie! Details about our first glimpse of these movies are below...
Spoilers from here on out!
The Legendary Pictures panel focused on four films that are still in pre-production: Pacific Rim, The Seventh Son, Paradise Lost, and Mass Effect. Because none of these films has started shooting yet, there were no clips or photos, but that didn't prevent Legendary from stealing the show.
Here's a rundown of the films we heard about:
---
Mass Effect
Casey Hudson, Executive Producer of the Mass Effect series, and screenwriter Mark Protosevich joined the stage for a preliminary discussion of the video game-turned-film, which is believed to be releasing in 2012. It was announced that the movie will be based on the first game in the ultra-successful BioWare series, from 2007.
G/O Media may get a commission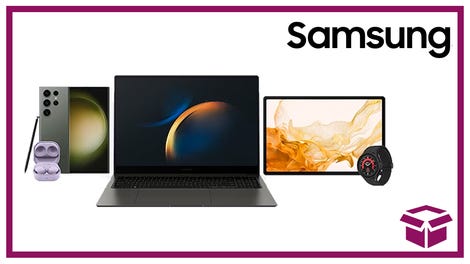 24 hour deals
Discover Samsung - Daily Deal
Protosevich felt that a certain depth of story and world was essential for the success of a film project based on a video game, adding that it is too easy to be "seduced into thinking a game you are playing would be a good movie." The duo felt that other game-based movies have fallen flat because they tried to recreate the experience of playing the game, instead of determining whether the story was of merit or whether the characters had any substance.
Hudson noted that BioWare had been waiting for the right partner to make the film as well, stating that he had e-mails from production companies discussing a Mass Effect movie dating back to 2006, prior to the release of the game, and they were enthused to have Legendary Pictures as a partner due to their quality track record. No images from the film were shown, as it is in very early stages of pre-production, however, the entire audience was given copies of the most recent installment of the Mass Effect franchise, Mass Effect 2, on the console of their choice.
---
Pacific Rim
This long-awaited project from an extremely enthusiastic Guillermo Del Toro was solidified in scope. "It is my duty in this film commit the finest fucking monsters to film. It is my duty in this film commit the finest fucking robots to the screen," said Del Toro.
Screenwriter Travis Beacham and several of the actors from the film, including Charlie Day from It's Always Sunny in Philadelphia, joined Del Toro on stage. Del Toro described Day's character in Pacific Rim as similar to the one he played at the end of the It's Always Sunny in Philadelphia episode "Charlie Kelley, King of the Rats", in which a grizzled, battle-worn Charlie emerges after a pest control war at Paddy's Pub and states, "It's like whole generations of those things have died at my hands. Mothers, fathers, grandfathers, little baby rats."
Summarizing the thematic issues in play for Pacific Rim, Del Toro said, "We want to make it a big 'What If?' What would happen in the real world if twenty-five story tall monsters appeared? How does everything change? Beach front real estate plummets…What weapons need to be developed?" He went on to say that the biological functions of monsters would be examined, along with where things like the robot's costumes come from, but added that Pacific Rim is "not just spectacle and scope, but has delicate, human scale problems." Image via The Daily BLAM!.
---
The Seventh Son
Jeff Bridges, director Sergei Bodrov, and other cast members joined the panel to talk about The Seventh Son, which Bodrov summarized as being about "an old witch hunter who is still hunting, but needs new apprentices, as all of his old ones have died."
Bridges admitted that he "tried to push it (The Seventh Son) away, but something grabbed me." Bridges added that he was highly impressed with Bodrov's previous films Mongol: The Rise of Genghis Khan and Prisoner of the Mountains, which helped win the notoriously tough Bridges over to this project.
---
Paradise Lost
Bradley Cooper and Alex Proyas took the stage to discuss their take on Milton's 17th Century epic poem about the fall of Lucifer.
Bradley Cooper, it was explained, was able to make a "natural transition to becoming Satan" after his role in the The Hangover and Hangover II. Cooper added that when it came to the role, "he begged for it," going so far as to produce a test shot of himself as Lucifer in his kitchen. Cooper was drawn to the role due to his study of Paradise Lost in college, along with the challenge of portraying Lucifer as a sympathetic character, in what is ultimately a "story of an intimate nuclear family made up of two brothers and a father, and what happens when one of the brothers feels betrayed."
Proyas touched on their desire to portray Heaven and Hell in a manner not yet explored in cinema. He showed off some rough images of how he planned to portray them. He noted that it would take a lot of editing to make the epic poem fit into the narrative structure of a single movie — but he promised that we'd be impressed with the final product. Image via CinemaBlend.
---
Godzilla


And with what might have been the most interesting news of the panel, Legendary Entertainment founder Thomas Tull ending the panel by saying, "We'll have more to say soon about a little project called Godzilla," putting the "is Pacific Rim really the next Godzilla movie?" rumors to rest. For now.
Images via BioWare, Legendary Pictures, The Daily BLAM! and CinemaBlend.