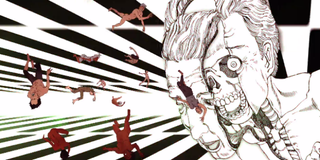 I'm sorry to lead you astray, dear reader. Unfortunately, the album which I'm referencing in the headline doesn't actually drop for another month and a half. But it's because of this album—or more specifically—this album's teaser trailer that has me ravenously consuming all things Flying Lotus.
In the somewhat NSFW video below, Flying Lotus sums up in 2 minutes what he musically does best, which is pretty much everything. The audible chaos has a strange structure and flow, even as the video weaves in and out of the upcoming album's 19-song tracklist. That chaos is equally met with the mesmerizing and brutal images that accompany them.
Flying Lotus, aka Steven Ellison, absolutely defies a genre. Is this fusion jazz? Hip hop? Electronica? Rap? Soul? To think someone could be so multifaceted but also not leave you behind in the music's undefined wake speaks to Ellison's skill. Also, the guest appearances on these tracks give you a sense of how much respect he's garnered as he gets vocal and musical contributions from Kendrick Lamar, Snoop Dogg, and Herbie Hancock to name a few.
You're Dead may not be available this evening (October 7th!) for your listening pleasure, but I do come bearing a small gift. Yesterday, the BBC's Gilles Peterson spoke with Flying Lotus, who debuted an upcoming song titled "Moment of Hesitation," a jazz tune in collaboration with Herbie Hancock. You can listen to that song here and skip until about 01:11:10. You can also join me in my obsession by exploring Ellison's previous work. It's more than enough to hold you over until October. [Grooveshark/Spotify]