Failed co-founder and CEO of the FTX crypto exchange Sam Bankman-Fried reportedly has a few layers of security while he's at home waiting for trial, including security guards and a 75-pound German shepherd. Though since his address is easily Googleable, angry former fans still seem intent on paying the once-crypto mogul a visit.
According to an interview with Bankman-Fried published in Puck Tuesday, the security guards stopped an unknown person seeking to enter his parent's home Palo Alto, California. The FTX founder told the outlet, "People are claiming to want to come here to make a citizen's arrest. I don't get it. I've already been arrested."
There were not any arrest records associated with address dating back to the time he moved back there, according to public Palo Alto police records, the latest running up to Jan. 6. Bankman-Fried may not have reported the incident to the police.
Last December, a federal judge ordered Bankman-Fried, who often goes by SBF, to be released on bail while he awaits trial. The limits of his release stipulated he move into his parent's home in Palo Alto, California. He's also required to wear an ankle bracelet and restrict his movements to Northern California, though in the interview, SBF said he hasn't dared go past his front porch.
Bankman-Fried has been shouldering a federal indictment where he's been charged on eight counts of fraud and conspiracy, as well as conspiracy to violate campaign finance laws. The failed FTX founder has pleaded not guilty to all counts arrayed against him. A trial date is set for Oct. 2 this year, though things could change dramatically in the months leading up to any day in court. Still, according to the interview, the 29-year-old seems intent on getting his say in court.
G/O Media may get a commission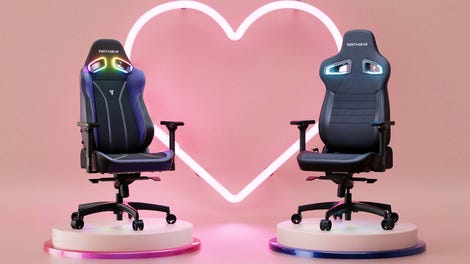 Up to $150 off
Vertagear Gaming Chairs
Bankman-Fried's parents, Joseph Bankman and Barbara Fried, are both Stanford professors and live in a multimillion-dollar home in Palo Alto. Both have been close with their son all throughout the fallout of his failed crypto exchange FTX, including his stepping down as CEO and eventual arrest by Bahamian police. They attended his court proceedings in the Bahamas, though they were unable to visit him in that time while he sat alone in the maximum security wing of the notorious "Fox Hill" prison facility. SBF reportedly spent most of his time in the facility's medical wing to avoid the general prison population.
It's a well-known fact that SBF is a vegan, but he told Puck that he had to avoid certain prison meals because of his dietary restrictions. He had to "see how far a jar of peanut butter could get me," which apparently included quite a few peanut butter sandwiches.
Since he's come home, the failed crypto mogul's parents also bought him a larged dog named Sandor, for protection.
Bankman-Fried had reportedly bought luxury apartment space for his parents using the proceeds from FTX, but now his folks are shouldering the mounting costs of his legal fees. The Wall Street Journal reported last December, based on interviews with people close to the parents, that Bankman and Fried fear they'll be wiped out financially because of the impending legal battle.
The 29-year-old man who was once considered the world's "crypto wunderkind" has played this puppy dog act before, and Puck describes him as sitting at the crossroads "between a billionaire and prisoner, a celebrated business celebrity and financial villain." In interviews with major news outlets and live on stage, SBF paints himself as a silly young man who made a few, simple mistakes in his rush to become one of the world's wealthiest persons, all while claiming he's really innocent of the full charges of fraud laid against him.
That is indeed straining the amount of goodwill SBF has left on his side, especially considering the mountains of money FTX now needs to claw back in order to make customers whole. The failed mogul said he reached out to the person handling FTX's bankruptcy, John Ray III, but he's reportedly been rebuffed multiple times. 
FTX patted itself on the back Wednesday for recovering $5 billion in assets since the company declared bankruptcy, according to a bankruptcy attorney talking to the Securities Commission of the Bahamas, reported by CoinDesk. It's a marked improvement from the $1 billion the company could claim Dec. 20, though it's still unclear how much money the company had when it declared bankruptcy. Documents showed it was somewhere between $1 billion and $10 billion.