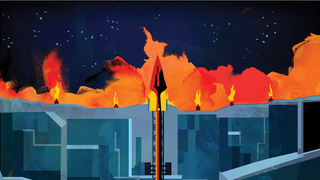 It's almost tradition that a new IMAX release comes with a snazzy poster, and Game of Thrones' IMAX début definitely continues that tradition with the latest in Robert Ball's Beautiful Death series.
Warning: Considering these posters highlight iconic deaths from the episodes they're about, there are spoilers for both Episodes 9 and 10 of Game of Thrones Season 4. You have been warned, etc.
Now that the series' big screen showings have been expanded, IMAX will be offering Ball's two most recent posters from Beautiful Death as bonuses for early attendees. The first 300 attendees at the première showings on Thursday January 29th will receive either The Watchers On The Wall if they attend AMC IMAX theatres:
Or the poster for The Children if they attend any other IMAX theatre:
That first one took me a bit at first to get what was going on, but then... oh dear, right in the heart. Awesome! Please excuse me while I lament the fact that none of this has been announced for the UK.
[IMAX]
---
You're reading Toybox, io9's blog for all things pop culture. From merchandise to awesome fan creations, TV recaps and critical commentary on the hot topics of the day, you can find it all here!