I got some quality time with a Garmin Nuviphone G60, riding around Barcelona in the back of a jet-black Mercedes limo. My hands-on impression: This smartphone-meets-GPS-meets-media-player feels like a winner.
Deadly Mississippi Tornado Kills More Than 2 Dozen | Extreme Earth
I don't know what it really is: A cellphone that is a GPS or a GPS that is a cellphone. Of course, the cellphone has everything you can expect from a such a device these days, including a 3-megapixel camera (with a real shutter button, like it should be) and a music player, everything tied to the GPS. This seems to be the main point of the Garmin G60: Everything revolves around geo-location.
Physically, the Garmin G60 has a good size: A good feeling on your hand, thicker than you-know-who, but light and comfortable. The thing is made to be integrated on your car dashboard—it comes with a cradle with a suction cup—but it works in your hand as a smartphone just fine.
G/O Media may get a commission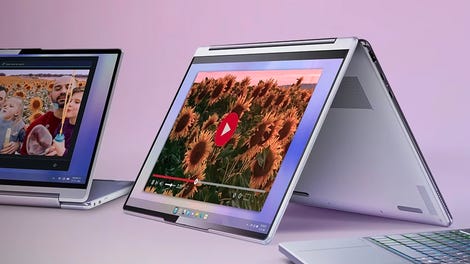 up to 70% off
Lenovo Spring Clearance
The first thing I noticed was the complete lack of buttons, except for volume and camera shutter on the right side. On the front, there are no physical buttons whatsoever, just a nice, colorful 3.5-inch touchscreen.
As you can see in the video, the Linux-based operating system is quite agile and appeared solid, although the full HTML browser stalled forever trying to load a page-which is probably a fault of the 3G connection rather than the G60 itself, even while it is still a beta prototype.
The interface seems polished, it feels fast and responsive, very bright and clean, with colorful icons. It's centered around three main icons, which I'm sure are the ones Garmin wants to emphasize: Call, Search, and View Map. Call and View Map are quite straightforward, with Search giving you several options, from consulting the six million points of interests—already pre-loaded with the North America or European maps built-in the G60—to the on-the-fly Google local search application. This section feels very much like one of their previous GPS, giving you access to Favorites, Contact, or Recently Found addresses, and allowing to visit or calling any place on one click.
On the side (or bottom, if you are in landscape mode-the Garmin G60 has an accelerator to know this, although it didn't feel very sensitive while I was trying it) you can see a scrolling list of icons, which gives you access to the other features of the G60, from the camera to the web browser to the Ciao! geolocation based social service to widgets like weather. While the main three buttons can't be changed for the ones in the side list, the whole user interface is well organized and easy to use.
My impression from the hands-on is that Garmin has made what they know to do best—a GPS—and they combined it with a 3G smartphone is a smooth way. The result is a nicely balanced unit that has the advantage of having everything you expect in a GPS and all the features you expect in a modern smartphone, all under an easy to use interface.
We will give you a more extensive verdict once we get a final unit, which is supposed to arrive in the first half of 2009.