What at first appeared to be a normal, discarded beer bottle caught in a fisherman's net has turned out to be a record-breaking discovery — a proverbial message in a bottle dating back to May 17th, 1913.
The bottle contained a Danish postcard with two German stamps on it. The card had a polite message written by one Richard Platz asking the finder to send it on to his address in Berlin. It even contained two five-Pfenning stamps to pay for postage. But it never arrived, landing instead in the hands of Konrad Fischer, a skipper from Heikendorf in Schleswig Holstein.
Prior to this, the oldest message in a bottle ever discovered was a 97 year old artifact found in 2012.
Looking to learn more, Fischer brought the bottle and its contents to the International Maritime Museum in Hamburg. The History Blog explains more:
The address in Berlin led them to identify him as Richard Platz, the son of a baker who was 20 years old in 1913. He was hiking on the Baltic coast with a nature appreciation group when he threw the bottle in the sea. Platz was just 54 when he died in 1946. He was survived by two daughters, Gudrun and Sieglinde, neither of them still living. Berlin genealogist Veit Godoj was able to locate Sieglinde's daughter, one Angela Erdmann, now 62, who was born six years after her grandfather's death.
G/O Media may get a commission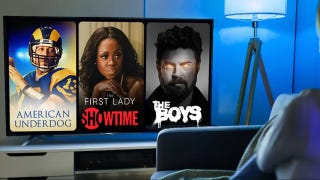 UNDER $1
99¢ Prime Video Channels
On March 13th, Godoj contacted Erdmann and told her they'd found a message from the grandfather she never knew. Deeply moved by the discovery, she immediately called her cousin Dagmar Born who has been researching the family history for some years. Born sent her cousin a number of Platz's documents, letters and photographs. The handwriting on the letters confirmed that he was indeed the author of the message in the bottle. It's possible the bottle has a family connection as well, since his wife, Ella's father owned a brewery.
How amazing is that? Talk about a successful journey back home —albeit a century too late.
The bottle is temporarily on display at the museum. Fischer still owns the bottle and its contents, but he hasn't decided if he wants to sell it or keep it.
Images: IMMHH & DPA/The Local.