As the absolute last day of PMA dawned, our intrepid PMA Live reporter said goodbye to the big camera-fest and what he called the Land of the Giant Rat. Back home at a fancy mid-town venue, TiVo s CEO flogs another idea to censor kids in their parents absence. Smiles all around as Low End Theory brings us an unusual perspective on, of all things, typewriters, and here comes the bling of all types and stripes, including a $20,000 diamond-encrusted Kodak V570 camera for Best Actresses, a multi-thousand-dollar gold-plated USB key, and what's that? Why, it s yet another pink phone, this time in Motorola SLVR trim. Slight disappointment hits as we realize Belkin's wireless USB hub, the first of the Freescale ultra wideband products, would miss its ship date by a trio of months, and by about noon we figure out there will be no Origami today no matter which way you fold it, and that maybe Origami is just a UMPC anyway. What s a UMPC? We ll probably find out exactly what that is on March 7.
Features
Low End Theory
Live PMA Report
PMA Live: Last Days and Olympus
Rumor and Speculation
Origami is Just the UMPC?
G/O Media may get a commission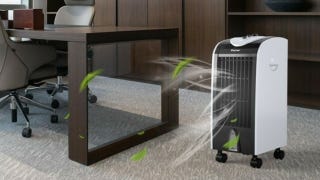 Save $10
Evaporative Portable Air Conditioner Cooler with Filter Knob
News
Toshiba s M400 Tablet PC Reviewed (Verdict: Solid But Could Improve)
Antig s Fuel Cells For Laptops Showing At CeBIT Next Week
$3,500 Gold-Plated USB Key
Kodak V570 with Diamonds
eMagin 3DVisor Hands-on
Sony Ericsson HCB-100 Bluetooth Car Kit
Sponsors Need Food, Water, and Love
Frank Nuovo, Nokia Head Designer, Resigns
Pink Motorola SLVR
JVC DynaPix HD LCD TVs
Happy 19th Birthday, Mac II
Hybrid Home Completely Off the Grid
Puzzle Alarm Clock Presents Mild Challenge, Wakes You Up
Belkin CableFree USB Hub Delayed Until July
NaturalNano Develops Cellphone-Blocking Paint
Macworld Dissects Intel-Based Mac mini
Speaker/Headset Switching Hub
Nokia E61 Gets FCC Approval
Grohe Wireless Digital Shower
TEN NaviPlay Bluetooth Stereo Headset
TomTom Go 910, Go 710 and Go 510 Navigation Devices
Timeflex: Oh, That It Were Real
DS Lite Launches In Japan
Sagem MyW-7 Multimedia Cellphone
No Origami Today
TiVo to Announce KidZone Parental Censorship Service
AVN6600 Dual DVD Drive
DIY LED Pressure-Sensitive Coasters
Mac Mini NES Mod
Metallic Earbuds
Olive unveils OPUS