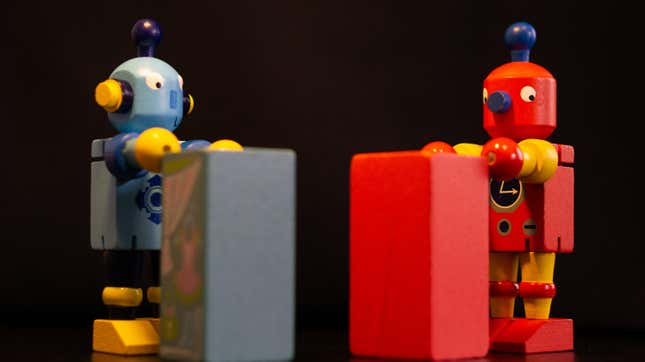 As we officially enter a new age of political smear campaigns created via AI, Google is trying to keep the record clean. The tech titan is now requiring that any AI-generated political ads hosted on its platforms must clearly include a disclaimer saying that the tech was involved.
No Google AI Search, I Don't Need to Learn About the "Benefits of Slavery"
The policy, which was posted as an update on the company's Advertising Policies Help web portal, specifically requires any advertiser to prominently disclose when their political ad contains text, audio, or video created with generative AI. Exceptions to the disclaimer requirement include instances where artificial intelligence use is "inconsequential" to the ad's claims—Google says in the update that this mainly applies to editing techniques like using AI to remove red eye or to resize images. The new policy will begin this November, a year before the 2024 election.
"This disclosure must be clear and conspicuous, and must be placed in a location where it is likely to be noticed by users. This policy will apply to image, video, and audio content," Google's new policy reads. "Ads that contain synthetic content altered or generated in such a way that is inconsequential to the claims made in the ad will be exempt from these disclosure requirements."
The policy is delightfully vague and does rely on political parties and figures to behave nicely. Placing a disclaimer "where it is likely to be noticed by users" is a broad statement and one that is likely to be willfully misinterpreted by political advertisers. At the same time, the new requirements do not apply to content that is not paid advertisement according to Bloomberg. That means, for example, that any political video uploaded to YouTube by someone not affiliated with a campaign does not have to explicate their use of AI.
Google is one of the first Big Tech companies to roll out such a rule as we approach the beginning of the 2024 U.S. election cycle, and AI is already being used as a political weapon. This spring, the Republican party released a video titled "Beat Biden" shortly after the president announced his re-election campaign for next year's presidential race. The video illustrates just how bad the GOP thinks America could get under Biden's thumb using all AI-generated imagery. This past July, a super PAC supporting Florida hopeful Ron DeSantis unleashed a campaign ad that features an AI-generated version of Trump's voice. The audio clip is pretty clearly AI-generated, with a bizarre cadence and pauses between sentences that just feel a little too robotic—but to the media-illiterate voter, the audio could be believable.
Of course, the preponderance of AI content is a double-edged sword that's not only capable of convincing people to believe false information but can also create a sense that nothing should be believed. We saw this recently when Trump supporters refused to believe that a 17-minute phone interview with the former president on the conservative network Real America's Voice was real.