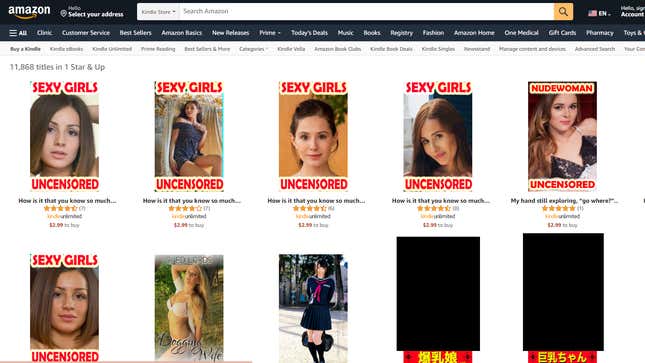 Rule 34 rears its head once again. There are thousands upon thousands of explicit porn being sold for cheap on Amazon's Kindle. On Tuesday, Reuters reported that both Apple and Google have notified Amazon about its failure to keep porn off of the Kindle store and app. Both companies told Reuters that their app stores do not allow for the sale of sexual content and that they had been in contact with the "developer" on the issue.
It doesn't take much, or really any effort to find this material on the Kindle store. Gizmodo performed a simple Google search specifying "nudity," "adult pictures" for Amazon Kindle. One of the first results included close to 12,000 explicit porn ebook titles. Some had covers reading "100% Nude Girls Uncensored" while others featured naked women on the cover. Some ebooks with titles like Topless and Naked Viking and Saxon Women and AI Eve in Paradise contained AI-generated porn.
Many of these self-published books are free through Kindle Unlimited, Amazon's $10-a-month ebook subscription service. Reuters reported that two families who brought up the issue were concerned because their pre-teen sons downloaded Kindle porn through their subscription services. Apparently, the parents weren't too concerned about their sons being time travelers from a bygone decade where porn is found in still images and book pages and not streamable videos literally everywhere else on the internet.
Reuters reports that Amazon changed Kindle's age rating in the Apple App Store from 4 years or older to 12 years or older after it received notice of the porn on Kindle. According to the Wayback Machine, Kindle was still listed as 4+ on April 3 but the age rating had changed by this past Sunday.
In an email, an Amazon spokesperson told Gizmodo that "We're committed to providing a safe shopping and reading experience for our customers and their families and we take matters like this seriously. We are reviewing all of the available information and are taking action based on our findings."
Amazon's Kindle publishing guidelines claim the company does not allow the sale of content that "contains pornography." Amazon has been put on blast time and time again for allowing vendors to sell banned wares, from Nazi paraphernalia to medical products made through the inhumane slaughter of animals.
Though it's not like Amazon has any reason to take more heat than Google or Apple. A recent study cited that YouTube, which alongside Google is owned by the parent company Alphabet, routinely exposes young people to sexual content. Gizmodo has found ads on Apple's App Store for an "Adult Video Chat" application among other promotions for sports gambling and some far-right videos. Amazon's problem is again its lackadaisical adherence to its own store policies, not so much the hypocritical condemnation of its rival tech companies.
Reuters also mentioned the authors who publish text-based erotica in more niche categories like "dinosaur and alien" pornography. The first author to come to mind with fan fiction style erotica is Chuck Tingle, the mastermind behind amazing works like Space Raptor Butt Invasion and Angry Man Pounded By the Fear of His Latent Gayness Over a Dinosaur Transitioning Into a Unicorn. The author has spawned a small but prolific cottage industry of strange erotica that often goes for cheap or even free through the Kindle Unlimited subscription service.
Reuters listing this tongue-in-cheek erotica in the same breath as actual porn does a disservice to the weird and fantastical nature of these so-called "Tinglers." Tingle and his contemporaries offer young readers a means of exploring their sexuality through the odd and bizarre. It would be a shame if Amazon starts a blind, blanket crusade against any explicit material on its Kindle platform.
Update 04/18/23 at 12:07 p.m. ET: This post was updated to include a comment from Amazon.