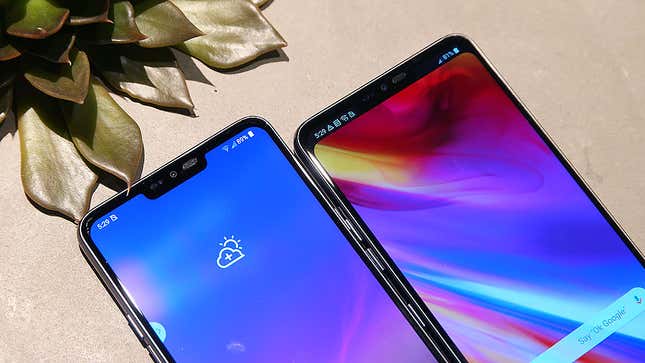 While Google hasn't made a phone with a notch (at least not yet), the folks over in Mountain View have been working on adding support for sensor cutouts into the next version of Android. And in a recent Android Developers Blog post, Google described in greater detail what it's doing to enhance the functionality of modern displays, both with and without notches.
Boogeyman Star Sophie Thatcher Wrote Howl's Moving Castle Fan Fiction | io9 Interview
Some of these changes involve moving the clock from the top-right to the top-left corner and adding better testing utilities to make sure a phone's notch doesn't mess up your apps. But perhaps the biggest takeaway is that Google is putting a hard cap on the total number of notches Android will accommodate, saying that "devices may only have up to one cutout on each short edge of the device" and that users should not encounter gadgets with "multiple cutouts on a single edge" or "a cutout on the left or right long edge of the device."
In short, that means that maximum number of notches you should ever experience on an Android device is two, with those notches being located at the top and the bottom of the device (when viewed in portrait mode). Now for the sort of people who can't stand notches, two cutouts probably already sounds like a lot, but at least Google is putting a limit on how much nonsense Android will support.
Currently, Google says there are already 16 Android devices from 11 different OEMs that feature a notch of some sort, including phones like the OnePlus 6, Huawei P20 Pro, and the LG G7. And with the fall phone release season coming up soon, those numbers will almost certainly increase between now and the end of 2018.
However, if you're concerned about notches taking over the industry, fear not I say. Based on phones like the Vivo Apex (which later turned into the Vivo Nex S) and the Oppo Find X, it's clear phone makers have already found alternatives to notches when it comes to maximizing screen real estate. And with flexible phones coming soon(ish) from Samsung, Huawei and others, I wouldn't be surprised if notches became only a minor blip in the smartphone timeline.