Christopher Nolan chooses a key location for The Dark Knight Rises. An absurd Superman casting rumor is back, and sillier than ever. A Flight of the Conchords star returns to The Hobbit. Plus the most spoiler-y Fringe set photos ever!
Spoilers from here on out!
Top image from Real Steel.
The Dark Knight Rises
Christopher Nolan has confirmed that the film will be shooting in Pittsburgh. This may mean that New Orleans is out of the running as a shooting location, although I don't think we know for sure exactly where all the locations will be. Another report says Nolan may have scouted the English mansion Kedleston Hall, with the obvious (but purely speculative) possibility being that this will be the new Wayne Manor. [IGN]
Marion Cotillard says, "I have a project for the summer. Different thing that I don't wanna talk about." This has already been widely interpreted as referring to this movie, but there's nothing in her statement that actually suggests that, so I'd advise against reading too much into this. [The Independent]
---
Superman Reboot
Henry Cavill confirmed he has read the script, and he described his approach to the character:
"It's basically just a re-imagining and modernization of an iconic character...Superman is Superman, after all. There's only so much of a change you can make to that. It's certainly, as I say, it's going to be different, but not so different that it's unrecognizable."
G/O Media may get a commission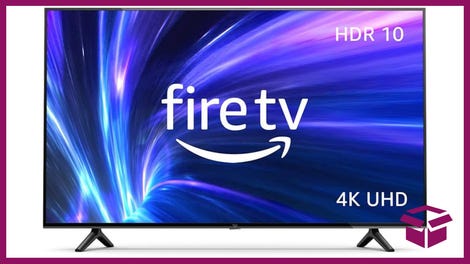 42% Off
Amazon Fire TV 50" 4K Smart TV
He also offered this hint on the Superman suit:
"I haven't worn the actual film suit yet.. no, not yet. The [costume] team is still working on it. I've done fittings.. and from what I've heard it's coming together wonderfully. It'll be fresh and new but immediately recognizable."
Finally, he explained his comic book research for the role:
"I'm just picking out as much as I possibly can from the comic book history because obviously it's plastered across there as to who this man is and whatever part of his life you're playing; whatever part of his ultimate journey you're playing, you just need to put in either the building aspects, the building blocks to how he ends up, all those key characteristics that are carried through and so it's just picking up a general idea of what he is and then working from there."
File this item under "Things that are obviously not true", but that silly Lindsay Lohan rumor apparently isn't going away. The original Supergirl rumor has been dropped in favor of the new "report" that Lohan is auditioning for the main female villain. I wouldn't put a lot of stock in this. Slightly more interesting is the part of the story that claims Lohan is reading alongside largely unknown actor Adam Harris, who is supposedly in the mix for Luthor. Harris does look the part, but again, I wouldn't trust any of this. Moving on... [Radar Online]
---
Real Steel
Some plot details have emerged for Hugh Jackman's robot boxing movie, directed by family movie stalwart Shawn Levy. Jackman is obsolete human boxer Charlie Kenton, who reconnects with his estranged son while preparing a seemingly busted robot for a big fight with the World Robot Boxing champion Zeus. Jackman and Levy discuss the portrayal of Kenton, and how he straddles the line between good and bad:
Levy: He doesn't want this kid and this kid is dumped on his doorstep. He's trying to just go day to day and now he's got a frickin' 10 year old in his backseat. Really, that's the turn. It's not that he gets materialistic, they do start to win, but if anything, that's when the better Charlie starts to emerge.
Jackman: Really, this is a character that doesn't believe in himself in the beginning, and he disappoints people ultimately because of that. The movie is a redemptive tale of someone who actually gets a second chance. That can be more frightening sometimes than the first, particularly when you know what's at stake. I think that's what really we loved about this story. The son, he just believes in him.
Levy: He believes in him and he believes in this frickin' robot, this junkyard sparing bot that Hugh's character's like, "It's a piece of sh*t. Sell him off for parts." The kid is like, "There's something to this thing." The movie never confirms nor denies the truth of that, but it flirts with that edge of suggestion.
There's more at the link. [ComingSoon.net]
---
Tron 3
Director Joseph Kosinski says he hopes he'll return for the sequel, and wants to do with this movie:
We're working on the story right now. Now that we've got the backstory out of the way and we know this world and we know these characters, there's a lot of freedom that comes with the next film. When you look at "Empire Strikes Back" or "The Dark Knight," sequels that were able to take the stories and characters to whole new places because you'd done all the hard work ahead of time, that's a really exciting thing. For now, I'll just say it's very exciting...For us, the storytelling will be easier because we won't be saddled with 28 years of backstory. From a technical standpoint, in order for it to be a "Tron" movie, we're going to have to push the envelope. I'm sure we won't make it any easier."
[MTV]
---
The Hobbit
Flight of the Conchords star Bret McKenzie is reprising his Lord of the Rings role as an elf. While his eye-catching cameo in Fellowship of the Ring earned him the fan nickname Figwit, but director Peter Jackson is now give him an actual canonical role by making him Lindir, who has a minor role in The Hobbit as an elf who listens to one of Bilbo's songs. [Variety]
---
Harry Potter and the Deathly Hallows: Part II
Ginny Weasley portrayer Bonnie Wright discusses filming the epilogue and what she's most looking forward to in the final film:
"It was really weird. People said, 'Don't worry, you look good for 35!' Being a mother with three children suddenly when you're young is quite a big [change]. It's strange, because obviously [when] I started, my first scene ever filmed was on the train platform 9 3/4, and then we came back to shoot some more before Christmas, and it was back at platform 9 3/4, so I finished, and it was like this amazing cycle...I think I'm mainly looking forward to the epic battle that is to come," she said. "See[ing] the power of good triumph over evil is going to be satisfying."
---
Doctor Who
BBC America sent out a press release, including some new promo photos, plus a ton of new information about season six. Steven Moffat says:
The over-arching plot will be a bigger player this year. More than hints and whispers – we're barely ten minutes into episode one before our heroes face a dilemma that they'll be staring at months from now. And there will be no easy answers... [New monsters include] the Silence in 1 & 2, the Siren, in episode 3, the Gangers in 5 & 6, all these are more than just freaky costumes and masks; there are SCARY ideas here.
Adds Karen Gillan:
There were clues planted in the last season that are going to become major storylines in this one... There's a really interesting arc in this season that involves all of the major characters and it's evident from the first episode that everyone on the TARDIS is withholding secrets from one another... I think The Silence, which are the new monsters in the opening two episodes, actually rival the Weeping Angels in terms of scariness and they look disgusting! The concept behind them is ingenious because it feels like they are undefeatable, and this season also sees the return of some of the Doctor's oldest foes, but with an interesting twist...
And Matt Smith says:
I think The Silence are one of the greatest monsters of recent years and certainly one of the scariest. They're also very clever and I love the fact they've been silently working since the dawn of time to make The Doctor come unstuck. Steven has a grand plan and some of the seeds he planted in the last season start coming to fruition and affecting the characters in drastic ways. Every character is faced with the most seismic and high-stakes choices we've seen so far.
[BBC America]
---
Fringe
Deadwood and One Flew Over the Cuckoo's Nest actor Brad Dourif has reportedly been cast as Moreau, a mysterious character who shows up in the season finale. Weirdly enough, the original casting call was looking for a Japanese actor, so apparently that was either misinformation or not an essential part of the character. [TV Line]
Further to yesterday's super spoiler-y scene description, here come the actual set photos of that scene. View at your own risk, as this looks like a pretty major plot development. [SpoilerTV]
Here's a very short description of episode 20, "6:02 AM EST": "With only three episodes left this season, the beginning of the end is triggered when Walternate finds a way to wreak havoc 'over here.'" [SpoilerTV]
Executive producers Jeff Pinkner and Joel Wyman promise Leonard Nimoy will play an "unexpected role" on the show. Make of that what you will. [EW]
---
Game of Thrones
Executive producers David Benioff and D.B. Weiss say the project started out as a movie, but they said even a three-hour adaptation would require cutting 90% of the first book's material, which is why they went to a TV show. They explained that there were some warfare aspects that had to be cut down, however:
Weiss: We've had to simplify some of the warfare stuff to make it comprehensible to people who don't have a table full of maps and charts and family trees in front of them.
Benioff: And Ned's lieutenant, Jory, basically gets all of the lines of the lesser lieutenants.
[EW]
Here are some images from the first three episodes. [multipleverses.com]
---
Chuck
Here's a promo for episode 20, "Chuck vs. the Family Volkoff." [ChuckTV]
Ryan MacPartlin discusses Captain Awesome's upcoming return to the spy world:
"It was really tricky because the first time Awesome got into the spy world, it was a little self-centered to be honest. You know, married life does have its lulls. He wanted to spice things up a little bit and get that adrenaline rush. If he did that now with a baby, it would be really selfish. So [the writers] had to be really careful bringing us into the spy world and making it out of necessity rather than desire."
[EW]
---
The Event
Here's a short synopsis for episode 18, "Strain":
Illness strikes the White House, leaving Chief of Staff Peel and Sterling to investigate; Michael helps Leila; Sean and Vicky work to prevent Sophia's weapon from being shipped to the United States.
---
Supernatural
The April 15 episode "My Heart Will Go On", which is set in a world where the Titanic never sank, will examine all the fallout of such a huge change to reality - including, as one might expect from the title, the career of Celine Dion. The episode is also quite emotional, particularly the material that deals with the return of Samantha Ferris as Ellen. [EW]
---
Being Human
Here's a sneak peek at the season finale, "A Funny Thing Happened On The Way To Me Killing You."
Star Sam Witwer discusses what lies ahead in the finale:
"There are actually a few cliffhangers, and there are a few provocative questions, primarily with Josh and Aidan," Witwer says. And some of those new questions are likely to be raised in the flashback scene to two years ago that "explains something that Josh did earlier this season. There's a vengeful move that Josh does at the urging of [Josh's jerk were-buddy] Ray. We learn a little bit more about why he did that. And we're also catching Aidan right as he's about to pull away from the vampires; he's already starting to feel quite alone and isolated. So that, more than anything, allows him to identify Josh as someone else who has the same problem. By the end of the season, the question of are they better together or better apart is answered - or begins to get answered. We have a lot of moments that are designed to remind us - sometimes literally and sometimes in a metaphoric way - how far these characters have come with each other."
[EW]
---
Warehouse 13
The show's executive producers are still studiously refusing to weigh in on whether Myka will return, not even weighing in on whether she will appear in the season premiere. [EW]
---
Additional reporting by Katharine Trendacosta and Charlie Jane Anders.