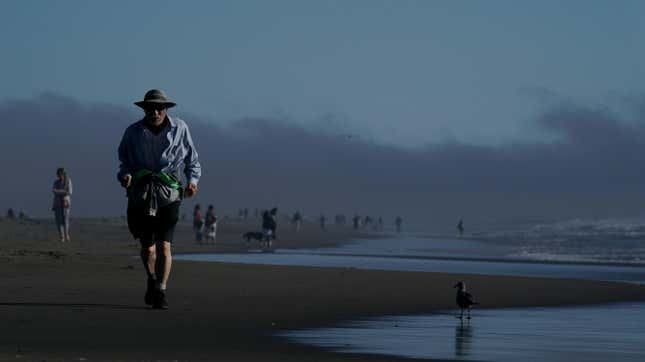 Tropical storm Hilary in the Pacific Ocean has strengthened to officially become a hurricane.
Hurricane Ian Recovery | Extreme Earth
This is the eighth named storm in the Pacific hurricane season and currently has sustained winds of about 75 miles per hour, the New York Times reported. The storm has grown quickly and is expected to intensify today according to government forecasters. The storm is expected to bring heavy downpours to the West Coast.
"Confidence has increased in significant heavy rainfall/flooding impacts from increasing moisture streaming into southern California and the Southwest from Hilary in the eastern Pacific," the National Weather Service (NWS) said in today's alert. "This will likely begin just beyond the current forecast period during the day Saturday."
Southern California could see higher waves due to the forming storms sometime this weekend and into early next week, along with strong rip currents. "Residents on Catalina Island could be most vulnerable," the Los Angeles NWS station tweeted today.
It's rare to see hurricanes form in the Pacific compared to hurricanes in the Atlantic. But this year is an El Niño formation year. The cold upwelling in the Pacific Ocean during La Niña years creates conditions that fuel Atlantic hurricanes to slow down and even stop, which shifts global weather patterns. This causes the Atlantic hurricane season to produce fewer named storms. Whereas the Gulf Coast and the Pacific Ocean tend to experience more storms during El Niño periods. For example, the strong winds that fueled the devastating wildfires in Maui came from Hurricane Dora in the Pacific.
However, the National Oceanic and Atmospheric Administration (NOAA) recently changed its forecast for the Atlantic hurricane season. Earlier this year the agency predicted a near-normal season with 12 to 17 named storms. But last week, NOAA released a new forecast of an "above average" season with anywhere from 14 to 21 named storms.
Want more climate and environment stories? Check out Earther's guides to decarbonizing your home, divesting from fossil fuels, packing a disaster go bag, and overcoming climate dread. And don't miss our coverage of the latest IPCC climate report, the future of carbon dioxide removal, and the un-greenwashed facts on bioplastics and plastic recycling.