Scientific talks can get a little dry, so I try to mix it up. I take out my giant hairy orangutan puppet, do some ventriloquism and quickly become entangled in an argument. I'll be explaining my theory about how the brain — a biological machine — generates consciousness. Kevin, the orangutan, starts heckling me. 'Yeah, well, I don't have a brain. But I'm still conscious. What does that do to your theory?'
Lately, the problem of consciousness has begun to catch on in neuroscience. How does a brain generate consciousness? In the computer age, it is not hard to imagine how a computing machine might construct, store and spit out the information that 'I am alive, I am a person, I have memories, the wind is cold, the grass is green,' and so on. But how does a brain become aware of those propositions? The philosopher David Chalmers has claimed that the first question, how a brain computes information about itself and the surrounding world, is the 'easy' problem of consciousness. The second question, how a brain becomes aware of all that computed stuff, is the 'hard' problem.
In my laboratory at Princeton University, we are working on a specific theory of awareness and its basis in the brain. Our theory explains both the apparent awareness that we can attribute to Kevin and the direct, first-person perspective that we have on our own experience. And the easiest way to introduce it is to travel about half a billion years back in time.
In a period of rapid evolutionary expansion called the Cambrian Explosion, animal nervous systems acquired the ability to boost the most urgent incoming signals. Too much information comes in from the outside world to process it all equally, and it is useful to select the most salient data for deeper processing. Even insects and crustaceans have a basic version of this ability to focus on certain signals. Over time, though, it came under a more sophisticated kind of control — what is now called attention. Attention is a data-handling method, the brain's way of rationing its processing resources. It has been found and studied in a lot of different animals. Mammals and birds both have it, and they diverged from a common ancestor about 350 million years ago, so attention is probably at least that old.
Attention requires control. In the modern study of robotics there is something called control theory, and it teaches us that, if a machine such as a brain is to control something, it helps to have an internal model of that thing. Think of a military general with his model armies arrayed on a map: they provide a simple but useful representation — not always perfectly accurate, but close enough to help formulate strategy. Likewise, to control its own state of attention, the brain needs a constantly updated simulation or model of that state. Like the general's toy armies, the model will be schematic and short on detail. The brain will attribute a property to itself and that property will be a simplified proxy for attention. What exactly is that property? When it is paying attention to thing X, we know that the brain usually attributes an experience of X to itself — the property of being conscious, or aware,of something. Why? Because that attribution helps to keep track of the ever-changing focus of attention.
G/O Media may get a commission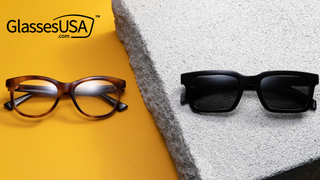 60% off frames
GlassesUSA.com Back to School Sales
I call this the 'attention schema theory'. It has a very simple idea at its heart: that consciousness is a schematic model of one's state of attention. Early in evolution, perhaps hundreds of millions of years ago, brains evolved a specific set of computations to construct that model. At that point, 'I am aware of X' entered their repertoire of possible computations.
One way to think about the relationship between brain and consciousness is to break it down into two mysteries. I call them Arrow A and Arrow B. Arrow A is the mysterious route from neurons to consciousness. If I am looking at a blue sky, my brain doesn't merely register blue as if I were a wavelength detector from Radio Shack. I am aware of the blue. Did my neurons create that feeling?
Arrow B is the mysterious route from consciousness back to the neurons. Arrow B attracts much less scholarly attention than Arrow A, but it is just as important. The most basic, measurable, quantifiable truth about consciousness is that we can conclude that we have it, couch that conclusion into language and then report it to someone else. Speech is controlled by muscles, which are controlled by neurons. Whatever consciousness is, it must have a specific, physical effect on neurons, or else we wouldn't be able to communicate anything about it. Consciousness cannot be what is sometimes called an epiphenomenon — a floating side-product with no physical consequences — or else I wouldn't have been able to write this article about it.
Any workable theory of consciousness must be able to account for both Arrow A and Arrow B. Most accounts, however, fail miserably at both. Suppose that consciousness is a non-physical feeling, an aura, an inner essence that arises somehow from a brain or from a special circuit in the brain. The 'emergent consciousness' theory is the most common assumption in the literature. But how does a brain produce the emergent, non-physical essence? And even more puzzling, once you have that essence, how can it physically alter the behaviour of neurons, such that you can say that you have it? 'Emergent consciousness' theories generally stake everything on Arrow A and ignore Arrow B completely.
The attention schema theory can handle both Arrow A and Arrow B. Consciousness isn't a non-physical feeling that emerges. Instead, dedicated systems in the brain compute information. Cognitive machinery can access that information, formulate it as speech, and then report it. When a brain reports that it is conscious, it is reporting specific information computed within it. In short, Arrow A and Arrow B remain squarely in the domain of signal-processing. There is no need for anything to be transmuted into ghost material, thought about, and then transmuted back to the world of cause and effect.
What are out-of-body experiences then? One view might be that no such things exist, that charlatans invented them to fool us. Yet such experiences can be induced in the lab, as a number of scientists have now shown. The very existence of the out-of-body experience suggests that awareness is a computation and that the computation can be disrupted. Systems in the brain not only compute the information that I am aware, but also compute a spatial framework for it, a location, and a perspective. Screw up the computations, and I screw up my understanding of my own awareness.
Let's turn now to a final — alleged — myth. One of the long-standing questions about consciousness is whether it really does anything. Is it merely an epiphenomenon, floating uselessly in our heads like the heat that rises up from the circuitry of a computer? Most of us intuitively understand it to be an active thing: it helps us to decide what to do and when. And yet, at least some of the scientific work on consciousness has proposed the opposite, counter-intuitive view: that it doesn't really do anything at all; that it is the brain's after-the-fact story to explain itself. We act reflexively and then make up a rationalisation.
This idea that consciousness has no leverage in the world, that it's just a rationalisation to make us feel better about ourselves, is terribly bleak. Some people might confuse the attention schema theory with that nihilistic view. But the theory is almost exactly the opposite. It is not a theory about the uselessness or non-being of consciousness, but about its central importance. Why did an awareness of stuff evolve in the first place? Because it had a practical benefit. The function of awareness is to model one's own attentional focus and control one's behavior. In this respect, the attention schema theory is in agreement with the common intuition: consciousness plays an active role in guiding our behaviour. It is not merely an aura that floats uselessly in our heads. It is a part of the executive control system.
And so, whether or not the attention schema theory turns out to be the correct scientific formulation, a successful account of consciousness will have to tell us more than how brains become aware. It will also have to show us how awareness changes us, shapes our behaviour, interconnects us, and makes us human.
This article has been excerpted with permission from Aeon Magazine. To read in its entirety, head here.
---
Aeon is a new digital magazine of ideas and culture, publishing an original essay every weekday. It sets out to invigorate conversations about worldviews, commissioning fine writers in a range of genres, including memoir, science and social reportage.