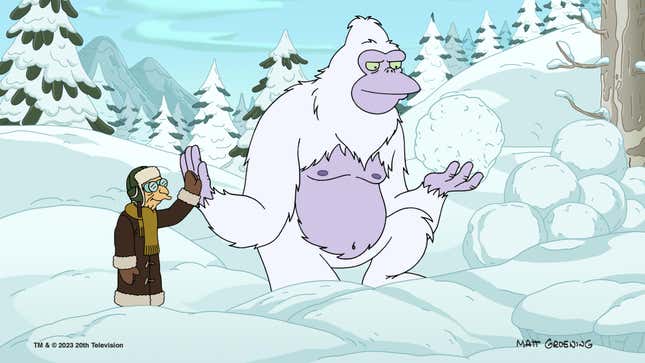 Futurama's Hulu revival has seen the show continue its love of stories that comment on current events, while also incorporating Easter eggs and callbacks that reference its nearly 25 years of history. But while this week's episode took on Amazon, the next installment offers a pure slice of Planet Express nostalgia, with a storyline delving into everyone's favorite sci-fi holiday terror: Robot Santa Claus!

Vizio's Latest TVs Go All Quantum
Futurama's murderous take on Kris Kringle doesn't actually appear in this exclusive clip from "I Know What You Did Next Xmas" io9 has to share today, but it does contain a cute montage showing the characters getting into the holiday spirit.
Snowball fights, ugly sweaters, mistletoe, snow—er, asbestos angels... all with a Futurama twist. Then we cut from warm and fuzzy to sad and lonely, as Dr. Zoidberg and Bender contemplate what spending the holidays without any family looks like—and decide guzzling "dumpster nog" together is as good a plan as any. Where does Robot Santa Claus fit in, other than looming large over any December calendar? Here's the official synopsis for the episode, with spoilers removed at the end:
"Xmas season is coming up, so once again, evil Robot Santa will be delivering his annual attack. We see an animated TV holiday special that reminds us how Robot Santa's programming failed on his very first delivery, back in 2801, and ever since then he's been mistakenly judging everyone to be 'NAUGHTY.' The Professor decides to end this travesty once and for all! Santa cannot be attacked... except through TIME. So the Professor reveals he has restored his old time machine (from classic episode 6.07, 'The Late Philip J. Fry'). His plan is to go back in time to 2801 and reverse Santa's naughty sensor so it will function correctly. It's a nerve-wracking assault, but... he succeeds! It will be the first happy Xmas in centuries!
In honor of the occasion, the whole Planet Express crew takes Xmas week off, and everyone goes to spend time with their families. In the general excitement, Bender and Zoidberg are left behind, having no families to go home to. They are lonely and bitter. Their bitterness leads to drinking ('dumpster nog'), and they soon become drunk and end up bonding for the first time in series history. Then they get angry... if they can't have a nice Xmas, they will ruin it for everyone else! They decide to kidnap Santa, but the crime goes horribly wrong..."
To see what happens next, you'll have to tune in. Get in the festive spirit (several months early) when Futurama's "I Know What You Did Next Xmas" arrives Monday, August 28 on Hulu.
---
Want more io9 news? Check out when to expect the latest Marvel, Star Wars, and Star Trek releases, what's next for the DC Universe on film and TV, and everything you need to know about the future of Doctor Who.