At this point, most of us know how to avoid Nigerian scams in our email. But a far more insidious scam seems to have hit Britain far harder than we ever thought — by targeting the dateless and lonely.
It's a far simpler scam than convincing someone that you're a deposed millionaire princeling who needs help laundering money. You simply start a long distance relationship with someone through a social networking or online dating site, and then after an appropriate amount of time playing the part, you convince them you're in dire financial need, and get them to send you some money.
After all, we've all heard stories of couples who met online and courted across the world, only meeting after years and then living happily ever after.
In a recent study, media researchers at the University of Leicester estimated that some 200,000 Britons have fallen for the scam, many more than previously thought. And yet, few people alert the authorities when they realize they've been scammed. Maybe they're embarrassed, or maybe they think their online grifter-sweeties are real, but the Serious Organised Crime Agency has only identified 592 victims in the last year, of which 203 lost more than £5,000 — and some as high as £240,000.
The scams are usually run by organized crime from outside the UK, and even when operators can't convince their victims to hand over the cash, the scammers involve them in money laundering using their bank accounts.
G/O Media may get a commission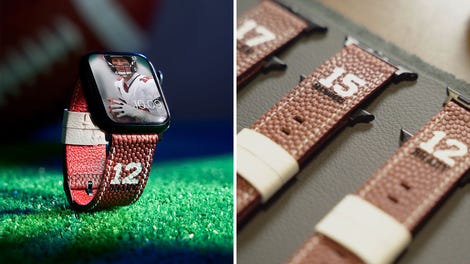 Official NFL PRODUCTS
Official NFL Apple Watch Bands
Of the study, lead researcher Professor Monica Whitty said:
"This is a concern not solely because people are losing large sums of money to these criminals, but also because of the psychological impact experienced by victims of this crime. It is our view that the trauma caused by this scam is worse than any other, because of the 'double hit' experienced by the victims – loss of monies and a 'romantic relationship'. It may well be that the shame and upset experienced by the victims deters them from reporting the crime. We thus believe new methods of reporting the crime are needed."
Luckily, more than 50% of those studied were aware of the scam, so all that remains is for the remainder to start getting suspicious when their hunky Italian boyfriend starts asking for a few thousand quid, and hopefully this scam will start to die out.
Image by Vladimir Wrangel via Shutterstock