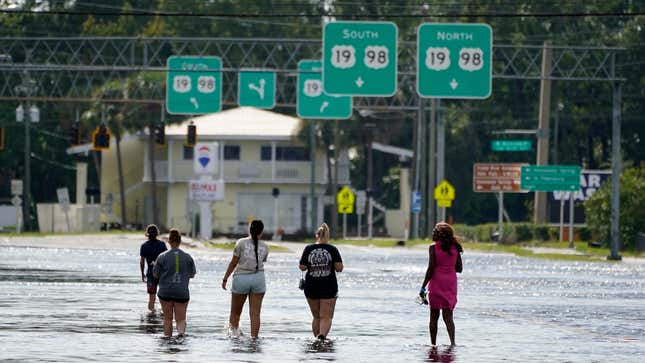 Hurricane Idalia barrelled through several states this week and could be the most expensive climate disaster in the United States this year according to analysts.
Hurricanes and Climate | Extreme Earth
Idalia made landfall over the Florida Bend this Wednesday morning as a strong category 3 hurricane. The storm swept through the state and up into Georgia and the Carolinas. Idalia has since moved out into the Atlantic leaving behind several billions of dollars worth of damage.
Experts at UBS predict that the storm will cost Florida an average of about $9 billion in insured losses, Reuters reported. Moody's RMS, a risk assessment manager and analyst company, estimated that the preliminary cost following the storm "is between $12 billion and $20 billion of damage and lost output." The majority of these damages come from property damage, according to the assessment. Moody's assessment explained that because the storm hit over the state's Bend, and away from more populated areas like Jacksonville or Miami.
"The fast-moving nature of the hurricane and its path after landfall also helped to prevent a worst-case scenario," the assessment explained. "Idalia was out to sea within about 24 hours of making landfall, helping to prevent the sort of catastrophic inland flooding that can occur with slower-moving systems."
The effects of the storm are being felt today even after it has moved away from land. As of today, there are still more than 85,000 customers in Florida without power, according to data from PowerOutage.us. More than 25,000 households and businesses in Georgia are currently without power. Earlier this week, damage from the storm cut power to over 200,000 households and businesses in and around the Florida Bend.
Some of the areas that took the most damage from the strong winds and storm surge happen to have low rates of home insurance coverage, MarketWatch reported. Taylor County, where the storm officially made landfall earlier this week, has an insured rate of about 5%.
However, insured homeowners in Florida may struggle to see payouts after extreme weather like the recent hurricanes and tropical storms. Florida's insurance market was already challenged before this week's storms. As of late last year, the average premium in the state was over $4,000, compared to the national average of a little over $1,500. Several smaller private insurance companies in the state shut down in 2022, Quartz reported. Major insurers have also exited Florida due to these challenges. This July Farmers Insurance stopped offering insurance in the Sunshine State in order to better manage its risk exposure.
The damage caused by this week's storm is part of a growing trend of an increasing number of billion-dollar disasters. Some of the rising costs can be attributed to rising populations, particularly in disaster-prone areas in the last few decades. But some of the growth is also attributed to the fact that climate change has increased the frequency and intensity of some storms and natural disasters, a report from NOAA said.
The insured costs incurred by Idalia come after 15 other climate and weather-related disasters with losses exceeding $1 billion, according to data from the National Centers for Environmental Information. The majority of these disasters were from severe weather outbreaks. However, this report doesn't include the cost of the devastating fires in Maui, Hawaii. Damages there are also estimated to cost more than $1 billion.
Want more climate and environment stories? Check out Earther's guides to decarbonizing your home, divesting from fossil fuels, packing a disaster go bag, and overcoming climate dread. And don't miss our coverage of the latest IPCC climate report, the future of carbon dioxide removal, and the un-greenwashed facts on bioplastics and plastic recycling.