First launched as a Kickstarter back in 2013, Dysonic's RondoMotion's 3D head-tracking technology is now being used to power trippy acoustic effects in Björk's MoMA retrospective. It's true 3D listening in your earbuds. That and also Björk.
The retrospective, which opens on March 7th in New York, contains a 40 minute "Songlines" tour through Björk's musical career. At the beginning of the exhibit you're handed a pair of headphones to strap to your dome, and an iPod touch to dangle from your neck. After you push play, the sound will follow you as you move through the exhibit, which is comprised of seven different rooms, each representing one of Björk's albums.
Though it's got some conceptual similarities to the audio tours used in museums all over the world, "Songlines" is definitely designed as more of a journey than a behind-the-music-style biography. You'll see Björk's records and music videos, including some way-too-realistic-not-to-be-creepy Björk mannequins and hear the story of how she grew up to be so...Björk played over selections from Björk's music, with other ambient sounds weaving their way in and out.
But the fun tech trick is the way the sound changes as you move. From a technical perspective, "Songlines" is sectioned off into different areas using beacon technology that talks to your phone. Within each of these sections, though, the specifics of the sound playback depend on where you're facing. This effect is powered by the 3D head-tracking in Dysonics' RondoMotion tracker, which after a few years of development is now available to the public for $60.
G/O Media may get a commission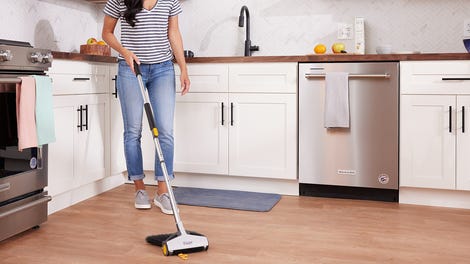 BOGO 50% Off
Flippr - BOGO 50% Off
The little square tracker attaches to any set of headphones and uses a 3-axis gyroscope and 3-axis accelerometer to sense which way you're facing. That information is then beamed to the iPod Touch where software alters the sound output to reflect the position of your head. In this case, its custom software that was built for RondoMotion's API, but Dysonics has its own solutions for stitching together 3D audio as well.
The effect of the 3D head-tracking in "Songlines" is subtle, mostly because the spectacle is disorienting to begin with. You're never really sure why anything is happening in any one place. Waves are crashing in the background, then they're not. Songs start and stop. The narrative kicks in and fades away. I was a little bit lost throughout the whole thing, and the RondoMotion helps create that effect.
Outside of a Björkfest, Dysonics' technology can be used to turn your headphones into a realistic home theater. Using the soft-launched Rappr software for desktop ($5), the RondoMotion can track your head motion and visualizer a 5.1 sound system as if you're actually sitting in a room with a 5.1 sound system. Even more impressively, the software and hardware can be used together to create the most realistic 3D headphone effect you've ever been able to bring home.
Usually, when headphones virtualize 3D, the sound has been algorithmically processed to simulate speakers all around you, but the image stays the same inside your headphones as you move your head around. Using the RondoMotion and Rappr, however, the sound can be changed to reflect the actual position of your head, like you're actually there.
Applications for this level of detailed head-tracking are wanting now, but you can imagine how it might hold some interesting applications for 360 degree videos and virtual reality when and if those technologies take off.
Dysonics promises it'll have a lot more this year in the way of technology development and partnerships. In the meantime, you can pickup your own tracker and check out RondoMotion h at home. If you're in the New York area, you can checkout "Songlines" as part of the Björk retrospective, which will be on view until June 7th.