On paper at least, I'm the stereotype of a GoPro customer. I snowboard and mountain bike. I ride motorcycles and dirt bikes. I fly drones. I go on scenic hikes with my dogs. But I haven't actually purchased an action cameras since 2014 when I picked up a Hero4 Silver. Until last week, I thought it did the job fine. Boy, was I wrong.

Meet Microsoft's New Surface Laptops
GoPro just released its Hero7 camera lineup, including the top-end Hero7 Black. While it's by no means a revolutionary product for the struggling company, the Hero7 Black does offer some notable improvements, including its major selling point: "HyperSmooth" video stabilization.
GoPro first introduced video stabilization with the Hero5 Black and improved it in the Hero6 Black thanks to the company's custom GP1 processor. The Hero7 Black still has the GP1, but has a boost up to 2GB of RAM now, which might contribute to its newfound ability to produce video stabilization that GoPro characterizes on its website as "gimbal-like" and "insanely smooth." It also shoots stabilized video in 4K at 60 frames-per-second, which you won't find with earlier models.
A Hero7 Black in hand, I decided to see just how trustworthy GoPro's claims really are. Turns out, pretty trustworthy!
Hands On Review: GoPro Hero7 Black
Voice over performed by Michael Pasquariello
To gauge the extreme end of the video-stabilization spectrum, I strapped it to my dog Saggio, who's about as rambunctious as they come. At the other end is my Harley Davidson Sportster, which has a V-twin engine that vibrates so much, it often makes my hands go numb during longer rides. We also busted out an old Hero4 Silver and a Hero6 Black to see how GoPro's latest tech compares.
Strapped to the rattling handlebars of my Harley, the Hero7 Black dealt well with the motorcycle's heavy, constant vibrations to produce footage that looks downright buttery. It's not exactly gimbal-like, as bigger bumps in the road are still quite visible, but you don't get any of the vibration, wavy footage, and other video artifacts that you see with the Hero4. The Hero6 also did a pretty damn good job, I have to say. Its stabilization didn't handle the vibrations quite as well HyperSmooth, but it does give you a high-quality image with minimal distortion. Really, the Hero6 Black held up surprisingly well.

While the motorcycle offers a totally reasonable, practical application for video stabilization, the dog test is just absurd. You might get better results if you use the official GoPro dog harness or something comparable. But I didn't have that, so I DIY'd a collar with a GoPro mount bolted to it. The result was... nauseating.
When capturing footage on a running, jumping, bouncing dog, none of the three cameras stabilized footage captured anything close to what you might call "well." The videos are jumbled messes of dog action that are almost unwatchable. (That said, the perspective does give you a sense of what being a dog is actually like.) OK, so, the dog thing is a bit much—although, it does push GoPro's video stabilization tech to its limits, which was my goal. So yes, even the HyperSmooth-ed video is completely disorienting, but you can still clearly see the Hero7 handling the madness better than its ancestors.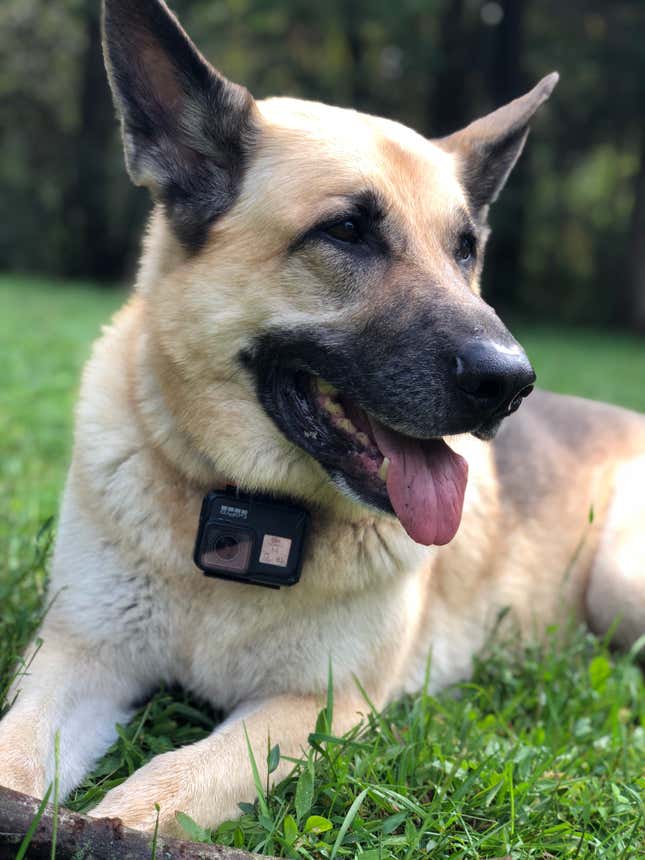 Based on my experience, the Hero7 Black is a solid alternative to, if not an outright replacement for, a mechanical gimbal. But unless you're a professional videographer or a total maniac, you're probably not going to strap a gimbal to your dog or your motorcycle. It produces smooth-looking footage that's better stabilized than what you can get in other GoPro cameras. And it packs some other features you won't find elsewhere in the GoPro family, including the ability to shoot in 4K at 120fps, a TimeWarp feature that adds stabilization to timelapse video capture, HDR mode, and the ability to livestream directly to Facebook Live, Twitch, Youtube, and other video platforms. You also get an improved touchscreen interface, the option to capture images in RAW, and the ability to shoot vertical videos straight from the camera.
At $400, the Hero7 Black is a solid update to the GoPro lineup and definitely worth the cost if you're considering upgrading from a Hero4. But if you already have a Hero6 Black, you might wait another generation before upgrading. And if you're just now considering getting on the action camera bandwagon but don't feel like dropping nearly half a grand, take a look at the $300 Hero7 Silver or super-cheap $200 Hero7 White, both of which lack the GP1 chip but still offer video stabilization for less than what you'll pay for a Hero6 Black.
Now, if you'll excuse me, I have to go clean some slobber off this camera.
README
The HyperSmooth feature offers video stabilization that makes using a gimbal unnecessary for casual users and offers a visible step up from previous GoPro models.
Improved stabilization is a good selling point, but it's probably not enough to justify the upgrade for anyone who bought 2017's Hero6 Black.
The Hero7 Black includes a slew of other upgrades, including better 4K shooting options, stabilized time lapse, an improved UI, and livestreaming features.
If you haven't bought an action camera in a few years or are just getting one for the first time, the Hero7 Black offers enough solid features to justify the price tag.