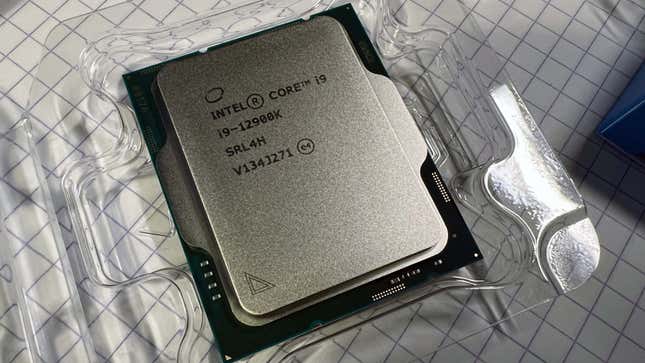 Intel has officially announced details on its much-anticipated 12th-gen Alder Lake processors, including pricing and performance details for three new chips.
Buy Now or Wait? How to Avoid Tech Buyer's Remorse
The good news: While Intel's 11th-gen processors weren't particularly innovative or exciting or...differently-shaped, the 12th-gen processors are very different. They're built with the Intel 7 process and are the first processors to utilize Intel's new-ish hybrid architecture—and yes, the different architecture means you'll need a new Z690 motherboard to upgrade.
Intel's latest hybrid architecture mixes different cores on the same chip: Big, high-powered performance cores (P-cores) and small, low-powered efficient cores (E-cores). This type of hybrid architecture isn't totally new—we saw its predecessor in Intel's Lakefield processors—but it's coupled with a hardware-based optimization tool called Intel Thread Director, which streamlines performance by directing tasks to the correct cores: P-cores handle the powerful, single-threaded tasks, while E-cores take care of background processes and multi-tasking. Intel Thread Director was built alongside, and is officially supported by, Windows 11, so you'll need to upgrade basically everything if you want to maximize efficiency and performance.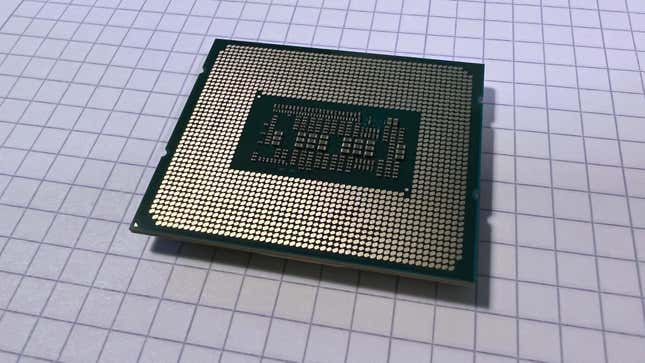 And, of course, the new processors and corresponding motherboards are the first products to support DDR5 (up to 4800) memory, so that's another thing to upgrade.
"The World's Best Gaming Processor"
Intel is making some seriously bold claims about Alder Lake, calling its Core i9-12900K CPU "the world's best gaming processor." These chips will need to be as impressive as promised if Intel wants to bounce back from its underwhelming 11th-gen CPUs.
Intel dropped its 11th-gen i9s to 8 cores and 16 threads, down from the 10-core, 20-thread 10th-gen i9s, claiming the sacrifice was necessary to "maximize real-world performance." But the 12th-gen i9s are back up to 16 cores and 24 threads with the new hybrid architecture. Of course, this is a mix of P- and E-cores: The 12th-gen i9 processors have an even balance of 8 P-cores and 8 E-cores, which translates to a 19% performance increase (according to Intel).
New Socket, Size, and Shape
Alder Lake might be Intel's most innovative generation of processors in over a decade, and that includes physical form factor: The new 12th-gen processors are not just incompatible with older motherboards due to socket design and pin arrangement (Alder Lake sports 1700 pins, up 500 from Rocket and Comet Lake's 1200-pin design), they're physically incompatible. Intel processors switch sockets somewhat often, but have been the same general size and square shape since the mid-2000s. The new processors are larger—7.5mm longer on one side—and rectangular.
The new socket, LGA 1700, means you need a new motherboard, which is why Intel also unveiled its flagship Z690 chipset alongside Alder Lake. The Z690 chipset should be pretty future-proof; it features support for DDR5 (and/or DDR4) memory, native PCIe 5.0, USB 3.2 Gen 2x2 data transfer, Thunderbolt 4, and integrated Wi-Fi 6E. Not all Z690 motherboards support both DDR4 and DDR5 memory, so as long as you buy the right one you shouldn't need to upgrade your RAM to DDR5 (unless you want to).
The chip's new size and shape means you'll also need to take a look at your current CPU cooling solution, since slapping a square-shaped heatsink over a rectangle isn't exactly the ideal way to maximize cooling efficiency, especially if you're planning on overclocking. Many cooler manufacturers have already released free or nominally-priced LGA 1700 conversion kits, so you may be able to reuse your cooler depending on your circumstances. It's probably a good idea to budget for an upgrade, though, since there are several factors, including a lower z-stack height and an asymmetrical socket design, that might affect performance.
Let's Talk Overclocking
Intel still won't, and probably never will, fully endorse overclocking. When asked if overclocking still voids the warranty, Intel VP Mandy Mock confirmed to Gizmodo: Yes, it does. (Mock said she wouldn't be worried about hardware failure or another warranty issue popping up as a result of overclocking, but I guess Intel's legal team begs to differ.) Intel may never embrace overclocking, warranty-in-hand, but they're doing a pretty good job of appealing to gamers, streamers, and other overclocking speed/power enthusiasts (like me) with overclocking features and (up-to-date) tools.
Intel's primary overclocking tool is the Extreme Tuning Utility (XTU), which added support for Alder Lake and the new chip's hybrid P-core/E-core architecture in a recent update. The latest version of XTU also supports DDR5 memory and added a number of overclocking options with varying degrees of control, from Speed Optimizer, which overclocks everything with a single button press, to per-core and per-package overclocking for when you want to overclock selectively.
Intel also announced an upgrade to its Extreme Memory Profiles (XMP) tool, which is a memory overclocking tool in the BIOS menu with custom memory profiles that you can quickly switch between. The new version, XMP 3.0, adds support for DDR5, additional memory profiles, and more flexibility and customization options. Intel also teased its Dynamic Memory Boost Technology, which is sort of like a "turbo boost" for your RAM (compatible with DDR4 and DDR5 modules). Dynamic Memory Boost Technology uses your system's real-time data to intelligently switch between different XMP memory profiles (as well as default profiles) for an optimal balance of performance, power, and stability. Intel says its Dynamic Memory Boost Technology will be arrive automatically via BIOS update when it's ready (which will be "soon").
When You Can Buy, and How Much It Costs
The new processors are pricier than the previous generation, which isn't too surprising but is still a little disappointing: The $589 i9-12900K is a $50 jump from the $539 11th-gen i9-11900K. At the moment, Intel has only announced pricing for a handful of its desktop processors. Processors with a K in the name are unlocked, while processors with an F in the name do not include Intel's UHD 770 onboard graphics. Here are all the details: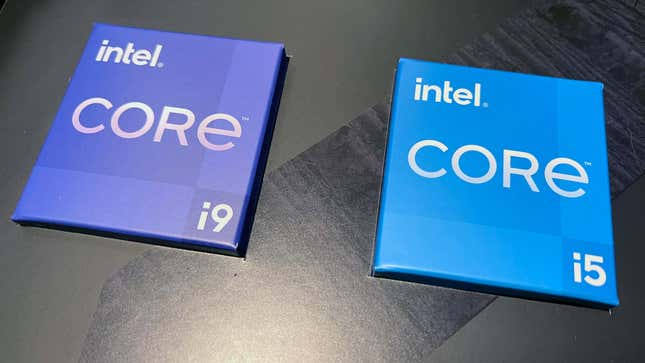 12th-gen Core i9
i9-12900K: up to 3.2GHz P-core / 2.4 E-core / 5.2GHz boost ($589)
i9-12900KF: up to 3.2GHz P-core / 2.4GHz E-core / 5.2GHz boost ($564)
12th-gen Core i7
The mid-range 12th-gen i7 processors have 12 cores (8 P-cores and 4 E-cores) and 20 threads.
i7-12700K : up to 3.6GHz P-core / 2.7GHz E-core / 5.0GHz boost ($409)
i7-12700KF: up to 3.6GHz P-core / 2.7GHz E-core / 5.0GHz boost ($384)
12th-gen Core i5
The 12th-gen i5 processors have 10 cores (6 P-cores and 4 E-cores) and 16 threads.
i5-12600K: up to 3.7GHz P-core / 2.8GHz E-core / 4.9GHz boost ($289)
i5-12600KF: up to 3.7GHz P-core / 2.8GHz E-core / 4.9GHz boost ($264)
All three chips are available to preorder now and start shipping Nov. 4.
Update, 10/27/21: This piece has been updated with more information from Intel about overclocking and design.