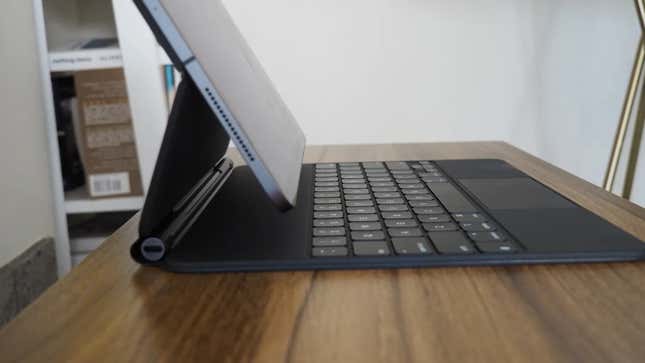 With all the hubbub surrounding the upcoming iPhone 15 this year and talk of next year's MacBook Pros, what's missing from the picture is any mention of the long-suffering iPad, specifically the iPad Pro. However, next year the tablet could finally receive upgrades that would put it in line with current iPhones and MacBooks.
Can This iPad Replace Your Laptop?
Bloomberg's Apple guru Mark Gurman dropped a pretty big bomb Sunday night for all those wondering what the hell Apple was doing with its tablets. According to his insider sources, there are four iPad Pro models coming down the pike next year, all of which will feature Apple's proprietary M3 silicon chip. The four models are designated J717, J718, J720, and J721. More than likely, the sizes will range from 11 inches to 13 inches, topping out slightly bigger than the current 12.9-inch iPad Pro.
In addition, the iPads may finally make the switch to OLED screens. iPhones have used OLED screens since the iPhone X, making the devices lighter and more power efficient. Though analysts suspect we'll have to wait two years for an OLED MacBook Pro, we might only need to wait a year for the same upgrade on iPad. Gizmodo reached out to Apple for comment, but we didn't immediately hear back.
If Apple's to reconfigure its iPad lineup, the company will likely try to bring in some of its iPhone innovations to the mix. The Cupertino, California-based tech giant has been iterating on its screens for the past several years, none of which has come to the iPad on its yearly release schedule. The iPhone 14 got rid of the notch in exchange for a so-called Dynamic Island. Experts expect Apple to reveal its iPhone 15 in around two weeks time, Sept. 12, and Apple is expected to push the device's organic displays to the edge of the device by shrinking the bezels.
There's also hope for the company's Magic Keyboard. Gurman reported Apple will offer a "revamped" folded keypad that can turn an iPad into a laptop-like device. We don't know much in the way of details, but the accessory will reportedly be bigger and sport a larger trackpad. Gurman said this makes the tablet look even more akin to a laptop than before. Apple has recently filed patents for features that would make its Magic Keyboard more like Microsoft's Surface Pro, so perhaps Apple is trying to allow users more viewing angles for the attached keyboard.
Last year's M1-powered iPad Air was a solid iteration that didn't include a price increase, but despite moderate changes to its tablets—especially on the cheaper end—Apple didn't get much mileage out of its 10th generation iPad line, at least in terms of sales. Analyst firm IDC reported that Apple's tablet shipments declined nearly 17% year-over-year, in line with other makers in the tablet space. Still, Apple product shipments have suffered considerably in 2023, and the company is expected to cut the number of iPhones it produces this year, pointing to a global tech sales slowdown.
These upgrades might shift some focus back to Apple's tablet enterprise. Compared to its iPhone, Mac, wearables, and other subscription-based services, the iPad makes the company the least money in sales every year. iPads trailed laptop and computer sales by close to $1.1 billion in earnings this past quarter. Both are dwarfed by total iPhone sales.
---
Want more of Gizmodo's consumer electronics picks? Check out our guides to the best phones, best laptops, best cameras, best televisions, best printers, and best tablets. If you want to learn about the next big thing, see our guide to everything we know about the iPhone 15. Click here to save on the best deals of the day, courtesy of our friends at The Inventory.