Nobody cares about iTunes LP, reports Paul Bonanos. Six months into the format—one that Apple believed enough in to have a separate event—and nobody is buying. But what if it were free?
We've been discussing it in our top-secret internet chat place. Mark is certain that the LP format can be redeemed—or at least given a proper chance—on the iPad. And indeed, some had speculated that iTunes LP would be the format by which Apple would distribute books and magazines. (Turns out it was ePub wrapped in FairPlay DRM, at least for books.)
It's hard to say confidently that the format has had a proper chance.There are only 29 LPs on the iTunes store right now, certainly not enough to make any sort of platform judgement. But they also cost more than simply buying an album.
So what if they were free?
The "LP" format is a sort of hybrid of the old album art and DVD-extras. (For everyone that reads this site, "albums" were giant vinyl CDs that were packaged in cardboard sleeves a bit smaller than a pizza box—lots of space for art.) But it didn't cost anything extra to get that big art on an album, and most DVDs have at least a baseline special feature. That extra content is a value-add, an incentive to buy.
G/O Media may get a commission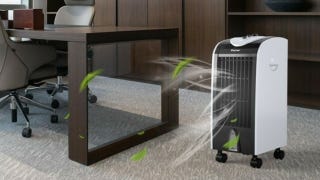 Save $10
Evaporative Portable Air Conditioner Cooler with Filter Knob
Apple has released the format for iTunes LP for months, although LPs still have to be approved just like Apps. But for a smart band or label, one strong LP version ready for the iPad launch—for free—could make a band's release really stand out.
Or maybe the LP format, asked for not by fans and customers but by the labels and the RIAA, wasn't really necessary in the first place.