It's been a busy month for Warner Bros.' revitalization of the Potterverse movies. The first Fantastic Beasts and Where to Find Them movie comes out next week, and with it the news that there will be five movies, a young Albus Dumbledore, and Johnny Depp. J.K. Rowling, who is writing the scripts for these movies, has some thoughts on all that.

You want to know how politics and the state of the world influenced her movie about a guy hunting magical beasts? The New York Times has you covered. "I hope when people see the movie, they will understand that it grew out of things that are very important to me in the world at the moment," she said. Rowling continued about the film's 1920s setting:
This period was threatening to become very dystopian. You were looking at the rise of a very dark force. I conceived the story a few years ago, and I think I was partly informed by a rise in populism around the world.
As to why there are going to be five movies, she told Variety that it came out of the arc she discovered while writing the story and that the movies will cover 19 years of wizarding history:
G/O Media may get a commission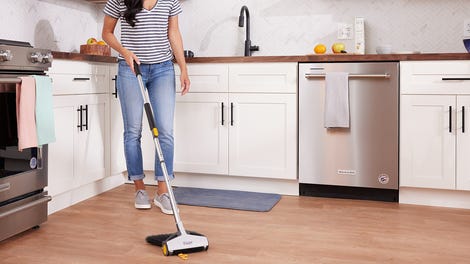 BOGO 50% Off
Flippr - BOGO 50% Off
Want to know if Rowling had anything to do with casting Johnny Depp as one of the most evil wizards in her universe? That's where E! comes in:
I didn't approach him—although he was approached with my full blessing, because I thought he'd be amazing in the part. I can't say much, because there are surprises in the movie, but I'm really happy with his performance. And I think the fans will be, too.
Do you want more praise of Depp from Rowling? Bring on People:
He's obviously a cameo in this film but going forward will obviously be more important. Watching Johnny create a character is really quite remarkable, it's fascinating. It's great as a writer to work with people like that.
I know you're all dying to know about Dumbledore. Does Rowling have an actor in mind? She does, but she's not telling unless he gets the part. E! strikes again:
I have, of course, thought about this. I do have a name. I do have someone in mind, but I can't say it. Because if that person doesn't get cast, then the person who does get cast will blame me forever for having said it, won't they? So, I'm going to just keep quiet.
As for Dumbledore's sexuality, she was very coy on this point when talking to Screencrush:
Well, I can't tell you everything I would like to say because this is obviously a five-part story, so there's lots to unpack in that relationship. I will say that you will see Dumbledore as a younger man, and quite a troubled man because he wasn't always the sage. He was always very clever, but we'll see what I think was the formative period of his life. As far as his sexuality is concerned, watch the space.
(Rowling has stressed the importance of Dumbledore's affection for Grindelwald for a while now, so it seems like the eventual Hogwarts headmaster's sexuality should be addressed in the movies. If it isn't, then their relationship will have been vastly overstated.)
And, finally, should you forgo reality for a few hours and watch Fantastic Beasts and Where to Find Them next weekend? "Today might be a day to concentrate on some good things, and putting some good things out into the world.," she said on Thursday. She later elaborated on that to USA Today:
Anytime you release a movie, you'd like to think you'll give everyone a couple of hours of pleasure, and solace, for everyone — because life's tricky, right? And that's why we make movies, and like music, and maybe I feel that hopefully, putting out something that's lovable in this world in this moment is not a bad thing.
And that is likely every question Rowling is actually willing to answer about these movies.