Gotham is getting worse. I don't mean the city; even though it has increased its Noble Cop quotient by +1 with Jim Gordon's arrival, it seems to be just as messed up as it was before he arrived. No, I mean the show, and the most obvious example is the way Gordon is somehow turning dumber every episode.
Since the premiere, Jim Gordon has been a good person and a good cop. By trying to do what was right he was nearly murdered a few times, ordered to murder other people, and even busted down to insane asylum security officer for an afternoon. When he came back last episode, he appeared to have lost some of his nobility — he was more willing to bend the rules on behalf of the greater good. I thought the show might be showing us The Early Temptation of Gordon, in which he would realize if he had any desire of fixing Gotham City, he'd have to hold himself to the same standard.
Then comes along last night's episode, "Welcome Back, Jim Gordon," in which it's revealed that Gordon may just be a moron. When a witness gets murdered right inside the precinct — stabbed in the back with an ice pick — of course Gordon is the only cop in the entire city the size of New York that feels like this needs to be investigated. Of course the chief and Bullock tell him to stop, and of course he doesn't (and Bullock helps him anyways). And also of course, Gordon is stymied by the bafflingly huge amount of corruption in the GCPD, which not only allows its narcotics cops to operate their own drug warehouses but has an elaborate system in place designed to keep Gordon from busting them.
There are only two things that set this Gordon plot apart from Gotham's other episodes. 1) Gordon busts a cop named Delaware for being on guard duty when the witness was murdered (when do narcotics detectives have to watch the interrogation rooms?) and for having drugs in his car; the hilariously, obviously corrupt narc Flass says he was only staging an undercover operation. It's a lie, but it could technically be true, and it points out how little circumstantial evidence "detective" Gordon busted Delaware on. 2) When Gordon can't get anywhere, he calls up his old buddy the Penguin to see if he can find anything on Flass, seeing as Maroni runs the drug trade and Penguin and Maroni are tight. One of Penguin's goons basically tortures Delaware's wife until he offers a confession and shows them the ice pick Flass used to stab the witness with.
G/O Media may get a commission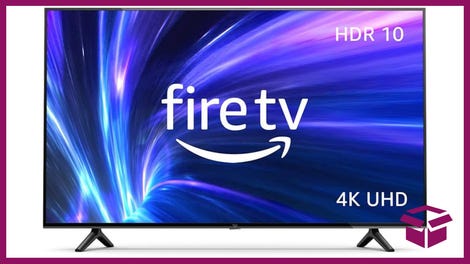 42% Off
Amazon Fire TV 50" 4K Smart TV
Is it part of Gordon's fall from grace that he makes a deal with the devil to catch a crooked cop, or is it just stupidity? I'll give it the benefit of the doubt. But Gordon's naïve belief that somehow engaging criminals to do his job for him would have no negative consequences — even though he very specifically asked Penguin not to hurt anybody — is absolute imbecility. At the end of the episode, Delaware crawls up to Gordon and begs him not to have thugs hurt his family anymore, and you can practically hear the sad trombone noise as it dawns on Gordon that hey, maybe criminals can't be trusted.
Luckily, the mob side of the equation picks up this week, although maybe it picks up too fast. Fish Mooney is tortured briefly by one of Falcone's guys, and it's the right sort of ridiculous. Fish's hyper-nonchalance at being suffocated is absurd, but it works for her absurd character, and it's a fun scene to watch Jada Pinkett Smith chew. Meanwhile, her second-in-command escapes from his captors, finds Fish, frees her, and they prepare to leave Gotham — after, of course, Fish pays Penguin a visit.
The Penguin has taken his mom to "his" new nightclub. His mom gets wasted and embarrasses him, Gordon stops by to ask for his favor, and at the end of the night, Cobblepot gets super-drunk and Gotham turns into a mini-Fear and Loathing in Gotham montage for no fucking reason. It's not cool, it's not good, it's not even bad, it's just… weird? Senseless? Inexplicable? Anyways, it's at the tail end of this when Fish shows up, and we get a confrontation I was surprised to realize how much I'd been looking forward to. The Penguin starts by obsequiously kissing her feet, and begging to be spared. When this doesn't work, and Fish starts berating him for being a mere umbrella holder, Oswald finally snaps. "This umbrella holder outwitted you every step of the way!" he shouts, and even Fish is stunned by how true it is. This is Gotham at its most effective, and the scene makes the episode. Then Zsasz and his gun molls pop in and chase Fish and her goon away. Butch sacrifices himself so Fish can escape, and I'm pretty sure we're still supposed to care about his character for some reason; instead, I'm only excited to see what Zsasz does with him, since he takes him prisoner instead of killing him.
In other news: Barbara isn't in this episode — I assume she's watching QVC on a couch somewhere, because she can't find the remote and is too lazy to go look for it — but Bruce Wayne is back! He's taken to forcing Alfred to drive around the poor parts of Gotham looking for Cat so he can give her a gift he bought her in Switzerland! He passes a message to her through Ivy, and she stops by Stately Wayne Manor to discover… it's a big honking snow globe! (I assume Bruce purchased it at the Gifts That Are Supposed To Seem Really Thoughtful In TV Shows And Movies When The Writers Can't Be Bothered To Think Of A Genuinely Thoughtful Gift store. It is literally stocked with nothing but snowglobes.) Cat loves it, but then she flips and is mean to Bruce and tells him they're not friends and leaves and Bruce cries for a while until Alfred comes in and literally makes fun of him for crying. Your young Batman, everyone!
I mentioned this yesterday when I reported that Gotham had turned the Dollmaker's real name into "Dr. Francis Dalmacher", but there's a fine line between fun and silly and campy and just stupid, and Gotham crosses it way too often. Maybe the most egregious example is when the GCPD Internal Affairs department rules the witness' death — remember, he was stabbed in the back multiples times with a giant ice pick — a suicide. I know the GCPD is supposed to be corrupt, but that's a disbelief-shattering level of absurdity that is too astonishing to comprehend, even in a show about a kid who eventually starts dressing as a bat and fighting crime. I mean, that's as dumb as anything found in the reviled Batman & Robin movie (with the possible exception of the Bat-credit card). If the GCPD is so corrupt as to be completely unaccountable to the laws of reality, what the fuck is Gordon supposed to do? What the hell could Batman do here, other than just shut the police force down entirely?
And when the Gordon story falls apart, all that's left to Gotham is watching the origins of all these beloved Batman characters. Unfortunately, with the exception of the Penguin, Gotham still has no idea how to make those stories interesting either: The Riddler isn't doing anything but harassing a female co-worker, Catwoman only shows up when Bruce Wayne is on-screen, Poison Ivy isn't even carrying a goddamn plant anymore, and the upcoming Dollmaker is apparently named Dalmacher because the show isn't even trying to make its future Bat-villains compelling anymore.
The irony here is that it would be so easy for Gotham to be fascinating. Seeing young Bruce actually start on his path to becoming Batman would be awesome, as would watching Selina on her first heists. Giving the Riddler any kind of characteristic other than spouting riddles and being creepily obsessed with a co-worker would be great — anything that would hint at why he'll eventually become the Riddler. Having Harvey Dent… uh… show up again to do anything, that would be nice. Look, you're doing it right with the Penguin! You clearly have the ability! And then Gotham could finally start living up to the massive amount of potential everybody keeps saying it has.
Assorted Musings:
• As it turns out, Alfred hates children, poor people and very possibly women. His utter disdain when he catches Bruce crying over Cat is insane. It's like Frank Miller guest-wrote it.
• I also liked how Oswald seems to genuinely regard Gordon as a friend. It's a strange relationship, but seeing that Gordon is the main character and the Penguin is the most interesting character, I feel like they ought to be sharing way more scenes.
• Zsasz's refusal to run after his targets has a very Pepe le Pew.esque quality to it.
• Um, Bruce was seemingly pretty well-adjusted until Cat told him off and Alfred mocked his pain. I feel like Gotham may be retconning Bruce's origin so that his parents' murder doesn't drive him to become Batman, a girl telling him she doesn't like him does. It certainly seems to be what's happening to Riddler.
Assorted Stupidity:
• Sorry, there were a couple of other things in this episode that bugged me so much I had to list them even though I didn't put them in the recap proper.
• When the witness is murdered, Gordon assumes a cop is involved (someone had to turn off the camera in the room and so forth) but the Chief warns him that he just got reinstated. If he "even hints" that a cop may be involved, his co-workers will revolt and he could get busted back to Arkham. So Gordon's first act? Start accusing and interrogating cops randomly. Sigh.
• When Zsasz and his molls are in a shoot-out with Butch, Butch drops one of the girls. Zsasz and the other two stop shooting simultaneously, and look down at the girl's dead body as if they're all shocked that someone could possibly die in a gunfight. Also, Butch for some reason doesn't shoot at them at while they have their time-out. It's dumb.
• At the end of the episode, Gordon starts to arrest Flass, and of course all the other cops — who, it should be remembered, unanimously abandoned Gordon to get murdered when Zsasz popped by the police station a few weeks ago — of course don't even move. So Gordon gives a big inspirational speech about how hey, maybe if you guys are corrupt assholes letting people get murdered in your own fucking building is a step too far, and the Chief actually steps up and arrests Flass.
• Do you realize how stupid this is? This is the chief. Sarah Essen is in charge of the police. All the police. She can effect change, so, if she's no longer on board the helplessly corrupt train, she can actually clean up the GCPD faster and better than Gordon ever could. This obviously can't happen, so the show is going to have to backtrack from this moment pretty much immediately.
• What's even more annoying about the scene is how Gordon literally has to give a 5-minute Friday Night Lights speech in order to arrest a cop who literally confesses to murder in front of dozens of witnesses who are police officers. Gotham wans to portray this as some kind of heroic moment for Essen, where she finally steps up and does the right thing when it is almost the bare minimum of what she should be doing as a police officer. Gordon should be infuriated that she had to think about it before acting, not moved. Grr.