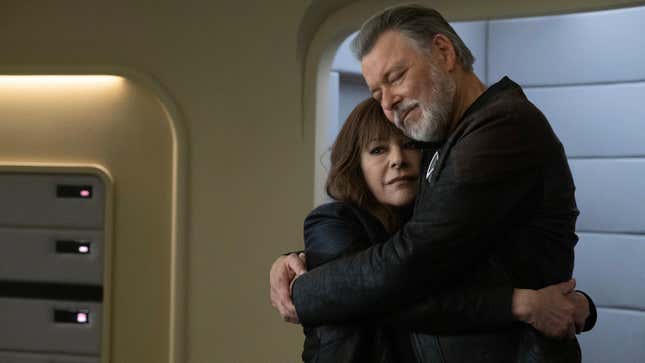 Picard's final season wrapped up earlier this year with a fond farewell to the cast of The Next Generation, but that hasn't stopped audiences—or the cast themselves—pondering what ever could be next. Now it's the turn of Riker himself, Jonathan Frakes, to imagine what might be next for him and his Imzadi.

'I Saw Jonathan Frakes Giving Patrick Stewart a Noogie'
Picard's third season ended with a moment of healing for the rocky marriage between Riker and Deanna Troi, with lingering trauma from the death of their son having pushed them apart. But now they're reunited, the galaxy is saved, and Deanna can plan all the holidays she wants, Frakes is pondering a different future for William T. Riker.
"In my mind, for the show to be able to move forward, Riker would have to be a captain and have his ship, or he would be promoted to admiral and be a liaison," Frakes recently told the official Star Trek magazine, Explorer. "I'm only half-kidding when I say it would be great for me if the show carries on and I'm like Charlie from Charlie's Angels. They'd have to come to my office one day a week for a meeting with Riker. That'd be perfect. Then I could direct a bunch of the episodes and be around the show."
That really is the rub for Frakes—who has become one of contemporary Trek's most prolific directors, across not just episodes of Picard and Discovery, and more recently Strange New Worlds, where he helmed the series' Lower Decks crossover. Any role Riker could have in whatever post-Picard future Paramount has in mind would, according to the actor-director, have to be the passing of the torch rather than something with him in the spotlight.
"I suspect if it does go forward, it would be Jeri Ryan, Michelle Hurd, and Ed Speelers, who's now in Starfleet, and Mica Burton and Ashlei Sharpe Chestnut, who played Geordi's daughter. I would also imagine Lulu Wilson, who played the Rikers' daughter in season one and was so fabulous, could be a part of it. She could come back and maybe be in Starfleet," Frakes mused.
"It feels to me like there's a real opportunity for three of the legacy characters' children to carry on and sort of be the next Star Trek: The Next Generation. It just feels like it's laid out there. It's the blueprint for the next phase."
Now if only someone at Paramount would read that blueprint!
---
Want more io9 news? Check out when to expect the latest Marvel, Star Wars, and Star Trek releases, what's next for the DC Universe on film and TV, and everything you need to know about the future of Doctor Who.