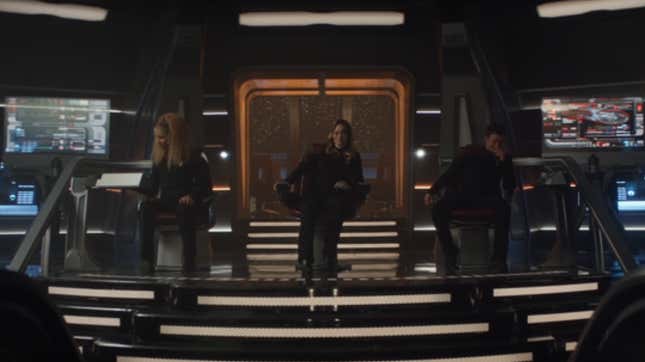 Star Trek: Picard's final season felt as much like a hello as it did a farewell, as Picard and his friends handed the torch to a new generation of Starfleet heroes. It's felt much the same off screen too, as showrunner Terry Matalas and his cast have told anyone who will listen to them that they really really really want a spinoff to happen—and now the series is over, it feels like those calls have gotten even louder.

Weirdest Thing Star Trek Star LeVar Burton Has Signed
We've been hearing plenty off and on about Matalas' hopes for Star Trek: Legacy, a continuation of plot threads left open by Picard that would follow the crew of the newly re-christened Enterprise-G—Captain Seven of Nine, First Officer Raffi Musiker, special counsel Ensign Jack Crusher, and the rest of the remaining crew of the former U.S.S. Titan. And by plenty we mean plenty, as everyone from stars of the series to Matalas himself has spent what's felt like months now telling press just how and why they'd want to make Legacy happen.

Although in more recent interviews Matalas has dialed himself back, reminding people that Paramount has no plans currently to add another Trek show to its current roster, now it's actually franchise overseer Alex Kurtzman who's beginning to tease a chance, telling Fox LA, "Anything is possible. We've heard the fans loud and clear. There's obviously more story to tell. So, we'll see."
"[Kurtzman] and I talk all the time. If it's something that's going to be done, we want to make sure we don't rush into it," Matalas recently told Variety. "We want to make sure we do it right. That's where we're at with it, I say coyly. At the moment, there's nothing developed on it. But we talk all the time."
Once again, while none of this is particularly definitive, as we've said before, what is unprecedented is the sheer volume of discussion about the possibility of Legacy, not just in whether or not it will happen, but its stories, who would be in it, who could return, where it would start, and so on. There's a lot of talk for a show named for a fan campaign that might not ever happen.
"[Legacy would be] about Seven of Nine. It's about Jack Crusher. It's about the La Forge sisters. It's about what else is going on in the galaxy with the Deep Space Nine characters and the rest of the Voyager characters…" Matalas added in the same Fox LA report. "Honestly, some of these [TNG characters], I'm not ready to say goodbye to. I think in a lot of ways, Jonathan Frakes, LeVar Burton, Michael Dorn, Gates McFadden, they've never been better. They are at the top of their game and I want to see more."
But one thing is as clear as the desire to make this show happen—even if it does, it's going to be a while off. Star Trek is an expensive franchise to make, and with Strange New Worlds getting at least two more seasons, Discovery preparing to air its final one early next year, and further continuations of Lower Decks and Prodigy to come, there's not much wiggle room to slot Legacy into just yet. And that's even before you get into the entirely new show Starfleet Academy, and then this revitalized era of Star Trek getting back into the movie space, with plans for the former series Section 31, lead by Michelle Yeoh, now being transformed into a movie for Paramount+.
Even as all good things must come to an end, sometimes it's more about how good things come to those who wait.
---
Want more io9 news? Check out when to expect the latest Marvel, Star Wars, and Star Trek releases, what's next for the DC Universe on film and TV, and everything you need to know about the future of Doctor Who.