Wikileaks founder Julian Assange released a statement about the US election on Tuesday, defending his organization's decision to post thousands of emails from the Democratic National Party's senior officials during the height of the US presidential election season.
The published emails, released in batches over nine months, have had a seismic impact on US politics and the election. In July, DNC chairwoman Debbie Wasserman Schultz abruptly resigned when leaked emails proved senior party officials had conspired against Senator Bernie Sanders' presidential campaign. In October, CNN ended its relationship with contributor Donna Brazile after leaked emails revealed she shared questions with the Clinton campaign before one of the Democratic primary debates. And some of the emails published by Wikileaks revealed transcripts from paid speeches Clinton gave to Goldman Sachs employees in 2013, suggesting that she has a friendly relationship with Wall Street heavyweights. There are dozens of other political scandals that originated from the Wikileaks dumps.
It's important to note, however, that all of the emails published by Wikileaks targeted Hillary Clinton's presidential campaign and the Democratic National Party. None of the published databases (including the Hillary Clinton Email Archive, DNC Email Archive, and Podesta Email Archive) included any revealing information about Republican presidential candidate Donald Trump.
In his newest statement, Assange insists he and Wikileaks did not have any political motives when it published the trove of emails from DNC officials and Clinton's campaign manager John Podesta. He also said Wikileaks did not work with Russia in order to obtain the emails, a direct contradiction of formal accusations made by the US government.
The statement claims that Wikileaks had no intention of hurting Clinton or Trump in the election. It also says Wikileaks was simply trying to provide more information to US voters about the candidates.

This is not due to a personal desire to influence the outcome of the election. The Democratic and Republican candidates have both expressed hostility towards whistleblowers. I spoke at the launch of the campaign for Jill Stein, the Green Party candidate, because her platform addresses the need to protect them. This is an issue that is close to my heart because of the Obama administration's inhuman and degrading treatment of one of our alleged sources, Chelsea Manning. But WikiLeaks publications are not an attempt to get Jill Stein elected or to take revenge over Ms Manning's treatment either.

Publishing is what we do. To withhold the publication of such information until after the election would have been to favor one of the candidates above the public's right to know.
G/O Media may get a commission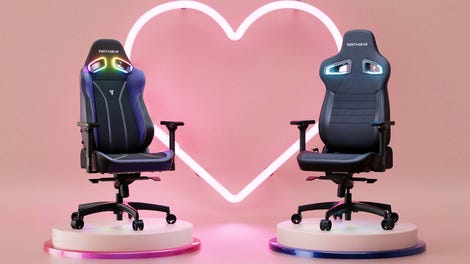 Up to $150 off
Vertagear Gaming Chairs
Assange has been on somewhat of a publicity tour ahead of Election Day as he tries to squash accusations that Wikileaks worked with the Russian government to influence the US election. As part of his ongoing media tour, Assange recently appeared on state-run media outlet Russia Today for a video interview.
"There is a thread that runs through all of these emails," Assange said about Wikileaks role in the US election during the interview. "There is quite a lot of pay for play, or giving access in exchange for money."
"The Clinton camp has been able to project a near-McCarthyist hysteria that Russia is responsible for everything," he said. "Hillary Clinton stated multiple times, falsely, that 17 US intelligence agencies had assessed that Russia was the source of our publications. That is false."
Assange's statements are obviously rich, especially given the fact that the interview was conducted on RT, which receives funding from the Russian government. In 2010, the Columbia Journalism Review reported that RT was "conceived as a soft-power tool to improve Russia's image abroad."
Assange is now doubling down on his statements made on RT, denying that Russia was in any way involved. The problem is it's probably too late to matter to anyone important.
In early October, the Obama administration formally accused the Russian government of stealing and publishing emails from the Democratic National Committee. In a joint statement from the Department of Homeland Security and the director of national intelligence James Clapper, the government said the leaked emails "are intended to interfere with the US election process."
The recent disclosures of alleged hacked e-mails on sites like DCLeaks.com and WikiLeaks and by the Guccifer 2.0 online persona are consistent with the methods and motivations of Russian-directed efforts. These thefts and disclosures are intended to interfere with the US election process. Such activity is not new to Moscow—the Russians have used similar tactics and techniques across Europe and Eurasia, for example, to influence public opinion there. We believe, based on the scope and sensitivity of these efforts, that only Russia's senior-most officials could have authorized these activities.
A few days after James Clapper and the Department of Homeland Security blamed Russian officials for cyberattacks on the DNC, Wikileaks published thousands of emails from Hillary Clinton's campaign chairman John Podesta. Private security researchers at Dell SecureWorks conducted a formal investigation of the hack and concluded the hacking was performed by Russia's foreign intelligence service, the GRU, after it tricked Podesta into clicking on a fake Google login link. Hillary Clinton also publicly scolded Trump and Russia in the third debate, calling Trump a "puppet" for playing into Putin's hands.
So, Assange's carefully worded statement might not actually matter in the long run. Although it claims that Wikileaks does not work for the Russian government, it was careful not to say anything about the source of the email hacks. On the other hand, US intelligence officials and cybersecurity researchers have gone into great detail about Podesta and other DNC officials were hacked, and how the breaches were tied to Russia. In the long run, it looks like Wikileaks lost credibility in this election, and now it's just trying to save face.