To anyone who's ever endured a maddening, 15-minute crawl through one, freeway interchanges may seem the furthest thing from beauty. But given some psychic distance—and the skilled composition of a photographer—we can indeed appreciate the elegance of these concrete structures.
Some we admire for their symmetry, like the famous Four-Level Interchange. It's best viewed from the air, as in this photograph from the Los Angeles Public Library's Security Pacific National Bank Collection:
A wider shot, also from the Los Angeles Public Library's Photo Collection:
G/O Media may get a commission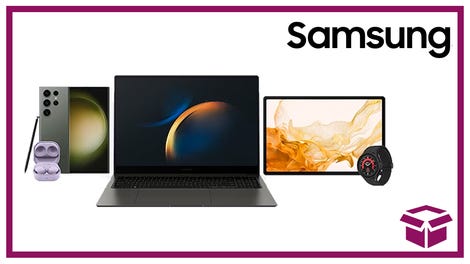 24 hour deals
Discover Samsung - Daily Deal
There's also beauty in the asymmetrical interchange of the Santa Ana (I-5) and Long Beach (I-710) freeways, where once-parallel lanes fork apart in playful curves. Here's Howard D. Kelley's 1956 aerial photo, also from the Los Angeles Public Library's Photo Collection:
The Southland's latter-day booster, British architectural historian Reyner Banham, singled out the junction of the Santa Monica (I-10) and San Diego (I-405) freeways—designed by California's first female highway engineer, Marilyn Reece—for praise in his seminal work, Los Angeles: The Architecture of Four Ecologies:
[T]he wide-swinging curved ramps of the intersection of the Santa Monica and the San Diego freeways, which immediately persuaded me that the Los Angeles freeway system is indeed one of the greater works of Man, must be among the younger monuments of the system. It is more customary to praise the famous four-level intersection...but its virtues seem to me little more than statistical whereas the Santa Monica/San Diego intersection is a work of art, both as a pattern on the map, as a monument against the sky, and as a kinetic experience as one sweeps through it.
You must enjoy Banham's "kinetic experience" in person, but this image from the California Historical Society Collection at the USC Libraries shows the artistry of Reece's work:
Southern Californians probably regard no interchange as fondly as L.A.'s newest (and perhaps last?) freeway junction—the five-level stack interchange where the Harbor (I-110) and Century/Glenn Anderson Freeway (I-105) meet. Completed in 1993, the complex features flyover carpool lanes that soar 120 feet over the ground and provide commanding views of the Los Angeles Basin. It's nearly as impressive from the freeway lanes below, where columnar piers hold aloft arcing lanes. Here's a 1995 photo from the Metro Transportation Library and Archive:
Top photo by Ken Lubas, courtesy of the Los Angeles Times Photographic Archive, UCLA Library.